There is something so inviting about a bowl of soup. Whether you've come in from a chilly autumn walk, are enjoying some watery spring sunshine, are huddled inside avoiding wintery snow, or are sipping a chilled soup in a summer garden, there seems to be a bowl of soup for every occasion.
Whether a delicate, painstakingly perfect consommé or a rich and hearty chowder,  from a spicy Vietnamese Pho to deep purple borscht, I love them all. Almost without fail, soup is nourishing, budget-friendly, and most of all, a meal for sharing.
As a kid, I always loved the story of stone soup, where a hungry stranger convinces a village to each share some of their food to make a meal enjoyed by all, and I think often the best soups are the ones that have a little of everything in them. I grew up eating my dad's famous (and delicious) minestrone soup and it wasn't until later that I discovered the vibrantly green, springtime cousin of that winter warmer, Minestrone Primavera.
I always think of recipes like this as a loose guideline, rather than something to be followed absolutely. I love the bright green colour of all the ingredients after a dreary end to winter, so I look out for vegetables with the brightest green I can find. I prefer to make it with chicken stock as I find it gives a bit more depth to the soup, but vegetable is fine too. Either way, it is a fabulously bright and uplifting soup, and it is super quick to make, honestly, the most time-consuming thing is the chopping of the vegetables, and when they are so beautiful and fresh even that isn't much of a chore.
This recipe will feed 4-6 as a light meal, with plenty of bread to soak it all up, and will keep for several days in the fridge, though the bright green will fade over time, that doesn't make it any less delicious – in fact, I actually prefer it after the flavours have had some time to mingle!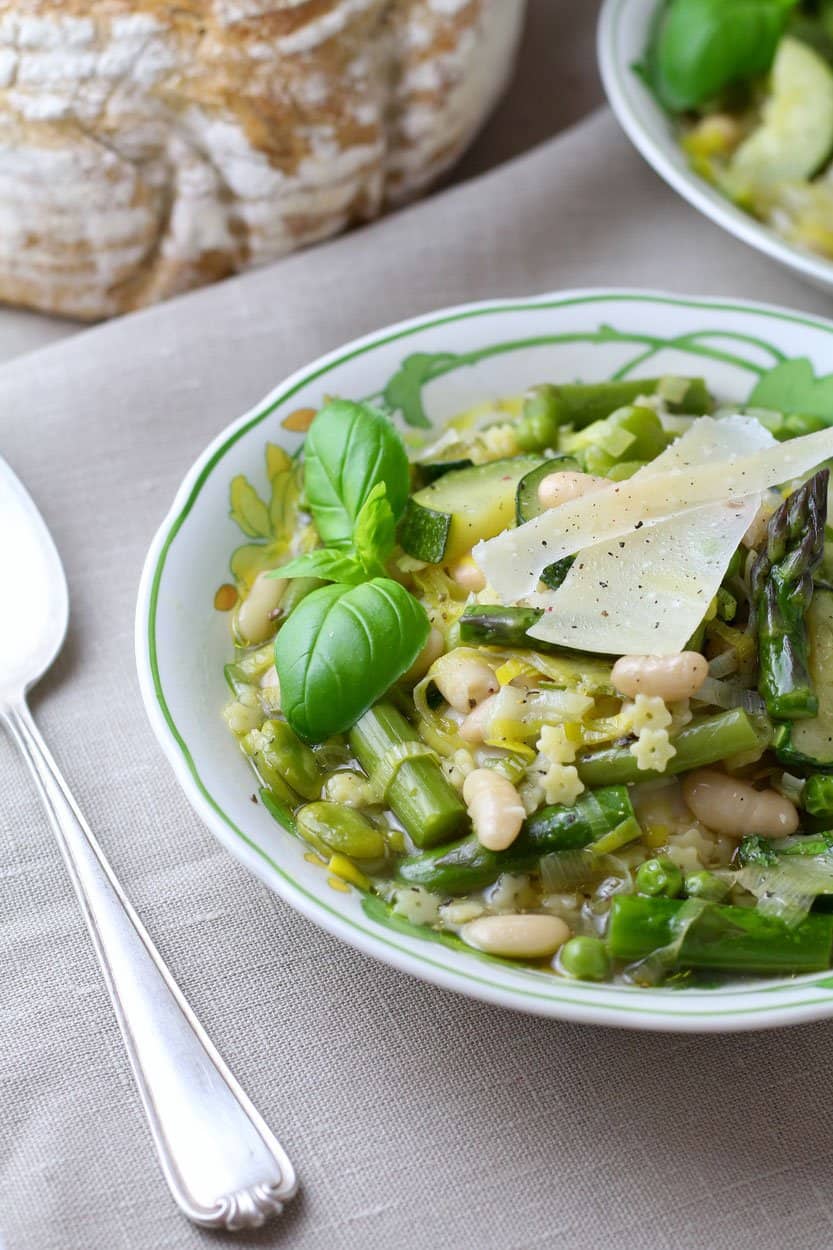 ---
Let me know if you try this recipe in the comments below, or using the hashtag #daysofjay on Instagram. Take care out there and happy cooking! xJ
---
---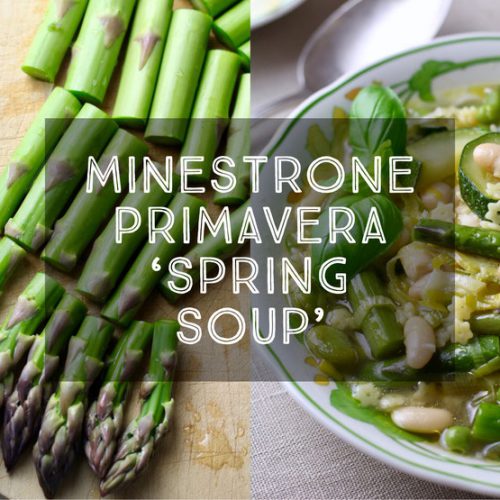 Minestrone Primavera 'Spring Soup'
Minestrone Primavera or Spring Soup will feed 4-6 as a light meal. Full of fresh, bright green spring veg, this classic Italian recipe is healthy and delicious.
Ingredients
1 Tbsp butter
1 Tbsp olive oil
1-2 zucchini, halved and thickly sliced
1 large leek, root and dark green trimmed, sliced
2 cloves garlic, roughly chopped
1.5-2 litres chicken or vegetable stock
100 g green beans, trimmed and cut into bite sized pieces
100 g frozen peas
100 g broad beans, shelled
1 tin cannellini beans
100 g pasta stars, stelline
6-8 green asparagus spears, cut into bite sized pieces
sea salt & freshly ground black pepper
to serve:
shaved Parmesan
small bunch fresh basil
Instructions
In a large saucepan over a medium heat, warm the butter and the oil together until the butter is melted. Add the zucchini, leek and garlic and cook, stirring for 5 minutes, or until the leek and zucchini have softened, but not browned.
Add the chicken or vegetable stock to the pan, along with the green beans, peas, broad beans, cannellini beans and pasta stars. Bring to the boil, stirring as the stars will sink to the bottom and try to catch on the bottom of the pan, then turn the heat down to a simmer and add the asparagus.
Simmer for 5-10 minutes until the vegetables and pasta are tender to your liking, season to taste with salt and pepper. If you are using stock cubes it will probably be salty enough, if you are using fresh unsalted stock it will need a fair bit of salt, probably around 2 teaspoons. As always, err on the side of caution, add salt, stir well, taste and add more if necessary.
Serve in warmed bowls topped with some torn basil leaves and with plenty of shaved Parmesan along with some crusty bread for dipping.
Nutrition Information:
Yield:

4
Amount Per Serving:
Calories:

982
Total Fat:

52g
Saturated Fat:

17g
Trans Fat:

0g
Unsaturated Fat:

29g
Cholesterol:

297mg
Sodium:

1008mg
Carbohydrates:

40g
Fiber:

8g
Sugar:

6g
Protein:

87g
Nutrition information is calculated automatically and isn't always accurate.
---
FREQUENTLY ASKED QUESTIONS
I can't get pasta stars! Can I use other shapes?
Of course! I like to use pasta stars or stelline in this soup as I get a childish kick out of the shape. Feel free to replace with any small soup pasta, ditalini or similar is good.

I have different vegetables, can I still make Minestrone Primavera?
Yes! Add the vegetables into the pot in the order that you like them cooked – if something is particularly firm and you prefer it more tender, into the pot first. Things that live off their texture, asparagus for example, leave it until last. Use your judgement and see what you like. By the time you reheat this for lunch the next day, everything will be wonderfully amalgamated into a delicious vegetable medley anyway.

Do I really have to shell the broad beans?
I know shelling broad beans seems like a thankless task, but if you have them in the freezer like me I find the skins become too tough for a delicate soup like this. I weigh out 100g of frozen broad beans into a colander, run some cold water over then and then quickly pop the skins off. Odd as it may sound, seeing the grey outer skin come off and the bright and vibrant green appear from underneath appeals to my sense that this is a dish for spring, and it really only takes a couple of minutes.
---
---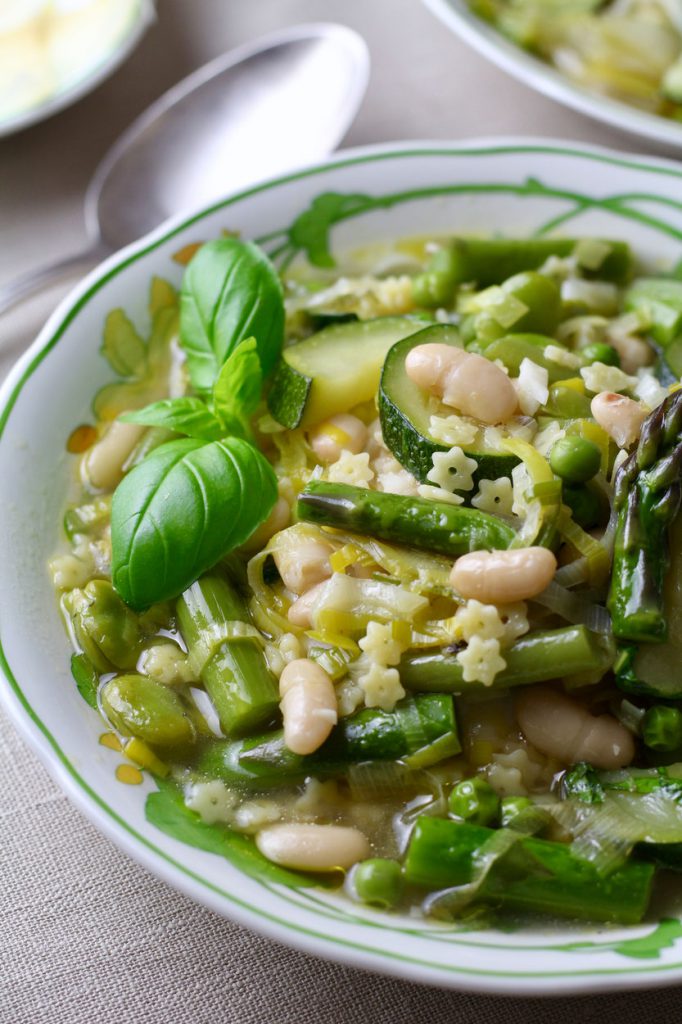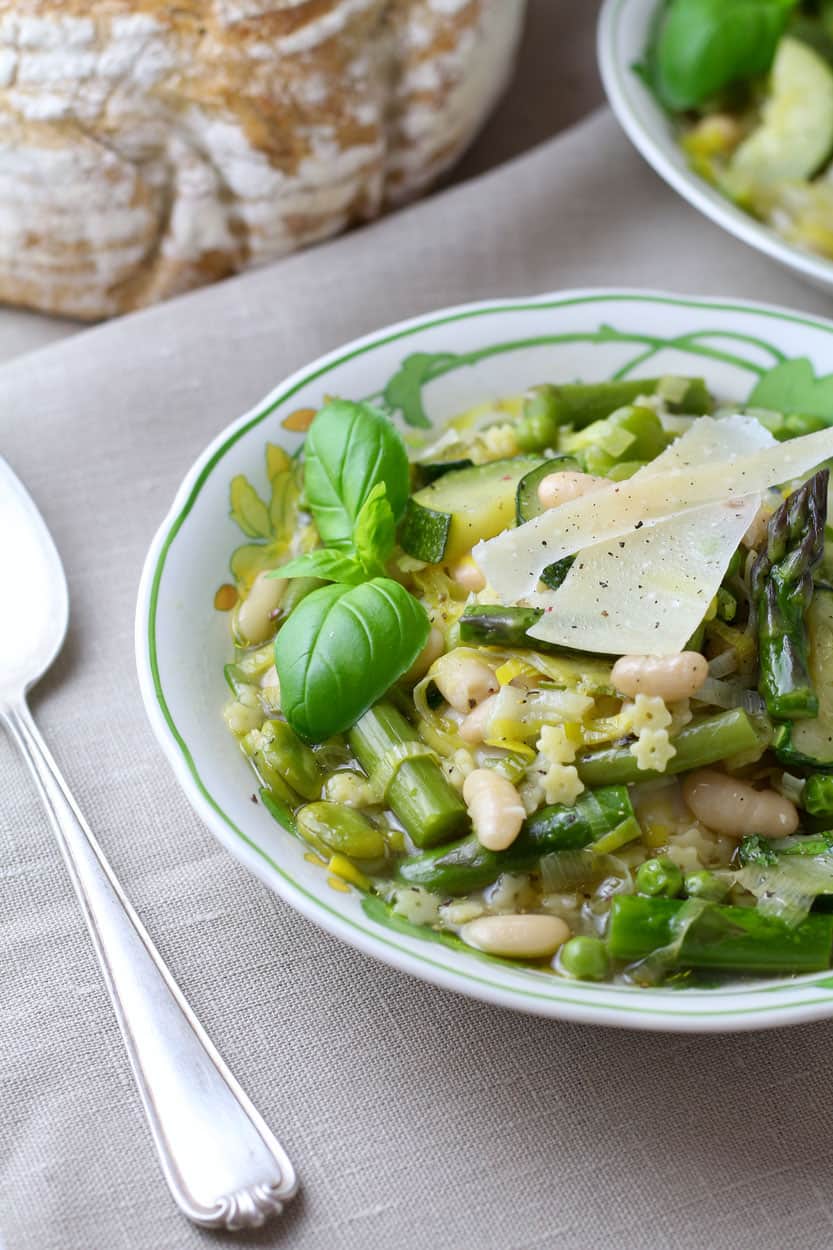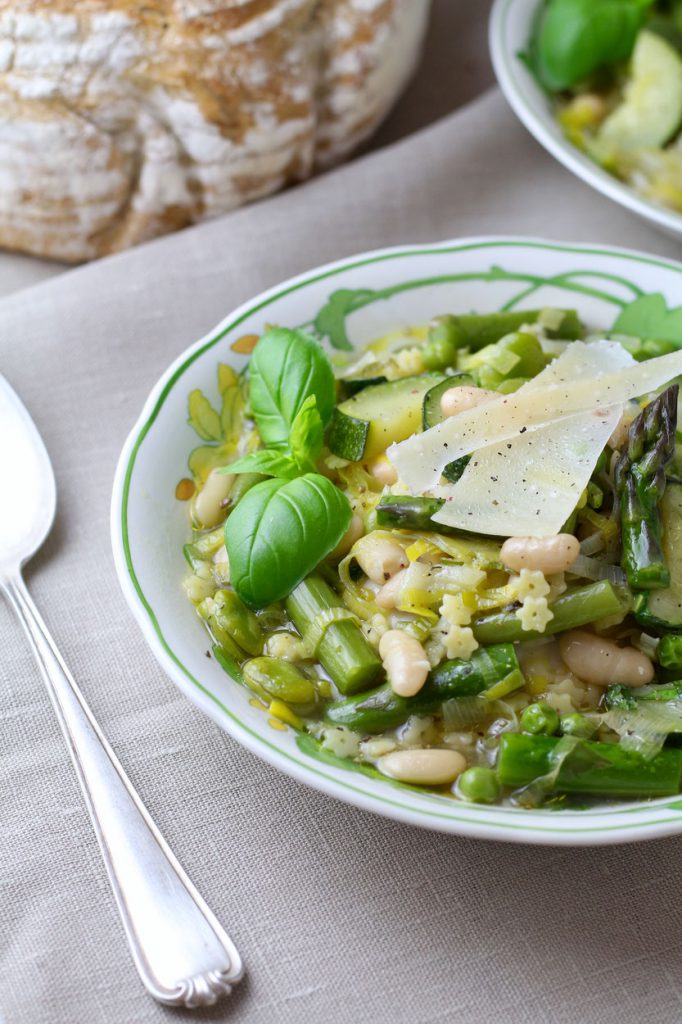 MINESTRONE PRIMAVERA – SPRING SOUP
---