Deliciously chewy seed and grain bread, made in an hour with no kneading or waiting around required. Sounds impossible, doesn't it? It is easier than you think with my recipe for No Knead Multigrain Bread.
I've been making this recipe for many years – I just checked back through the archives and it first made an appearance on my website way back in 2013! Over the years I have tweaked and changed things around and I believe now this recipe is absolutely fool-proof. You simply stir the ingredients together in a bowl, pour the dough into a loaf tin and bake it in the oven until risen and golden. It works, I promise!
This is a moist and rather dense loaf, perfect for toasting and slathering lavishly with berry jam, or slicing thinly and serving with smoked salmon and cream cheese. I load it up with plenty of healthy grains and seeds which are what gives this load such a terrific flavour and texture. I find it keeps well for several days, is still good for toast after a week and freezes perfectly.
No Knead Multigrain Bread is the ultimate beginner's loaf and the perfect entry into the world of bread baking because it is just so easy. No, it's not a multi-day sourdough extravaganza, but it is packed with flavour and goodness and comes together in a flash. The reason that this bread is so quick to make is twofold: using a little more yeast than usual gives the bread a real kick start as it rises in the oven, and the very wet dough allows the gluten to develop quickly without kneading.
The New Zealanders among my readers will recognise this bread as being very similar to our famous 'Vogel's' bread, so if you are stuck abroad and feeling homesick, this is the recipe for you! For everybody else, once you try this wonderfully flavoursome bread I know you will be hooked.
Are you a bread baker? Or do you think it takes too much time? Check out more of my bread recipes by clicking here! Let me know what you think in the comments below! Happy baking, xJ.
---
Let me know if you try this recipe in the comments below, or using the hashtag #daysofjay on Instagram. Happy cooking!
---
No Knead Multigrain Bread
Cook Time:
1 hour
15 minutes
Total Time:
1 hour
20 minutes
No Knead Multigrain Bread has to be the world's easiest loaf. No kneading, no rising time, just mix the ingredients and bake in the oven until done. Full of healthy seeds and grains, this bread is delicious toasted and keeps well for several days.
Ingredients
350g plain flour
150g oats
50g wholemeal flour
3 Tbsp sunflower seeds
2 Tbsp sesame seeds
2 Tbsp linseed/flaxseed
1 Tbsp sugar or runny honey
2 tsp sea salt
14g dried yeast (2 sachets)
2 Tbsp vinegar
for the topping:
Instructions
In a mixing bowl, whisk together the flour, oats, wholemeal flour, seeds, sugar, salt and yeast. Pour in 500ml of warm water and the vinegar, then use a wooden spoon to stir vigorously for 2-3 minutes. The mixture will be very wet, like a loose porridge.

Grease a loaf tin (approx 25cm long and 7cm deep) with a little oil, then line with baking paper (this is very important: the loaf will stick to the tin otherwise!) leaving a small overhang on each side. Pour the mixture into the prepared loaf tin, using a spatula to scrape it all out of the bowl. Smooth the surface, then sprinkle with your choice of seeds and oats, pressing down gently so that they stick.

Place the loaf tin on a baking tray in a cold oven. Turn the heat on to 200°C / 400°F / Gas 6 and bake for 70-75 minutes until the loaf is well risen and golden brown. I tend to bake this bread for longer as it is very moist, but it will depend on your oven. Remove from the oven and use the overhanging baking paper to lift the loaf out of the tin. Place the loaf on a cooling rack.

When the loaf is cool enough to handle, gently peel off the baking paper, then allow to cool completely before slicing. I throw any of the seeds or oats that fall off the top into my muesli jar!
Nutrition Information:
Yield:

14
Serving Size:

1 slice
Amount Per Serving:
Calories:

175
Total Fat:

4g
Saturated Fat:

0g
Trans Fat:

0g
Unsaturated Fat:

3g
Cholesterol:

0mg
Sodium:

438mg
Carbohydrates:

35g
Fiber:

4g
Sugar:

2g
Protein:

6g
Nutrition information is calculated automatically and isn't always accurate.
---
FREQUENTLY ASKED QUESTIONS
Can I use different seeds in No Knead Multigrain Bread?
Yes, you can! Pumpkin seeds make a good alternative to sunflower seeds, and you can use chia instead of linseed/flaxseed. Poppy seeds are also delicious. Try to keep the proportions roughly the same as the recipe for best results.

Can I freeze No Knead Multigrain Bread?
Yes, I do it all the time. I wait until the loaf is completely cool, then I slice it and put it in a freezer bag. That way I can just take out a slice or two at a time for toasting when I need them.

Can I make this bread gluten-free?
I've not experimented with gluten-free flour, but I imagine it would work. The bread will be a lot more fragile though, so better suited to toasting than sandwiches.
---
Did you know: This sort of bread has origins at least as far back as Doris Grant's famous wartime recipe of the 1940s! Who knew you don't need to knead?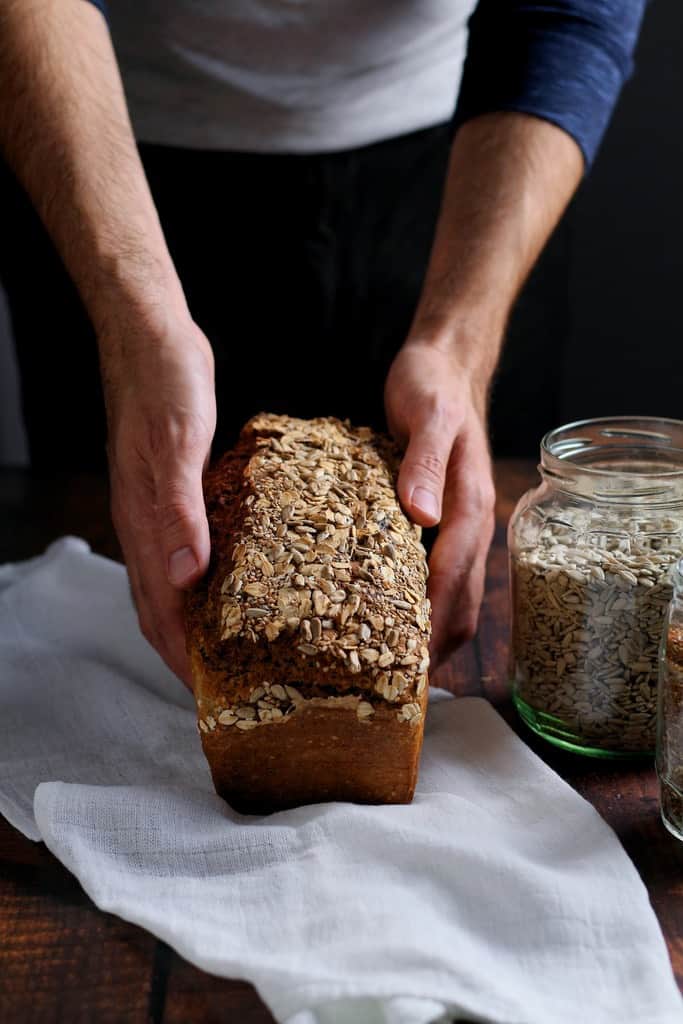 NO KNEAD MULTIGRAIN BREAD
---