While I love the summer and the sun, my favourite thing about the cooler months of the year is all the food that would be unthinkable in the heat. Slowly braised meat, rib-sticking soups, and of course, hot puddings and desserts. And is there any better dessert than molten, oozing, Easy Chocolate Fondants?
The undisputed queen of hot desserts has to be Fondant au Chocolat, or molten chocolate puddings – chocolate lava cakes to all the Americans out there. Such a simple set of ingredients, heaven for us chocoholics, but they have a reputation as being fiddly, or worse, stressful. In actual fact, my easy chocolate fondants are the ultimate prepare ahead dessert, meaning all you have to really do on the night is pop them in the oven and then plate them up. 
What famously makes these desserts seem fussy is that they cook very quickly, so you're always advised to keep a gimlet eye on the clock. This is important, but the fact of the matter is that we all have different ovens, different fridge temperatures, different kitchen temperatures and all these things will affect the outcome of a recipe.
In a cake that bakes for an hour or so these variables are often smoothed out, but when the timing hangs on a couple of minutes the opportunity for mishaps is huge. By the time it comes to the end of a long meal (and several glasses of good wine) I don't want to be dealing with disasters or disappointments in the kitchen, so after much experimentation, I believe my recipe for Easy Double Chocolate Fondants is foolproof.
Two things will make these desserts stress free. First of all, do not even consider making them on the night you will be serving them (unless it's just for you in the throes of a chocolate craving emergency, in which case, go right ahead). I always, always make these at least a day in advance as they keep for several days in the fridge, and even freeze extremely well.
Secondly, and this is the what makes my Easy Chocolate Fondants fool-proof, rather than relying solely on molten cake batter as the delicious liquid centre, I always place some chocolate or other flavouring into the middle of the uncooked fondant before they go in the oven. Guaranteed, oozing, liquid centres every time – even if you've been a bit distracted. Follow these two rules, and watch for the visual clue that I describe in the recipe and you will be a fondant making pro in not time.
Everybody has an oven that works a little differently – whether hotter in spots, cooler in others, gas, electric or even wood burning. All of these differences mean the fondants can take a minute or two more of less to cook. Keep an eye on them in the last minutes of cooking, and when they are puffed over the top of the ramekins with a slight dimple in the middle (see the picture) they are ready.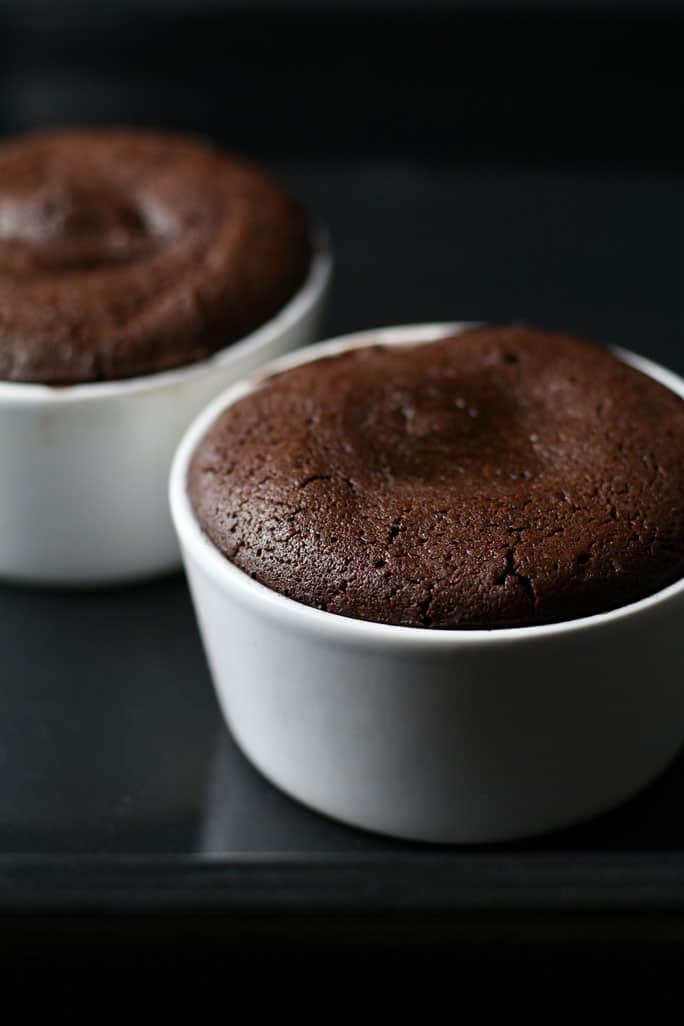 ---
FREQUENTLY ASKED QUESTIONS
Can I prepare Easy Chocolate Fondants in advance?
These puddings freeze brilliantly! They can be cooked from frozen (you'll need to add a few more minutes to the cooking time) and are so delicious nobody will ever guess. They will also keep, uncooked, in the fridge for up to 4 days.
How can I be sure of a molten centre in the chocolate fondants?
As mentioned above, all ovens are different, so the times given are a guide only – the trick of putting a little chocolate in the middle will pretty much guarantee a molten centre – even if you overcook them a little! How gooey you like them is really a matter of personal taste – I prefer to cook them a little more and have them come easily from the moulds than to undercook them and have a nervous breakdown when they fall apart.
I am scared of turning them out of the ramekins! What if they stick? What if they break?
If you are at all unsure about flipping them over, or are already feeling a bit stressed, simply serve them in the ramekins. They look beautiful anyway!
Can I halve or double this recipe?
This recipe serves four, and I often halve it if it is just the two of us eating. It doubles perfectly as well so just scale up or down as you need, bearing in mind that they freeze so well there is never any harm in having a few stashed away for a chocolate emergency.
---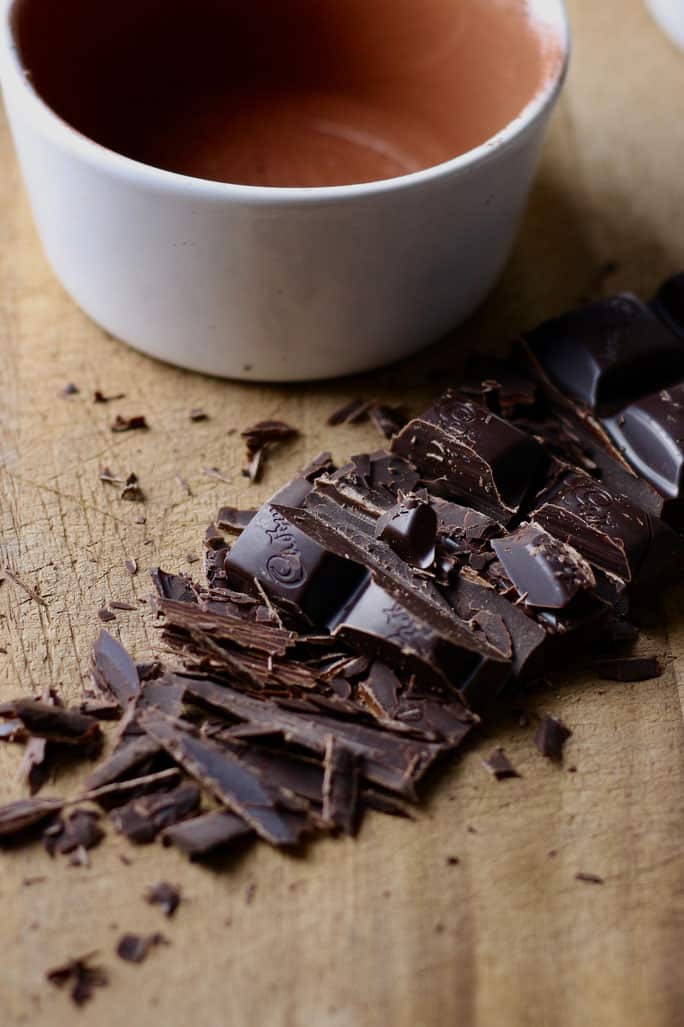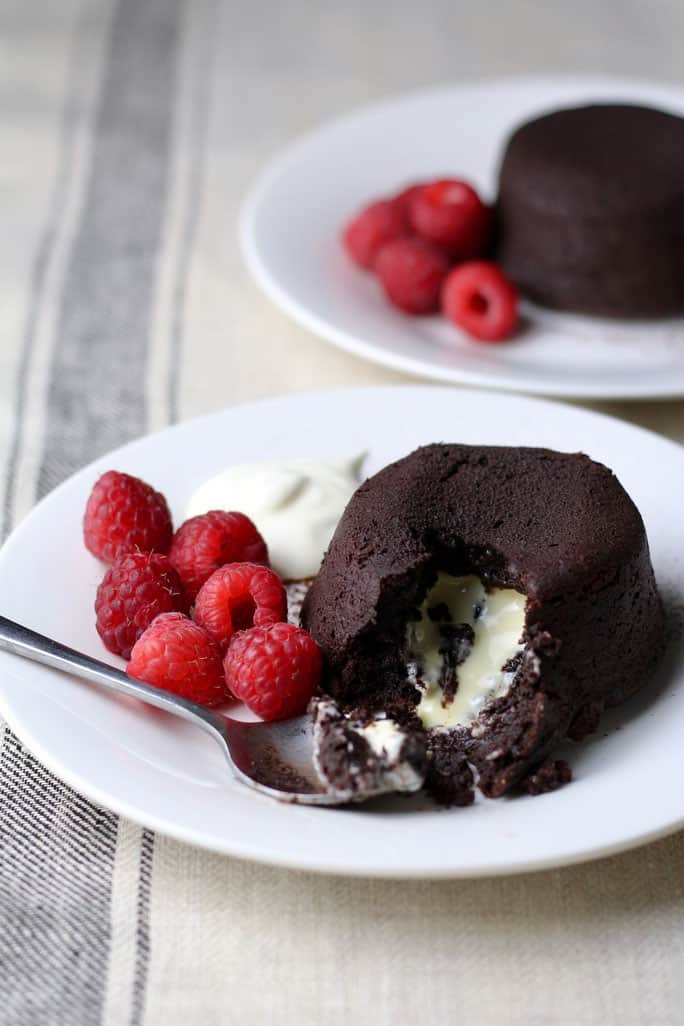 Easy Double Chocolate Fondants
Easy Chocolate Fondants, aka Fondant au Chocolat or chocolate lava cakes. This foolproof, restaurant-quality recipe gives perfect results every time!
Ingredients
100 g unsalted butter, diced
100 g dark chocolate, roughly chopped
2 eggs
60 g sugar
1 Tbsp plain flour
1 Tbsp unsweetened cocoa
4 large pieces of chocolate for the middle
!to serve:
extra cocoa, to dust
125 g fresh raspberries or other berries
200 g creme fraiche or vanilla icecream
Instructions
Generously butter four 125ml ramekins or dariole moulds. Dust well with cocoa, tapping out any excess, then set aside on an oven tray. Heat the oven to 180°C / 350°F / Gas 4.
Place the butter and chocolate in a heatproof bowl, then set it over a pan of simmering water, ensuring the bottom of the bowl does not touch the water. Stir occasionally until melted, then remove from the heat and set aside to cool while you prepare the next step.
In a mixing bowl, whisk together the eggs and sugar until pale and fluffy. Whisk in the flour and cocoa, then pour the melted chocolate on top and fold through. The mixture will thicken quite dramatically, but don't worry!
Divide the mixture evenly between the ramekins - it will come about three-quarters of the way up the side of the dish which gives it plenty of room to puff up. Push a piece of chocolate into the middle of each fondant, then use a teaspoon to smooth over the tops. At this point, you can refrigerate the fondants until they are needed, for up to 4 days.
Bake on the baking sheet in the middle of the preheated oven for 13 minutes from room temperature, 15-16 minutes from fridge temperature, or until they have puffed and risen, with a slight, moist-looking dimple in the middle.
Remove from the oven and allow to cool for 2 minutes, before running a thin, sharp knife around the outside of the fondants to loosen. Put a serving plate on top of each fondant, carefully invert (you'll need a tea towel or gloves as the ramekins are still hot) then remove the ramekins.
Dust with a little extra cocoa, and serve immediately with raspberries and creme fraiche or scoops of vanilla ice cream.
Notes
For the chocolate in the middle, white is my favourite, but dark, milk, or even flavoured truffles all work well - I use 2 squares from an ordinary chocolate block per fondant
Nutrition Information:
Yield:

4
Serving Size:

1
Amount Per Serving:
Calories:

737
Total Fat:

57g
Saturated Fat:

34g
Trans Fat:

1g
Unsaturated Fat:

19g
Cholesterol:

227mg
Sodium:

153mg
Carbohydrates:

51g
Fiber:

6g
Sugar:

40g
Protein:

8g
Let me know if you try this recipe in the comments below, or using the hashtag #daysofjay on Instagram. Happy cooking!
EASY CHOCOLATE FONDANTS