I am still working my way through the mass of mangoes that I bought from the markets the other day, (I know, life is hard) and as the summer swelters on I couldn't resist making a few of my favourite sweet treats: Mango Vanilla Nice Blocks.
Even though I love this season, I always spend the hottest months of the year looking for ways to cool down, and there is nothing more pleasingly evocative of the golden summers of childhood than a sweet and fruity ice block. Whether you know them as a popsicle, ice lolly, icy pole or something else, the sentiment is the same – a few cool minutes of tasty respite from the summer heat.
The good news is that they are incredibly simple to make and you can change the flavouring around to suit exactly what you like. I've got one of my very favourite flavour combinations for you here, sweet, tropical mango, zingy lime and dreamy, creamy vanilla 'Nice Cream'.
Why 'Nice Cream'? I'm not sure who discovered that frozen banana makes a fabulous chilled treat, but it is the secret ingredient in this recipe which not only gives it a terrific texture, it helps to make these ice block nearly guilt-free. I like to throw in some yoghurt or crème fraîche too – but you can use a dairy substitute if you like. Coconut cream works very well, or leave it out altogether.
To make this recipe you do need a blender or food processor and some ice block forms – these should be fairly easy to find wherever you are (Aussies: Budget = Kmart, Fancy = Donna Hay) but you can always improvise; repurposed yoghurt containers are a perennial favourite.
You'll also need 6 ice block sticks which are always available with arts supplies, or go all McGyver and use cut up chopsticks, doubled up wooden kebab sticks or similar.
---
Let me know if you try this recipe in the comments below, or using the hashtag #daysofjay on Instagram. Happy cooking!
---
Mango-Vanilla Nice Blocks
Total Time:
4 hours
10 minutes
I've got one of my very favourite flavour combos for you here, sweet, tropical mango, zingy lime and dreamy, creamy vanilla 'Nice Cream'.
Ingredients
1 large, ripe mango
4 Tbsp icing/confectioners sugar
1 Tbsp lime juice
1 large banana
150 g Greek yoghurt or crème fraîche
2 tsp vanilla extract
Instructions
Cut the flesh from the mango, then use a large serving spoon or similar to scoop the flesh into a blender. Add two tablespoons of the icing sugar and the lime juice, then blend on high speed until smooth.
Divide the purée evenly between 6 ice block forms and set aside.
Give the blender jug a quick rinse, then peel and chop the banana into the jug. Add the remaining two tablespoons of icing sugar, yoghurt or crème fraîche and vanilla extract, and blend on high until smooth. Pour on top of the mango mixture in the moulds. If there is any remaining, either make a couple of extras or consider it a chef's treat, thin it out with a little milk and drink it!
Cover the moulds with tin foil and cut a small slit in the middle of each mould for the sticks. Push the sticks into the holes - the tin foil will hold the sticks in place.
Freeze for at least four hours or overnight. Allow to warm up for a minute or two before removing from the moulds, or dip very quickly in warm water to remove them easily.
Nutrition Information:
Yield:

6
Amount Per Serving:
Calories:

225
Total Fat:

5g
Saturated Fat:

2g
Trans Fat:

0g
Unsaturated Fat:

2g
Cholesterol:

7mg
Sodium:

51mg
Carbohydrates:

44g
Fiber:

2g
Sugar:

40g
Protein:

2g
Nutrition information is calculated automatically isn't always accurate.
FREQUENTLY ASKED QUESTIONS
Mangoes are out of season! Can I still make Nice Blocks?
If mangoes are out of season, you can use this base recipe to make any flavour of ice blocks – I am a fan of blackberry, peach, or even plain banana dipped in chocolate!

Can I scale this recipe up or down?
The number of Mango Vanilla Nce blocks that this will make depends on the size of your moulds, scale the recipe up and down as necessary – the ones pictured are smallish, so double up if using bigger forms.

How long will Mango Vanilla Nice Blocks keep?
For several weeks in the freezer, though they are better consumed within a week or two.
---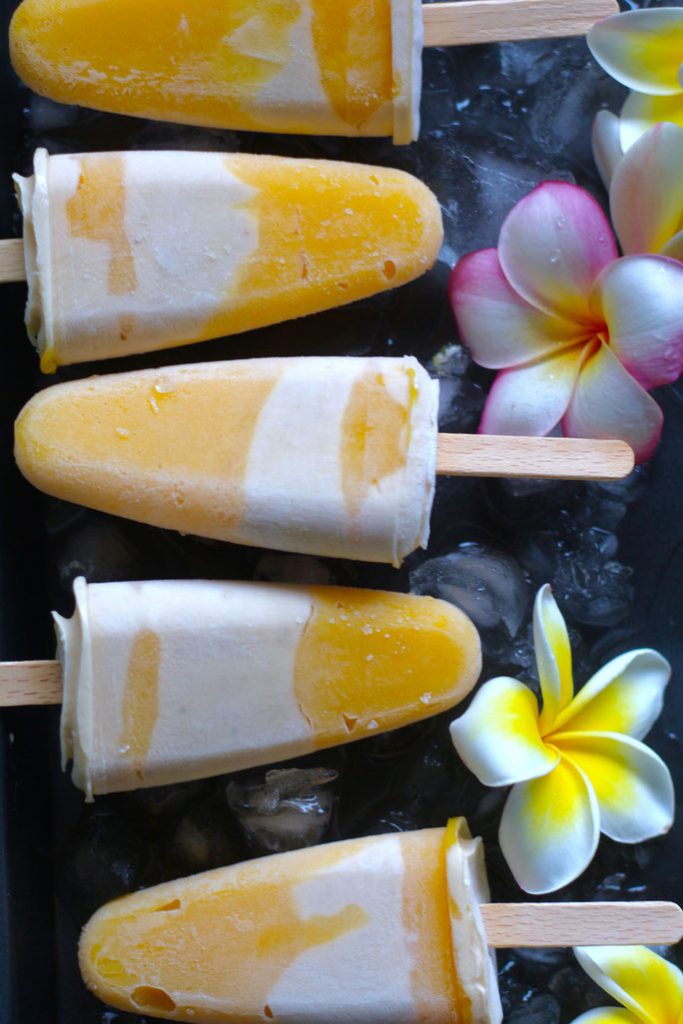 MANGO VANILLA NICE BLOCKS