Today's recipe is a request from Debbie, one of our lovely community here on Days of Jay! I actually can't believe I haven't already shared this recipe with you as a Bienenstich or German Bee Sting Cake is one of the most popular tea-time treats here in Germany.
With thick and luscious vanilla cream sandwiched between two layers of light and sweet yeast dough, all topped with crunchy honey almonds, Bienenstich is a sure-fire crowd-pleaser.
Why is it called Bee Sting Cake?
Nobody can say for sure who invented Bienenstich or how it got its name. However, the popular legend is that it was first made in celebration of two bakers from the town of Andernach who chased off an attacking army from Linz by throwing bees nests at them. (I love this technique!)
Whether this is the truth or a flight of fancy is lost to the mists of time.
Is it hard to make Bienenstich?
Bienenstich is not at all difficult to make, though it does take a little time as you are dealing with a couple of different processes.
Firstly you need to make a sweetened yeast dough, then a filling of pastry cream or vanilla custard and finally the nut topping. This means there are rising and setting times, but don't worry as the actual hands-on work is very quick.
You can even make up the filling the night before, as it will keep for a day or two in the fridge.
Germans like BIG cakes
Like many traditional German cakes, Bienenstich is often made as a huge baking-tray sized cake. I prefer to bake it in a round cake tin as you get more beautiful slices, not to mention there is only so much cake the two of us can eat (hint: quite a lot).
It's also easier to use the ring of the tin to hold the vanilla cream in place as it sets.
Is this an authentic Bienenstich recipe?
Yes! Being a classic of the German kitchen there are very few variations of Bienenstich floating around, after all, why improve on perfection?
I do think that infusing the cream with a liqueur, or perhaps orange blossom water could give it a lovely twist.
Have you ever tried a bee-sting cake? Let me know in the comments below! xJ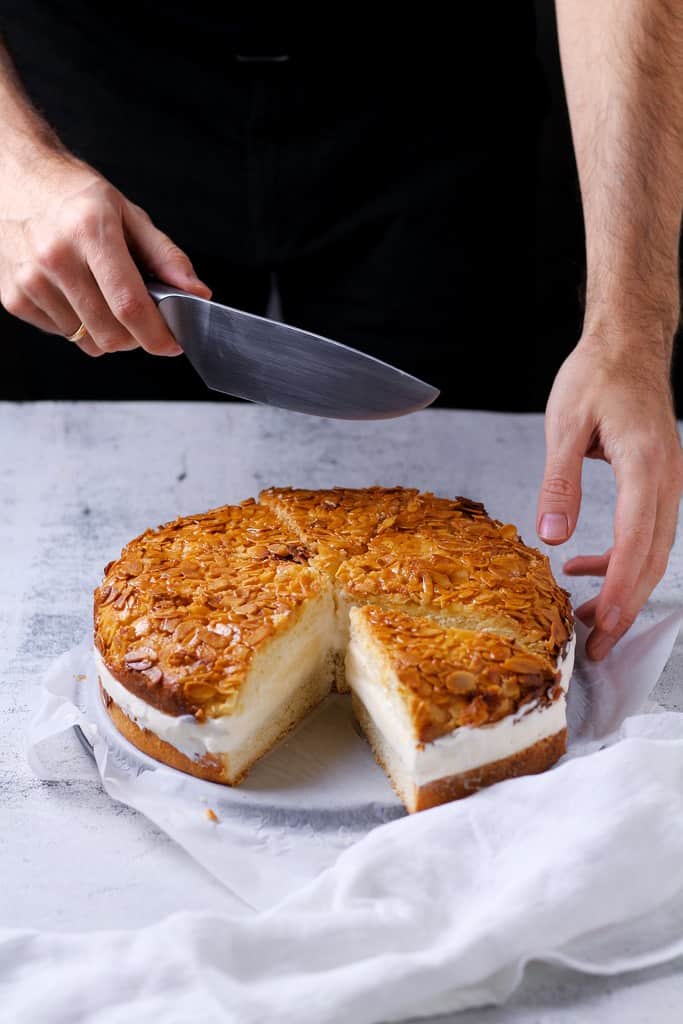 ---
FREQUENTLY ASKED QUESTIONS
Can I make A Bienenstich in advance?
Yes! Up to a day or two, though it is best eaten fresh. You can make the vanilla filling 3-4 days in advance and keep chilled.
I have a nut allergy! Can I still make Bienenstich?
Can I freeze Bienenstich?
It is possible to freeze Bienenstich, though the texture is better when the cake is fresh.
Looking for more Tasty German Cake recipes?
---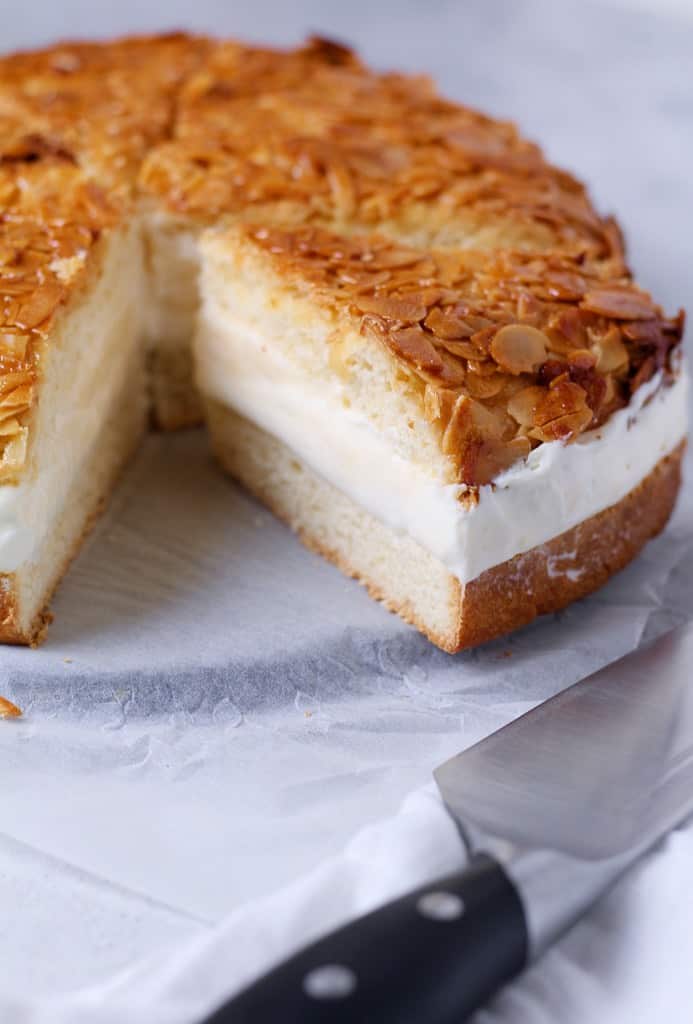 Bienenstich / Bee Sting Cake Recipe
Classic German Bienenstich
Resting / Rising Time:
1 hour
30 minutes
Total Time:
2 hours
45 minutes
Sweet yeast dough, vanilla custard cream and a crunchy honey almond topping - it can only be a Classic German Bienenstich or Bee Sting Cake. This most beloved of German cakes is perfect for afternoon tea.
Ingredients
for the dough:
350g (12.25 oz.) all-purpose flour
50g (4 Tbsp) white sugar
7g (1 sachet) dried yeast
zest of 1 lemon
pinch of salt
150ml (5 fl. oz.) whole milk
75g (5 ¼ Tbsp) unsalted butter
1 tsp vanilla extract
for the filling:
400ml (13.5 oz.) full-fat milk
200ml (6.75 oz.) cream
50g (3 ½ Tbsp) unsalted butter
60g (½ cup) cornstarch / cornflour
75g (6 Tbsp) sugar
2 egg yolks
3 tsp vanilla extract
for the honey-almond topping:
75g (5 ¼ Tbsp) unsalted butter
50ml (4 Tbsp) cream
50g (4 Tbsp) sugar
1 Tbsp runny honey
100g (1 cup) sliced almonds
Instructions
To make the dough, combine the flour, sugar, yeast, lemon zest and salt in the bowl of a stand mixer with the dough hook attachment fitted. Gently heat the milk and the butter in a small saucepan until the butter is just melted, remove from the heat and allow to cool for 2-3 minutes before pouring into the bowl with the other ingredients.

Knead for 5 minutes until the dough is soft and supple, then shape the dough into a ball, cover with a sheet of cling film and return to the bowl. Cover with a clean tea towel and leave to rise in a warm spot for 1 hour.

Meanwhile, make the filling by whisking 100ml of the milk together with the cornstarch, sugar, egg yolks and vanilla extract. Heat the remaining milk and cream in a medium saucepan until small bubbles begin to form around the sides of the pan.

Pour the milk and cornstarch mixture into the hot milk and whisk constantly until thickened, taking care not to let the mixture boil. Scrape back into the bowl, press a piece of cling film directly onto the surface and set aside to cool completely at room temperature.

When the dough has risen, heat the oven to 180°C / 350°F / Gas 4. Line the base and grease the sides of a 26cm (10 in.) round springform tin, then roll the dough out on a lightly floured surface to 26cm in diameter and lift into the tin. Cover and allow to rise a further 15 minutes.

While the dough is rising for the second time, prepare the honey-almond topping by combining the butter, cream, sugar and honey in a small saucepan. Bring to a simmer, stirring to dissolve the sugar, then simmer for 2 minutes. Stir through the almonds and remove from the heat.

Spread the almond mixture evenly across the dough, then bake in the preheated oven for 30 minutes until well risen and golden brown. Allow to cool in the tin for 5 minutes, then loosen the cake edges with a small sharp knife and remove the side of the tin. Allow to cool completely.

When the dough is completely cool, use a serrated knife to cut evenly through the middle, setting aside the top 'lid'. Place the bottom of the cake onto a serving plate and replace the ring of the cake tin around it.

Use an electric beater to whisk the set custard until completely smooth, then spread over the base of the cake and transfer to the fridge for at least one hour to set.

Meanwhile, use a sharp knife to cut the top of the cake into 8 even slices (you can even use a pizza roller here!) When the cake has been in the fridge for half an hour, place the slices on top. Serve chilled.
Notes
Imperial and cup measurements are approximate. For best and most accurate results I use and recommend an inexpensive digital kitchen scale like the one below.
Recommended Products
As an Amazon Associate and member of other affiliate programs, I earn from qualifying purchases.
Nutrition Information:
Yield:

8
Serving Size:

1 slice
Amount Per Serving:
Calories:

701
Total Fat:

41g
Saturated Fat:

22g
Trans Fat:

0g
Unsaturated Fat:

17g
Cholesterol:

141mg
Sodium:

70mg
Carbohydrates:

73g
Fiber:

3g
Sugar:

26g
Protein:

12g
Nutrition information is calculated automatically and isn't always accurate.
If you enjoyed this recipe, please leave a star rating in the recipe card and share it using the buttons below so that others can find it too!
---