This week, in Britain and all over the Commonwealth, millions of people are celebrating Queen Elizabeth II's Platinum Jubilee. All over the UK there will be four days of parades, events and garden parties, and do you what every good party needs? A beautiful and delicious cake. I present to you, my fabulously festive Union Jack Sponge Cake.
What is a Union Jack Sponge Cake?
Inspired by a classic British cake, the Victoria Sponge cake, my Union Jack traybake is made from two layers of light and fluffy vanilla sponge, filled with spiked custard cream and topped with fresh berries in the shape of a Union Jack.
The whole of the UK will be a sea of Union Jack Flags this weekend amidst the Jubilee celebrations, so why not add one to your party table?
A cake that is perfect for parties!
I have baked this sponge cake in a large rectangular baking tray, before halving the cake and stacking it on a serving plate. This method will serve 6-8 people.
If you are having a street party or feeding a big crowd, simply double the recipe and bake on two trays, or keep the cake in a single layer and serve it directly from the baking dish. You could also cut it up and make multiple small cakes for an elegant presentation.
My Never-Fail Sponge Cake Recipe
I am going out on a bit of a limb here, but my easy recipe for sponge cake recipe is truly tried and tested. It will bake beautifully in loads of different sizes so if you only have a round cake tin or pan, don't worry!
You can divide the recipe between two 20cm cake pans for a very high and fluffy cake, or use a 26cm pan for an easier to slice cake. Casserole and baking dishes work well too, just be sure to line the base and grease the sides and baking paper well.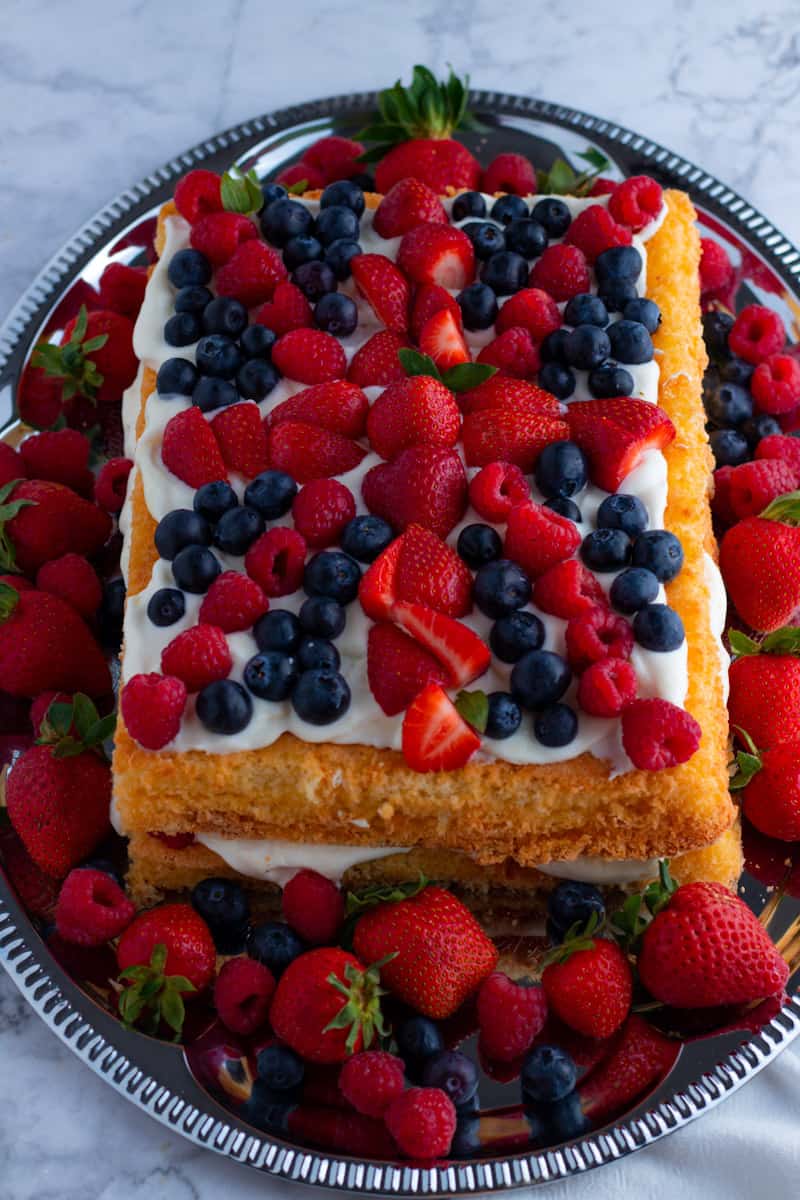 What ingredients are in this sponge cake?
Sponge cake is made with very simple ingredients. Eggs, sugar, oil, vanilla, flour and baking powder. The homemade custard cream is actually what is known as Creme Diplomat, a mixture of vanilla custard and luscious whipped cream.
It is a wonderful, stable cake filling which looks and tastes fabulous.
What is the topping made from?
The cake is topped with seasonal berries, the perfect way to create the red and white of the Union flag. The Union Jack shape is made up of four parts:
The wide strips of the Saint George's cross (England) are made from strawberries, forming a cross through the middle.
The thin strips of Saint Patrick's cross (N. Ireland) are made of raspberries, crossing diagonally from corner to corner.
The cross of Saint Andrew (Scotland) is represented by the white line of the custard cream and the blue triangles of blueberries.
If you like, you could also spread the bottom half of the cake with a little raspberry jam for extra wow.
Substitutions
I always make my sponge cake with oil, rather than butter as I find it stays moister and bakes more reliably. If you do not want to use oil, you can replace it with the same amount of melted and cooled unsalted butter.
You can change the berries to suit what you have, red currants make a particularly beautiful red. Be sure to use fresh, ripe berries. Frozen are unsuitable for this recipe.
Sponge cake is great to make gluten-free, simply use your favourite gluten-free flour blend. As always, gluten-free bakes tend to be less stable, so transport carefully.
What to serve with a Union Jack Sponge Cake?
With this very British recipe, you couldn't go wrong with a cup of tea! Of course, as there will be street parties up and down the length of the country this weekend, I suspect that a glass (bottle!) of Prosecco or sparkling wine wouldn't go astray.
If you are having a British inspired garden party, why not serve Scotch Eggs, Mini Cottage Pies, Puff Pastry Mini Quiches or a delicious Chicken Terrine?
If you are planning a proper sit down meal, you can't beat my Perfect Pork Wellington or Ultra Slow Roast Beef recipes.
The British Union Jack Flag
Is it the Union Jack or Union Flag?
This is a really common mistake! What is known worldwide as the Union Jack is really called the Union Flag, The 'Jack' itself is a variation flown at sea, by the Royal Navy.
What does the Union Flag represent?
The Union Flag is the national flag of the United Kingdom, combining the heraldic crosses of three countries (England, Ireland and Scotland). Poor Wales misses out, as in 1606 when the flag was created, the Principality of Wales was considered part of England.
Is it the Queen's flag?
While it is a Royal flag, the Queen herself has a special Royal Standard, and the Union Jack is only flown over Buckingham Palace when she isn't there.
FREQUENTLY ASKED QUESTIONS:
Can I make Union Jack Flag Cake in advance?
I often make the sponge cake the night before I need it. I leave it on the bench top, covered loosely with cling film and decorate it the following day. Once you have decorated it, it is best to eat the cake on the same day to stop it from going soggy.
Can I make this sponge cake in different sized tins?
Yes! This is a flexible recipe. It works very well divided between two 20x30cm trays, or 24-26cm round spring form cake pans. Be aware that this cake really puffs up, so you do need to use high sided baking dishes. A square tin would also work, you will need to ensure the cake is risen, golden brown and springy to the touch to make sure it is cooked through.
Can I use frozen berries on this cake?
Not this cake, sorry. They are too wet and will make the cake soggy. Also, as the wonderful Nigella Lawson always says, frozen strawberries are awful, like wet slugs!
Can I leave the alcohol out of this recipe?
Can I make an extra-large version of this cake for a big party?
Yes! Double all ingredients and bake two sponges. I would bake one after the other rather than trying to use fan bake or swapping trays around in the oven. Because you are unlikely to have such a big serving dish, simply stack and serve from the tray.
Union Jack Sponge Cake (Platinum Jubilee)
Total Time:
1 hour
45 minutes
My Union Jack Sponge Cake is perfect cake to celebrate the Platinum Jubilee! This gorgeous tray-bake is made from layers of light and fluffy sponge, rich custard cream and loads of fresh berries. Ideal for garden parties and feeding a crowd.
Ingredients
for the sponge cake:
6 large eggs, room temperature
250g (1 cup) white or caster sugar
2 tsp vanilla extract
150ml (½ cup + 1 Tbsp) neutral oil (sunflower, canola etc.)
200g (1 cup) plain or cake flour
3 tsp baking powder
for the Custard Cream Filling:
40g (4 Tbsp) cornflour / cornstarch
80g (4 Tbsp) white sugar
2 eggs
500ml (2 cups) full cream milk
3 tsp vanilla extract
2 Tbsp peach or orange liqueur (optional)
250ml (1 cup) heavy whipping cream
for the fruit topping
250g (½ lb.) ripe strawberries
125g (¼ lb.) fresh raspberries
250g (½ lb.) fresh blueberries
Instructions
PREPARE: Heat the oven to 180°C / 350°F / Gas Mark 4. Grease the base and sides of an approximately 26x36cm (10x14in.) high-sided oven tray with butter, then line the base with baking parchment paper.
MAKE THE SPONGE: Using an electric mixer, beat the eggs, sugar and vanilla extract together for 5 minutes until pale and almost tripled in volume. After 5 minutes, drizzle in the oil while still beating. Sift over the flour and baking powder and fold through, keeping as much air in the mixture as possible. Be sure that you have a smooth cake mix with no remaining flour visible.
BAKE THE SPONGE: Pour the mixture into the prepared tray, smooth over the top, and then bake in the preheated oven for 25 minutes until golden brown and springy to the touch. Remove from the oven and immediately run a small, sharp knife around the sides of the cake. Set aside to cool in the baking tray for 15 minutes, then turn out onto a wire rack to cool completely, gently removing the baking paper. (See note)
MAKE THE CUSTARD: Whisk together the cornflour / corn starch and sugar until well combined. Add the eggs and half of the milk and whisk until smooth. 
COOK THE CUSTARD: Heat the remaining milk and alcohol (if using) in a saucepan until nearly boiling. Pour over the cornstarch mixture whisking constantly, then pour the mixture back into the saucepan and cook, stirring until thick. Pour into a large mixing bowl, cover with cling film (directly on the surface) and transfer to the fridge to chill completely (around an hour).
CUT THE CAKE: Cut the cake in half so you have two equal-sized rectangular pieces. Place one rectangle onto a serving dish.
MAKE THE CUSTARD CREAM: Use an electric mixer to whisk the cooled custard until it is light and fluffy. In a separate bowl, beat the cream with a hand-held electric mixer until soft peaks form, then fold it gently but thoroughly through the beaten custard using a large metal spoon or rubber spatula.
ASSEMBLE THE CAKE: Spread two thirds of the custard cream over the base of the cake. Top with the second piece of cake and spread with the remaining custard cream. 
DECORATE THE CAKE: Wash and dry the berries then use them to create a Union Jack decoration on top of the cake. Start with the strawberries to form a cross in the middle of the cake, then use the raspberries to make an 'X'. Fill the gaps with blueberries, leaving a little space so the white lines of the flag show through.
SERVE AND ENJOY: Chill the cake until needed, then slice and serve.
Notes
You probably don't have a cooling rack quite big enough to turn this tray cake out onto. If that's the case, turn it out onto a clean baking sheet instead.

Make sure you have a clear picture of the Union Jack Flag in your head before starting. It seems obvious, but it will make decorating the cake easier.

Recommended Products
As an Amazon Associate and member of other affiliate programs, I earn from qualifying purchases.
Nutrition Information:
Yield:

10
Serving Size:

1 slice
Amount Per Serving:
Calories:

182
Total Fat:

8g
Saturated Fat:

3g
Trans Fat:

0g
Unsaturated Fat:

4g
Cholesterol:

157mg
Sodium:

217mg
Carbohydrates:

16g
Fiber:

0g
Sugar:

4g
Protein:

7g
Nutrition information. is calculated automatically and isn't always accurate.
If you enjoyed this recipe, please leave a star rating in the recipe card and share it using the buttons below so others can find it too!