Spring is in the air, and while we have only just started the season of Lent here in Europe, I'm already thinking about the Easter feast and all of the delicious food that goes along with it. One of my favourite recipes to cook at this time of year is Easter Bunny Cupcakes, deliciously moist carrot cake cupcakes topped with cream cheese frosting and marshmallow bunny ears – yum!
Are Easter Bunny cupcakes tricky to make?
Not at all! No special ingredients required, just a couple of bowls and a whisk, so perfect for making with kids (or just for yourself!)
How many cupcakes does this recipe make?
This recipe makes a batch of 12 standard-sized cupcakes, which means it is fantastic for feeding a crowd. Un-iced cupcakes and muffins also freeze really well, so you can always prepare them in advance or save some for later.
Troubleshooting Cream Cheese Frosting
I've had a lot of questions over the years about cream cheese frosting as people tend to run into the same problems with it over and over again.
Firstly it is imperative to use full-fat cream cheese here, no cheating with low-fat alternatives. Low fat cream cheese is held together with stabilisers and will simply turn to liquid if you try to use it for frosting, so be sure to get the real stuff.
Secondly, you must add the room temperature butter to the room temperature cream cheese for best results. This means that you will have a lovely smooth frosting that sets up properly when it is chilled.
Can I reduce the sugar in these cupcakes?
I've already reduced the sugar quite a bit in these cupcakes, so I'd stick with the proportions in the recipe here, of course, you are welcome to experiment – let me know how you get on!
Want to try your hand at making your own marshmallows?
Give my Homemade Marshmallows recipe a try!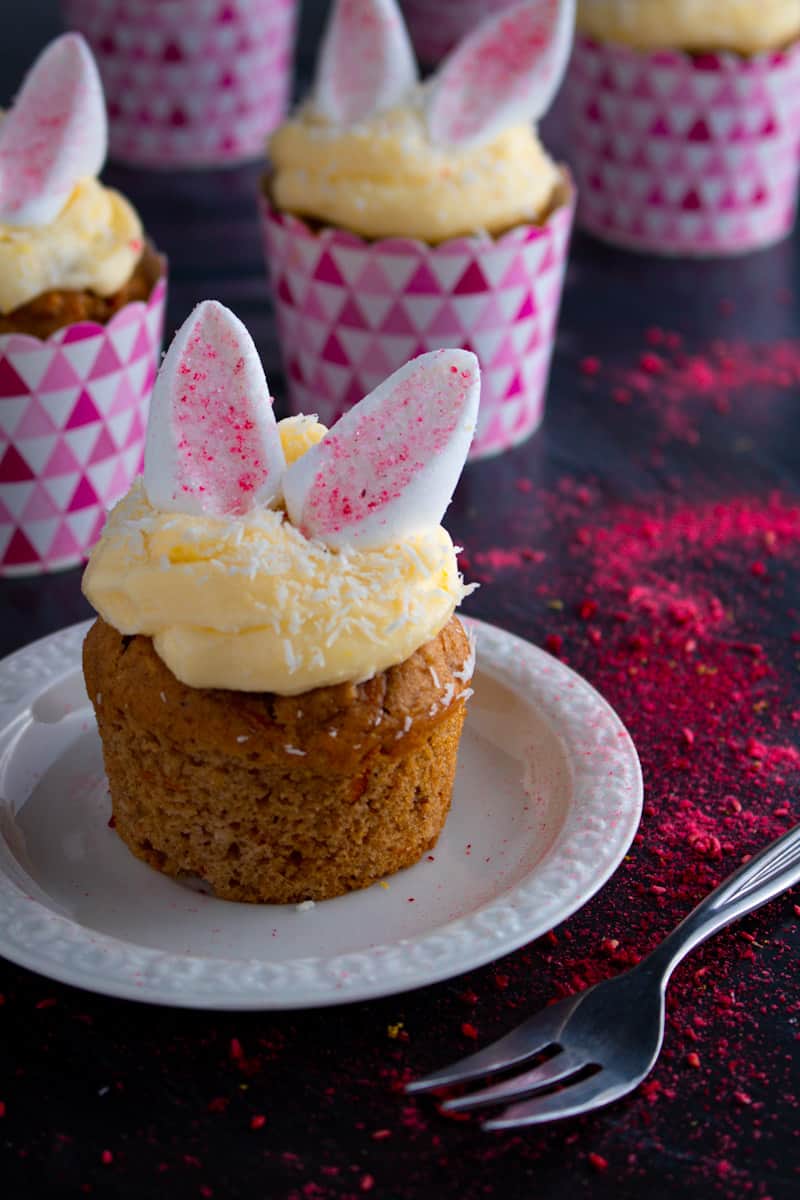 ---
FREQUENTLY ASKED QUESTIONS
Can I double or triple your Easter Bunny Cupcake recipe?
Go for it! It's great for an Easter party or school holiday fair.
Can I make this recipe as a cake or a loaf?
You sure can. The cake batter will fit into a standard-sized loaf pan and needs around an hour to bake. It's roughly the right amount for a 22cm round cake pan, though you'll need to keep an eye on the cooking time.
How do I freeze Easter Bunny Cupcakes?
Freeze them un-iced and well wrapped in cling film. They defrost fairly quickly in a lunchbox or on the kitchen counter, but you'll need to wait until they have completely defrosted before decorating.
---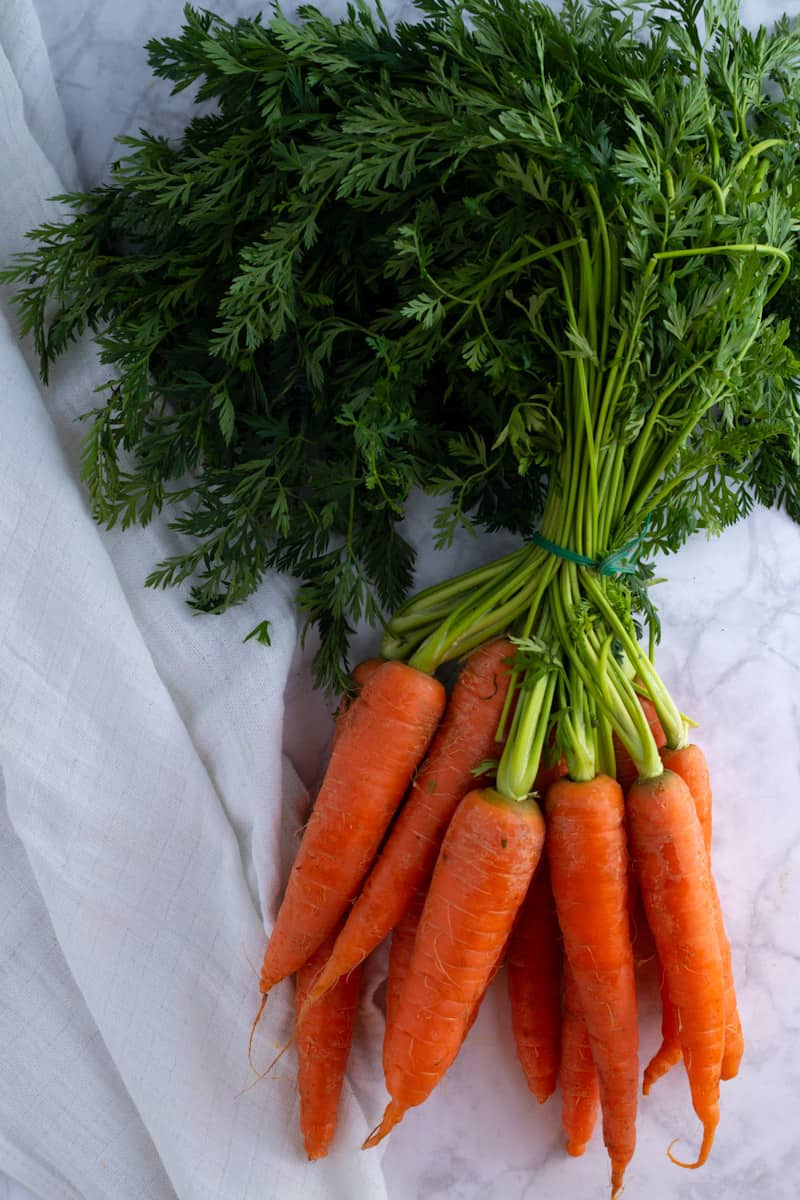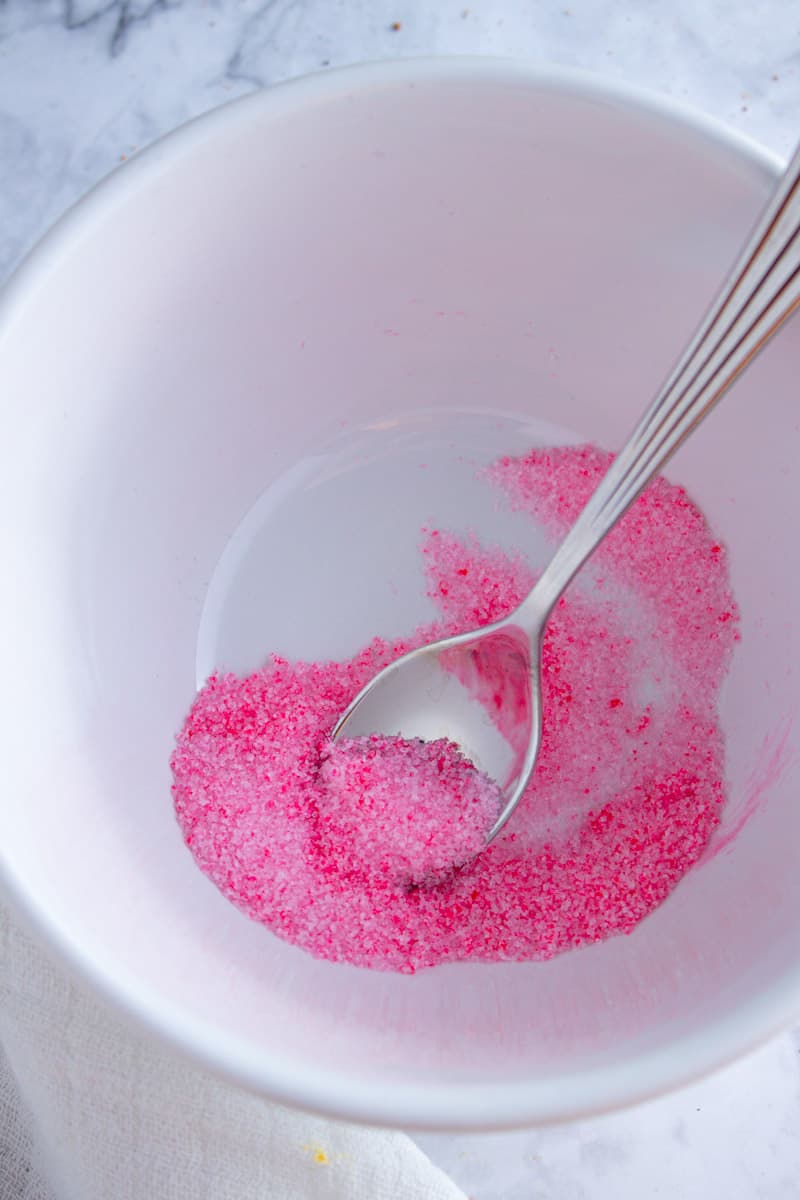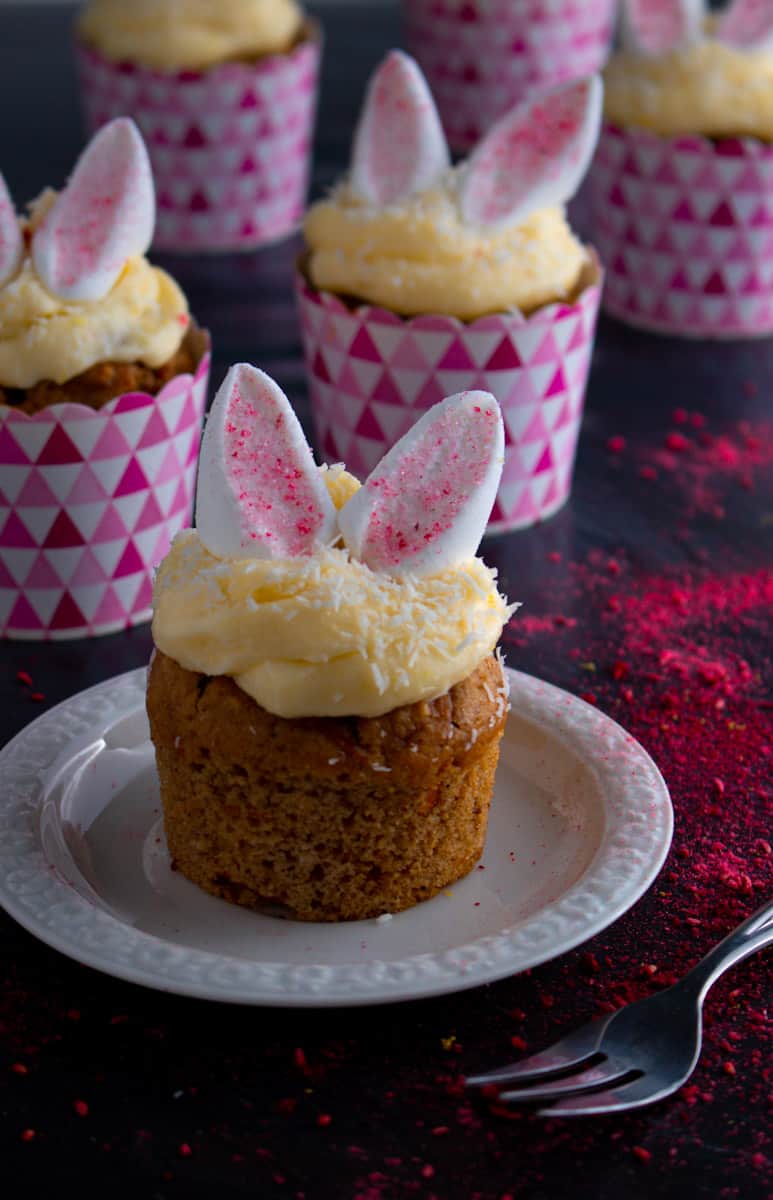 Easter Bunny Cupcakes
Easter Bunny Cupcakes are possibly the cutest Easter treat around! These deliciously moist carrot cake cupcakes are topped with tangy cream cheese frosting and marshmallow bunny ears. No special equipment required!
Ingredients
wet ingredients:
250 ml milk
100 ml neutral oil, sunflower etc
2 large eggs
1 tsp vanilla extract
25ml lemon juice
dry ingredients:
300 g plain flour
100 g sugar
50 g brown sugar
2 tsp baking powder
2 tsp cinnamon
½ tsp ground nutmeg
½ tsp salt
¼ tsp ground allspice
zest of 1 lemon
filling:
2-3 medium carrots, grated (250-300g)
100 g walnuts or hazelnuts, roughly chopped
for the cream cheese frosting:
250 g cream cheese, room temperature (see notes)
75 g unsalted butter, softened
100 g icing sugar
pinch of salt
zest of 1 lemon
2 Tbsp desiccated coconut
for the bunny ears:
12 white marshmallows
2 Tbsp sugar
few drops red food colouring (see notes)
Instructions
PREPARE: Heat the oven to 180°C / 350° F / Gas 4. Prepare a 12 hole muffin tray with paper muffin cases and set aside.
MIX THE BATTER: In a large mixing bowl, whisk together the wet ingredients until well combined. In a separate bowl whisk together the dry ingredients, then mix the dry ingredients through the wet until just combined. Add the carrot and walnuts or hazelnuts to the bowl and mix through evenly.
DIVDE AND BAKE: Divide between the prepared muffin cases, taking care not to fill more than two thirds of the way up the case.  Bake in the middle of the preheated oven for 25-30 minutes hour until risen and golden brown. Check to ensure the cupcakes are cooked through by inserting a skewer into the middle of one, it should come out dry with perhaps a few crumbs attached. Transfer to a wire rack to cool completely.
MAKE THE FROSTING: While the muffins are cooling, make the frosting by whisking the cream cheese and butter until completely combined. Sift over the icing sugar, half at a time, and stir through with a wooden spoon. Stir in the salt and lemon zest. Chill until the muffins have cooled.
MAKE THE BUNNY EARS: Use a pair of scissors to cut the marshmallows diagonally in half (see photos for reference). In a small bowl stir together the sugar and a few drops of food colouring until the desired colour is reached, then press the cut side of the 'ears' into the sugar mixture.
DECORATE: When the muffins are completely cool, either pipe or spread the frosting thickly on top, sprinkle over the coconut and top with a pair of bunny ears.
Notes
CREAM CHEESE: Must be full fat, not any form of reduced fat cream cheese as otherwise the frosting will not set!
FOOD COLOURING: If you don't want to use liquid food colouring, you can also whizz the sugar together with some freeze-dried raspberries for a beautiful pink colour and tangy flavour.
If you enjoyed this recipe, please leave a star rating in the recipe card, and share or pin using the links below to help others find it too!