One of my favourite autumn or fall treats is the last big flush of raspberries before winter comes. While we often associate soft, juicy berries with the summer months, some varieties of raspberries actually fruit in late autumn or fall, and these sweet and delicious fruits are perfect for baking Raspberry and Almond Cake.
This is a simple, rustic cake.
The perfect cake for a cool and sunny autumn afternoon, with a pot of tea and some softly whipped cream. Of course, I won't tell anyone if you sneak a slice for breakfast, and it's equally good warmed up with some hot custard. I love an all-rounder!
What makes Raspberry and Almond Cake so good?
Firstly, Raspberry and Almond cake is quick and easy to make; cream the butter and sugar, stir through the rest of the ingredients, top with juicy raspberries and crunchy almonds and throw it in the oven. An hour later the house will be full of the incredible aroma of this cake. As usual, the hardest part is waiting for it to cool down!
Secondly, this is a flexible recipe. It is DELICIOUS with raspberries or hedgerow blackberries, but you can swap them out for whatever berries or soft fruit you have on hand. All the way at the other end of the year it works very well with gooseberries, and in the summer months, cherries or strawberries make an equally tasty bake.
Thirdly, this is a cake that gets better with age! It will be fantastic the day you make it, but give it a day or two for the flavours to properly get to know each other and you will be rewarded with even better flavour. Yum!
It can be made Gluten-Free!
Having a few gluten intolerant friends, I find this sort of cake a lifesaver as you can easily switch out the plain flour for GF and everybody can enjoy a slice – that is, if you are planning to share! However you make it, Raspberry and Almond Cake is a brilliant treat to bring along to friends or to a party.
Raspberries are a superfood
Even though a cake is an occasional treat and we're not going to kid ourselves that it is a health food, raspberries themselves are full of goodness. They're high in anti-oxidants and a terrific source of vitamin C. They're also known to have anti-inflammatory properties. To be fair, I just like them because they taste so good.
If, like me, you've got your hands on a glut of lovely autumn raspberries, why not try one of my other raspberry recipes below the recipe card?
---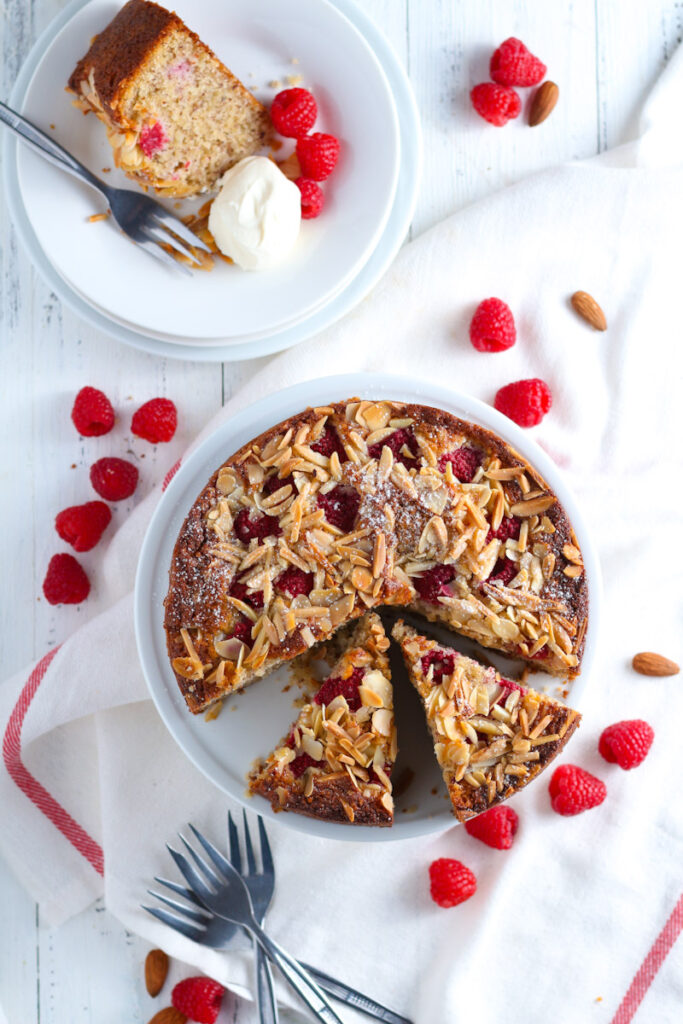 Let me know if you try this recipe in the comments below, or using the hashtag #daysofjay on Instagram. Happy cooking!
---
---
FREQUENTLY ASKED QUESTIONS
Can I make Raspberry and Almond Cake gluten-free?
Yes! Swap the plain flour for your favourite brand of GF flour.
Can I make muffins out of this Raspberry and Almond Cake mixture?
Yes! This is quite a flexible recipe. They don't need as long in the oven, so start checking after about 20 minutes. Once they are risen and golden, test with a skewer to see if they are done.
Can I substitute frozen raspberries for fresh in this recipe?
Yes, though you'll need to thaw and drain them first, otherwise you risk the cake being soggy.
Can I use other fruit in this cake?
Absolutely! All berries work well, including cherries and gooseberries!
---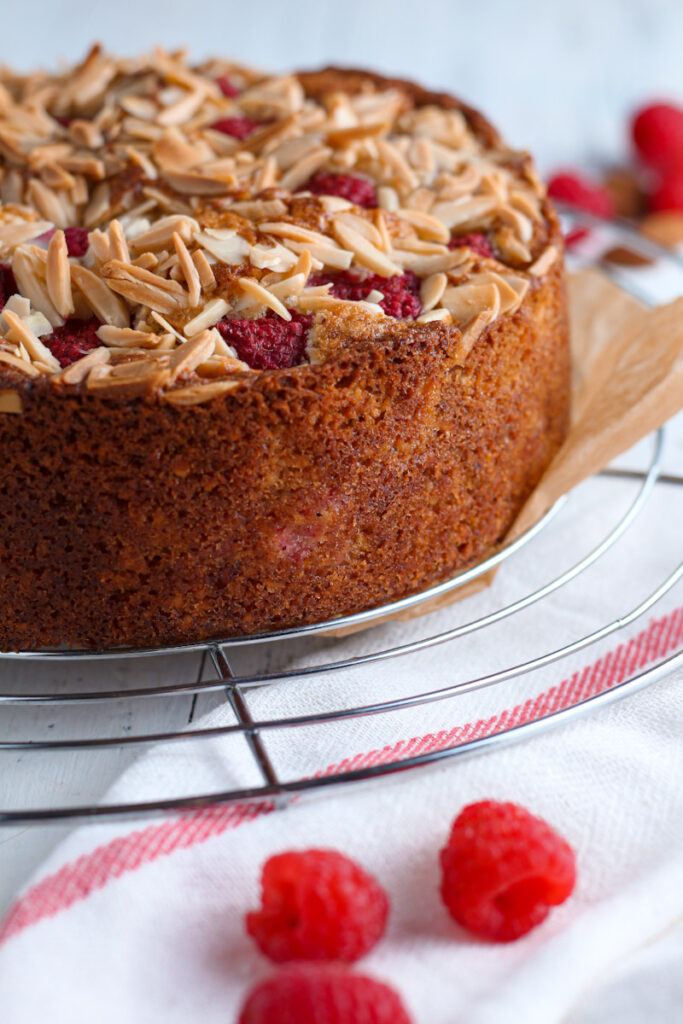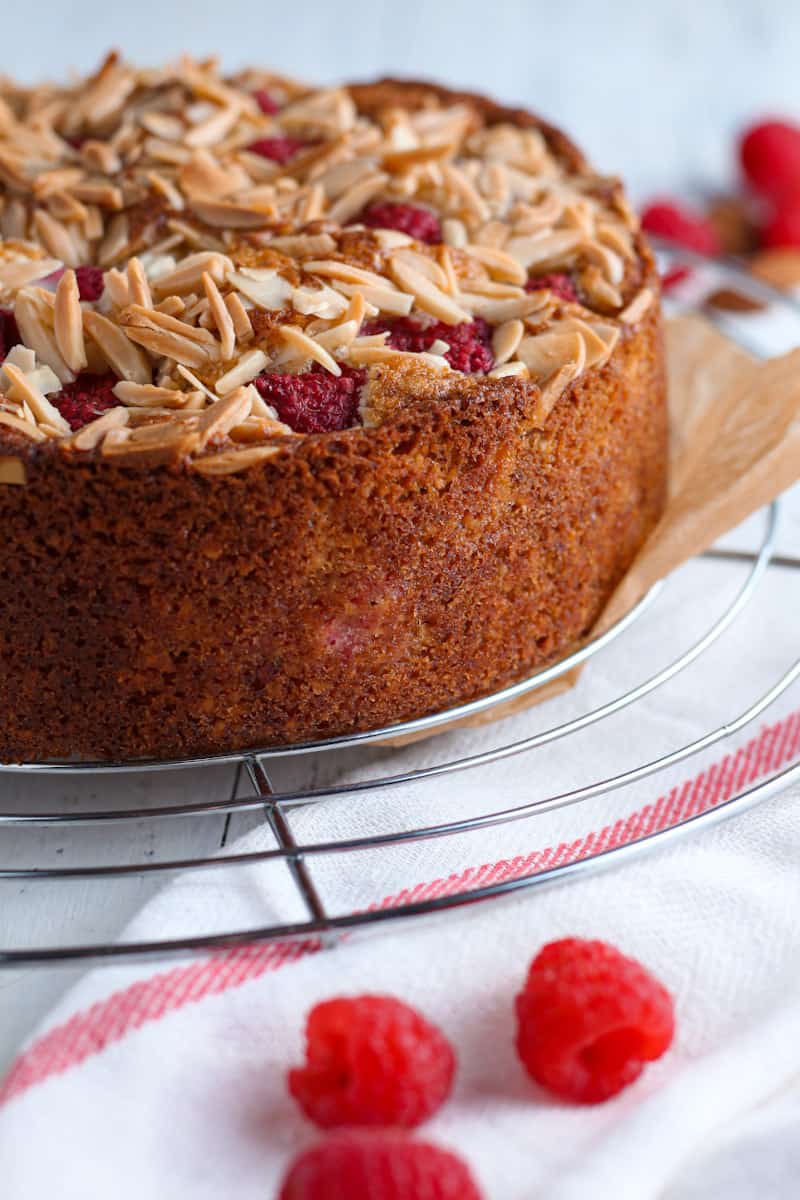 Raspberries are delicious in this cake, but why not try it with hedgerow blackberries, cherries, or even gooseberries?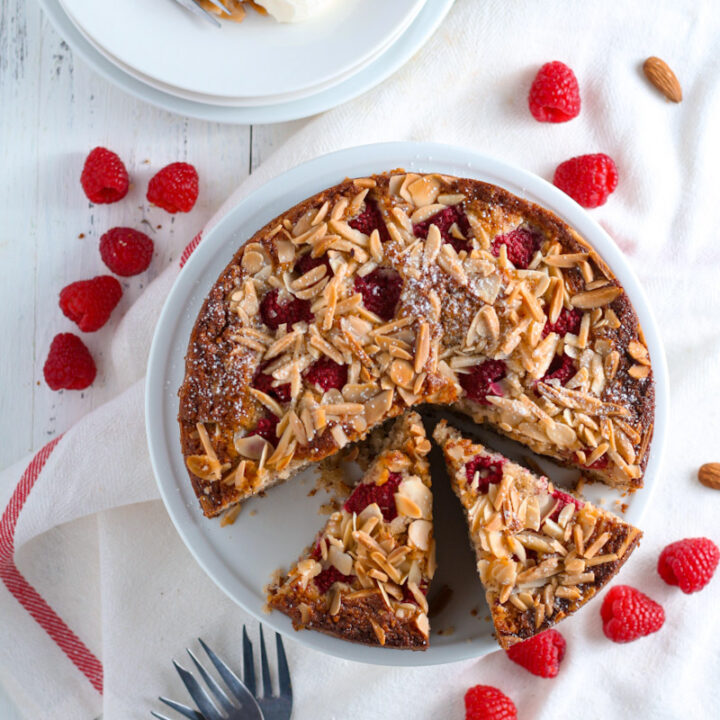 Raspberry and Almond Cake
Total Time:
1 hour
5 minutes
The perfect tea-time treat, Raspberry and Almond cake has a nutty crunch and bright pops of berry flavour. Quick and easy to make, this cake lasts for several days and is delicious warm or cold.
Ingredients
150g unsalted butter, softened
150g sugar
2 large eggs
1 tsp vanilla extract
zest of 1 lemon
75ml milk
150g plain flour
2 tsp baking powder
150g ground almonds / almond meal
pinch of salt
200g raspberries
3 Tbsp slivered or sliced almonds
to serve:
powdered or icing sugar
whipped cream
Instructions
PREPARE: Heat the oven to 180°C / 350°F / Gas 4. Grease with butter, then line the base and sides of a 20cm / 8 in. round springform cake tin with baking paper.
CREAM BUTTER AND SUGAR: Using an electric mixer, beat the butter and sugar together until light and fluffy, at least 4-5 minutes.
MIX THE WET INGREDIENTS: Beat in the eggs, one at a time, mixing well between each egg. Beat in the vanilla, lemon zest and milk until well combined.
ADD THE DRY INGREDIENTS: Sift over the flour and baking powder and mix well. Add the almonds and salt and stir until combined.
ASSEMBLE THE CAKE: Spread half of the cake batter over the base of the tin, it is quite thick, so use the back of a spoon to push it all the way to the edges. Top with half of the raspberries, then the remaining batter and the remaining raspberries, pushing them gently into the batter. Sprinkle the almonds over the top.
BAKE: Bake the cake in the lower third of the preheated oven for 50-55 minutes until golden, risen and a skewer inserted into the centre of the cake comes out clean. Remove from the oven and allow to cool for 15 minutes in the tin before transferring gently to a cooling rack.
SERVE: When the cake is completely cool, dust with icing / powdered sugar and serve with whipped cream and extra raspberries.
Notes
A simple way to soften fridge cold butter is to cut it into cubes and put it into a bowl of room temperature (not hot!) water. Allow to soften for 5 minutes, then drain and use as per the recipe.
Nutrition Information:
Yield:

8
Serving Size:

1 slice
Amount Per Serving:
Calories:

584
Total Fat:

35g
Saturated Fat:

12g
Trans Fat:

0g
Unsaturated Fat:

22g
Cholesterol:

88mg
Sodium:

258mg
Carbohydrates:

61g
Fiber:

7g
Sugar:

37g
Protein:

12g
Nutrition information is calculated automatically and isn't always accurate.
GOT BERRIES? TRY THESE RECIPES!