I am back! After a long break from the online world to recharge my batteries and work on some other projects I am back in the studio and kitchen and hard at work. I've been lucky enough to spend the early part of 2021 travelling in New Zealand and Australia, spending time with my family, and generally appreciating all that this wonderful world has to offer, even amongst the daily doom and gloom in the newspapers. This summer I've been soaking up the glorious Italian sunshine and picking up loads of recipe inspiration along the way, so keep an eye out for lots of new recipes coming your way.
I'm not sure anything quite conjures up the cinematic image of a long, lazy summery picnic better than a peach pie. Something about the idea of sweet, buttery pastry combined with fresh juicy peaches, served with a big dollop of fresh cream or ice cream is so wonderfully American it practically speaks with a southern drawl. Appropriate then, that this recipe for Peach and Ginger Pie comes just in time for the 24th of August – National Peach Pie Day in the United States – my kinda celebration!
I've combined the peaches here with nutmeg and ginger which I find lifts the flavour of the fruit from ordinary to truly delicious. If you fancy though you could use cinnamon instead, or leave the peaches pure and unadulterated. Do make sure to use beautifully ripe, strongly scented peaches for best results. I like to buy mine and leave them in a bowl on the counter for a few days until they are perfectly ripe and ready.
Like other stone fruits, peaches are either free-stone, where the pit is easily removed or cling-stone, where the pit clings stubbornly to the flesh. Obviously, free-stone peaches will make a cook's life easier so try to seek them out if you can. If you have ended up with cling-stone peaches, all is not lost, you'll need to cut the stone away from the flesh rather than wiggling it out.
I hope that wherever you are, 2021 has been treating you and your loved ones well. Take care out there and from my kitchen to yours, happy cooking! J.
---
Let me know if you try this recipe in the comments below, or using the hashtag #daysofjay on Instagram. Happy cooking!
---
Peach and Ginger Pie
Yield:
1 x 23cm / 9 in. Pie
Peach and Ginger Pie is the perfect bake for those long, lazy, late summer days when the trees are full of ripe, juicy fruit. Perfect for taking on a picnic, or serving for dessert. I like to get started with making the pastry as soon as I get up, while the kitchen is still cool.
Ingredients
for the pastry:
350g flour
3 Tbsp sugar (ca. 50g)
½ tsp sea salt
½ tsp baking powder
200g cold unsalted butter, cubed
100ml ice-cold water
1 Tbsp apple cider vinegar
for the filling:
10 medium-sized peaches
Juice of ½ lemon
125g sugar
3 Tbsp flour
2 tsp vanilla essence or sugar
2.5 cm / 1 in. fresh ginger, peeled and finely grated
½ tsp ground nutmeg
2 Tbsp bread crumbs
to finish:
1 egg, beaten
1 - 2 Tbsp sugar
Instructions
Make the pastry by whisking the flour, sugar, salt, and baking powder together in a large mixing bowl. Add the butter and rub together until the mixture looks rough and flaky. Pour in the water and vinegar, then use a fork to mix into a loose dough. Turn out onto the bench and squeeze together into a disc, then wrap in clingfilm and refrigerate for 30 minutes.
While the dough is resting, prepare your filling. To skin the peaches place them in a large heatproof bowl or saucepan. Prepare a bowl or sink full of cold water. Pour boiling water over the peaches, leave for 30 seconds, then use a slotted spoon to transfer to the cold water. Allow to cool for 1 minute - the skins should easily slip off. I actually like to halve my peaches before skinning them. See FAQ's for more information.
De-stone the peaches and cut them into slices. Toss with the lemon juice to prevent the peach from browning.
In a small bowl whisk together the sugar, flour and ginger, then stir through the peaches. Sprinkle over the vanilla, then transfer to a colander set over a bowl for 10 minutes to allow the peaches to release their juices.
Grease a 23cm / 9 in. diameter pie dish with butter. When the dough has rested, divide it into two pieces, one slightly larger than the other. Roll out the bigger piece to a large circle on a lightly floured surface, turning the dough 90° between each roll and flouring the surface so it doesn't stick.
Drape the dough over the rolling pin and lift the dough into the pie dish, pressing the dough firmly against the base and sides, leaving a pastry overhang on all sides. Use your thumb and forefingers to crimp the edges.
Prick the base all over with a fork, scatter over the bread crumbs, then fill with the sliced peaches, discarding the liquid in the bowl. Try to have the peach slices lying as flat as possible. Transfer to the fridge or freezer while you prepare the top pastry.
Roll the remaining dough out to a large circle. Either use this circle to top the pie, cutting slits in the pastry as air vents or, use different-sized heart-shaped cookie cutters to cut out as many hearts as possible, re-rolling the pastry as necessary.
Top the pie with the pastry as desired, then return to the fridge or freezer for 30 minutes. Meanwhile, heat the oven to 180°C / 350°F / Gas 4 with a baking tray on the middle-lower rack.
When the pie has chilled (this helps the pastry keep its shape) and the oven is hot, whisk the egg and 1 tablespoon of water together, then brush the pie all over. Sprinkle generously with sugar.
Bake in the preheated oven for 1 hour until the pastry is golden brown and the peach filling is visibly bubbling. If you find that the pastry is getting too dark in the last 15 minutes of cooking time, tent the pie loosely with tin foil.
Allow to cool completely in the dish before slicing and serving, I like a scoop of vanilla ice cream with mine!
Notes
EXTRA SPECIAL KITCHEN TIP: Whichever peaches you buy, the best way to halve them is by cutting around the centre of the peach horizontally rather than vertically, like the equator of the earth, then twisting to separate - trust me!
Nutrition Information:
Yield:

8
Serving Size:

1 slice
Amount Per Serving:
Calories:

553
Total Fat:

22g
Saturated Fat:

13g
Trans Fat:

0g
Unsaturated Fat:

8g
Cholesterol:

77mg
Carbohydrates:

84g
Fiber:

4g
Sugar:

44g
Protein:

8g
Nutrition information is calculated automatically and isn't always accurate.
---
FREQUENTLY ASKED QUESTIONS
How do I peel peaches? Is it difficult?
Peeling peaches is actually very simple. You simply need to cover the ripe peaches with boiling water, then plunge into ice-cold water. The skins should slip right off, however here are some tips:
– Make sure you are using ripe, fragrant fruit – the skin should feel very slightly loose and the peaches should have a strong and fragrant aroma. Underripe peaches are much more difficult to peel.
– Test your fruit to see whether it is free-stone or cling-stone. Free-stone peaches are those where the stone comes easily away from the flesh (most modern varieties) while cling-stone pits will stick past. Obviously, free-stone peaches make your life easier in the kitchen, so try to seek these out for baking if possible.
– It's unorthodox, but I prefer to halve my peaches before covering with boiling water, I find it is easier to remove the stone without bruising the flesh.
Can I use store-bought pastry to make Peach and Ginger Pie?
Go for it! Especially in the summer heat! As always, I urge you to make your own pastry as it will be worlds better than any commercially manufactured pastry. Pie-making should be a pleasure, not a chore, so you do you.
Do I have to use ginger in this pie? It seems like a strange combination?
I love the bright zingy taste of ginger and find that it compliments the peaches in this pie perfectly, but you can certainly leave it out if you prefer. Maybe replace it with some finely grated orange zest or similar to lift the flavour of the peaches.
I'm i a hurry! Do you have any recipes for fruit pie that are faster than this?
---
Make sure to use deliciously ripe and fragrant peaches for the best pie – they should have a strong, sweet scent.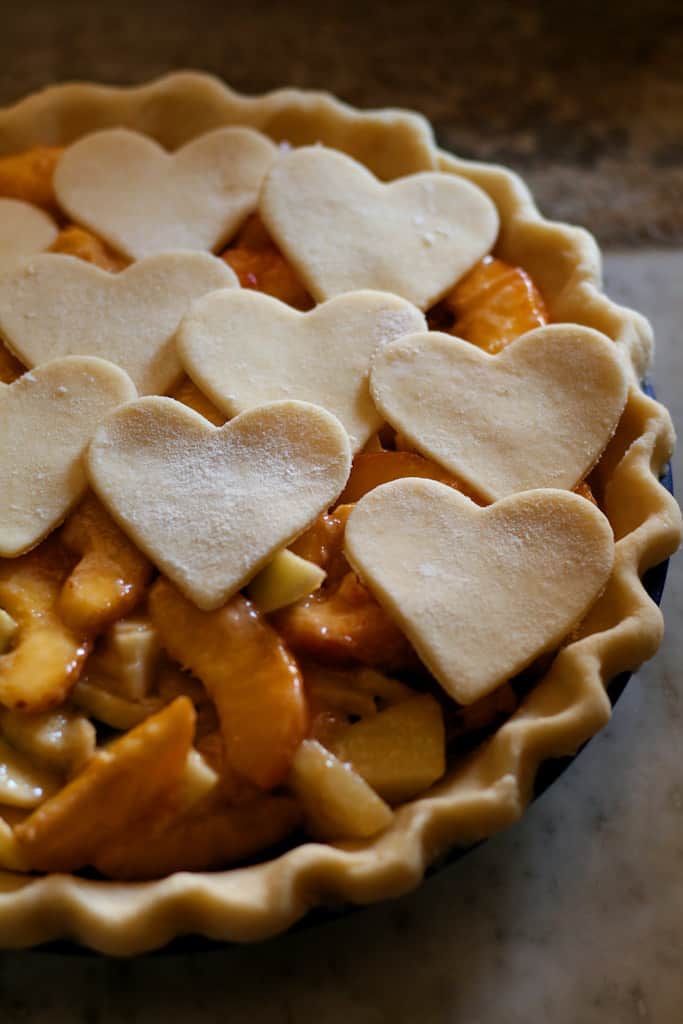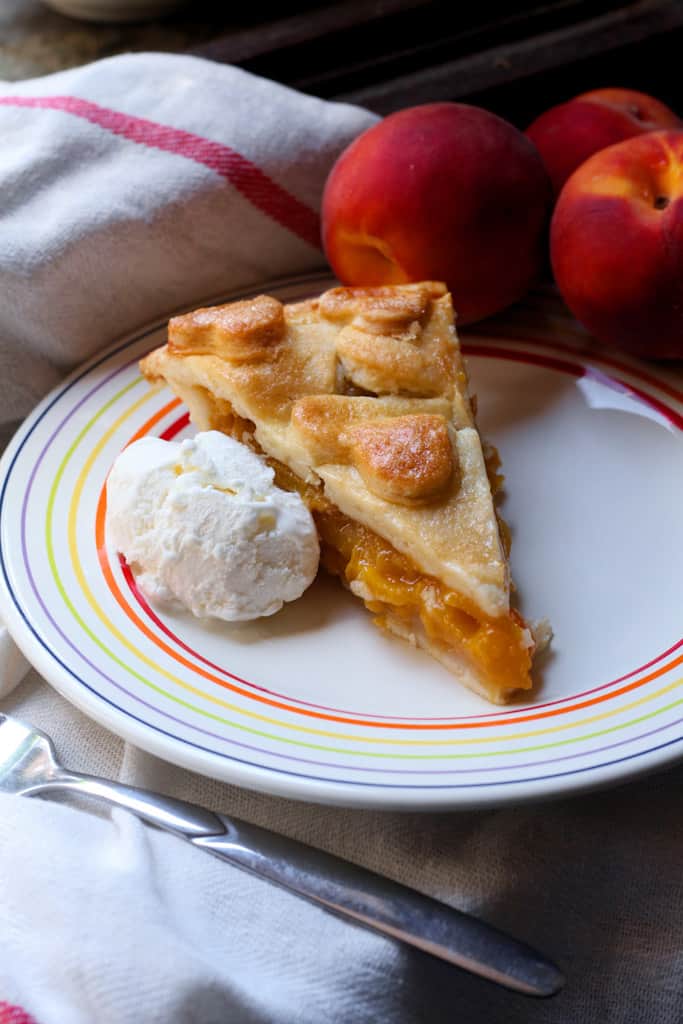 PEACH AND GINGER PIE
---