If you were to ask me what my favourite cut of meat is, it would have to be pork tenderloin. Cooked properly, this lean and flavoursome meat is so incredibly juicy and tasty. Best of all, it cooks quickly, meaning with very little effort you can have a delicious meal on the table. When I am really in a hurry but want big flavour, today's recipe Salsa Verde Pork Tenderloin is always at the top of my list.
This is such a brilliant recipe to have up your sleeve. Pork tenderloin is rubbed with aromatic spices, quickly seared on the stovetop and then finished off in the oven. Topped off with a speedy, herby salsa verde, this recipe comes together so quickly you'll hardly have time to set the table! I like to make mine quite spicy, but you can easily dial down the heat if you're not a fan by adjusting the amount of chilli.
Many people associate pork with being dry, tough and chewy. This is because, on the whole, we have been overcooking it for years. Modern research shows that pork can be cooked to a lovely rosy pink and still be entirely safe to eat – hurrah! (You can read more about this here if you are interested).
To ensure the most perfectly cooked meat an 'Instant Read' digital thermometer is your best friend. They can be picked up so cheaply these days and take all the guesswork out of cooking. Pork can be cooked to an internal temperature of 63°C / 145°F followed by a short rest. I like to cook mine to around 65°C /150°F and it is perfectly juicy.
When I cook Salsa Verde Pork Tenderloin, I like to serve it with rosemary roast potatoes. I simply cube the potatoes, toss them with olive oil, fresh rosemary, salt and pepper and roast in the oven for 25-30 minutes before the pork. This is a terrific dish for any time of year, served with some green beans in the cooler months or a crisp green salad in summer.
Who else loves pork tenderloin? What's your favourite recipe? Let me know in the comments below!
---
Let me know if you try this recipe in the comments below, or using the hashtag #daysofjay on Instagram. Happy cooking!
---
Salsa Verde Pork Tenderloin
Melt in your mouth pork, topped with a vibrant green sauce, Salsa Verde Pork Tenderloin is so incredibly tasty it is worth making two as the first is guaranteed to disappear in a flash!
Ingredients
for the spice rub:
2 tsp brown sugar
1 tsp paprika
1 tsp chilli powder
½ - 1 tsp sea salt
½ tsp garlic powder
½ tsp ground coriander
½ tsp ground fennel
for the salsa verde:
a big bunch of flat-leaf parsley
½ red onion
1 fat clove garlic
3 Tbsp vinegar
3 Tbsp olive oil
½ tsp sea salt
½ tsp chilli flakes
for frying:
Instructions
Use a small, sharp knife to trim the tenderloin of any silver skin, then pat dry. Whisk together the spice rub ingredients, then rub evenly over the pork, making sure it is well covered. Set aside.

Heat the oven to 200°C / 400°F / Gas 6. Meanwhile, make the salsa verde by finely dicing the parsley, red onion and garlic (you can use a food processor to pulse these ingredients together, but leave them chunky, rather than a paste). Transfer to a bowl and stir through the vinegar, olive oil, sea salt and chilli flakes, taste and adjust seasoning as necessary.

Heat the oil in a large, ovenproof frying pan (see note). When the oil is hot, brown the tenderloin well on all sides. This should take 5-6 minutes. Transfer the pan to the oven for 12-15 minutes until the pork is cooked through. If you have a digital thermometer, you can check that the thickest part of the meat registers at least 65°C / 150°F, though you can take it up to 70°C / 158°C if you prefer your meat more well done.

Remove the pork from the oven, cover loosely with foil and keep warm for 5 minutes. When the pork has rested, slice thickly and generously spoon the salsa verde over the top.

I like to serve this pork with roast potatoes - as my oven is a little smaller I use the fan-bake setting on 180°C / 350°F and place cubed potatoes and chopped rosemary tossed in a little olive oil on a lower shelf for 25-30 minutes before I put the pork in the oven.
Notes
If you don't have an ovenproof frying pan, or if yours doesn't fit in the oven (it is worth checking this before you start cooking) simply place a baking dish or oven tray in the oven when you turn it on. When the pork is seared, transfer to the hot oven tray or dish and proceed as per the recipe.
Recommended Products
As an Amazon Associate and member of other affiliate programs, I earn from qualifying purchases.
Nutrition Information:
Yield:

3
Amount Per Serving:
Calories:

475
Total Fat:

30g
Saturated Fat:

5g
Trans Fat:

0g
Unsaturated Fat:

23g
Cholesterol:

122mg
Sodium:

497mg
Carbohydrates:

5g
Fiber:

1g
Sugar:

3g
Protein:

44g
Nutrition information is calculated automatically and isn't always accurate.
---
FREQUENTLY ASKED QUESTIONS
Can I cook Salsa Verde Pork Tenderloin in advance?
You can rub the spices onto the pork up to 24 hours in advance and make the salsa verde an hour or two before eating. This meal is so quick to make that you probably don't need to though!

What is the difference between pork loin and tenderloin?
Though they sound similar, loin and tenderloin are completely different cuts of meat. Tenderloin, sometimes known as fillet is very easy to spot as it is a long, skinny cut. Pork loin is much wider and thicker from higher up in the back. The two cuts are not interchangeable as they require different cooking techniques.

Can I double or triple the recipe to feed more?
Yes! Rather than transferring the whole pan to the oven, heat an ovenproof dish large enough to hold the tenderloins (with plenty of space around them). Transfer the seared tenderloins to the baking dish and proceed as per the recipe.
---
Looking for more delicious pork tenderloin recipes? Why not try my Perfect Pork Wellington?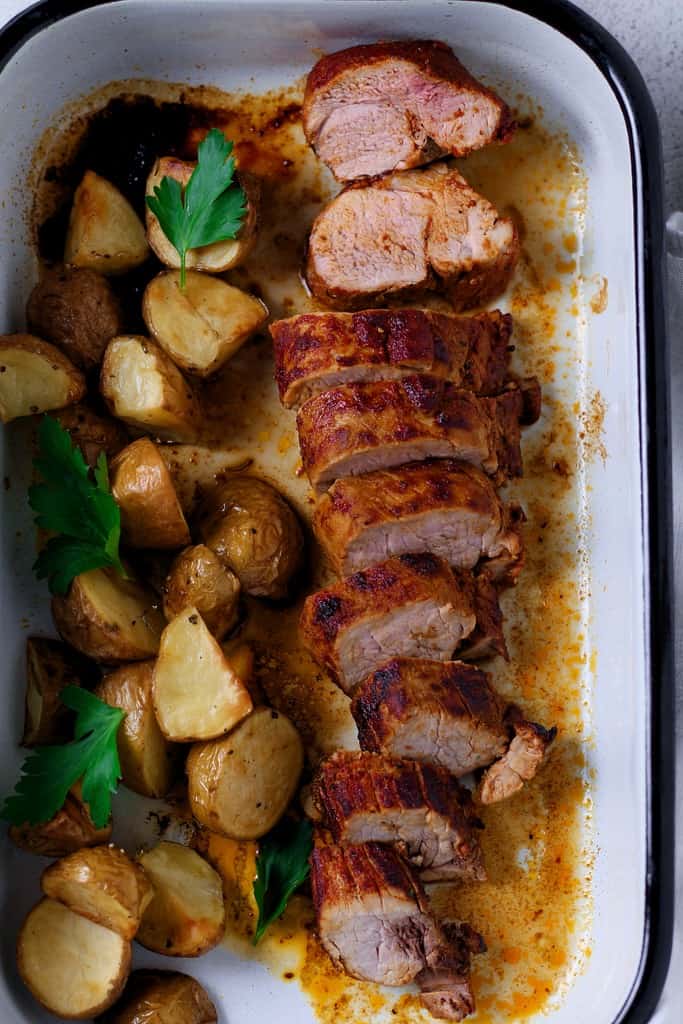 Salsa verde pork tenderloin
---