Wow! I have had so many messages asking about the burger buns that I made for the Black Bean Veggie Burgers on Friday! I have been making these buns for years but I've never shared the recipe on the blog. I am more than happy to share my recipe for Soft Burger Buns because I think burgers deserve better than the sad, squashed buns they sell at the supermarket.
Soft Burger Buns, once you get the hang of them, are actually very simple to make. They are made from a basic enriched yeast dough. That means they are a little like a brioche, only without so much butter. Because I make these every week I have streamlined the recipe as much as possible. I use a stand mixer with the dough hook attachment, but they are perfectly easy to make with a bit of arm-power, something I often find myself doing when we are on holiday.
The recipe below makes 8 medium or 6 large burger buns, so keep in mind the size of your burger patties when you are dividing the dough. The buns freeze well, so if the recipe makes more than you need, simply allow the buns to cool after cooking, then slice them in half, wrap and freeze.
Looking for a burger recipe to go with these buns? Why not try my Spicy Pork and Bacon Burgers, or if you fancy a vegetarian option, my Chickpea or Black Bean burgers are delicious too. Have you tried making burger buns before? Were they a dream or a disaster? Let me know in the comments below!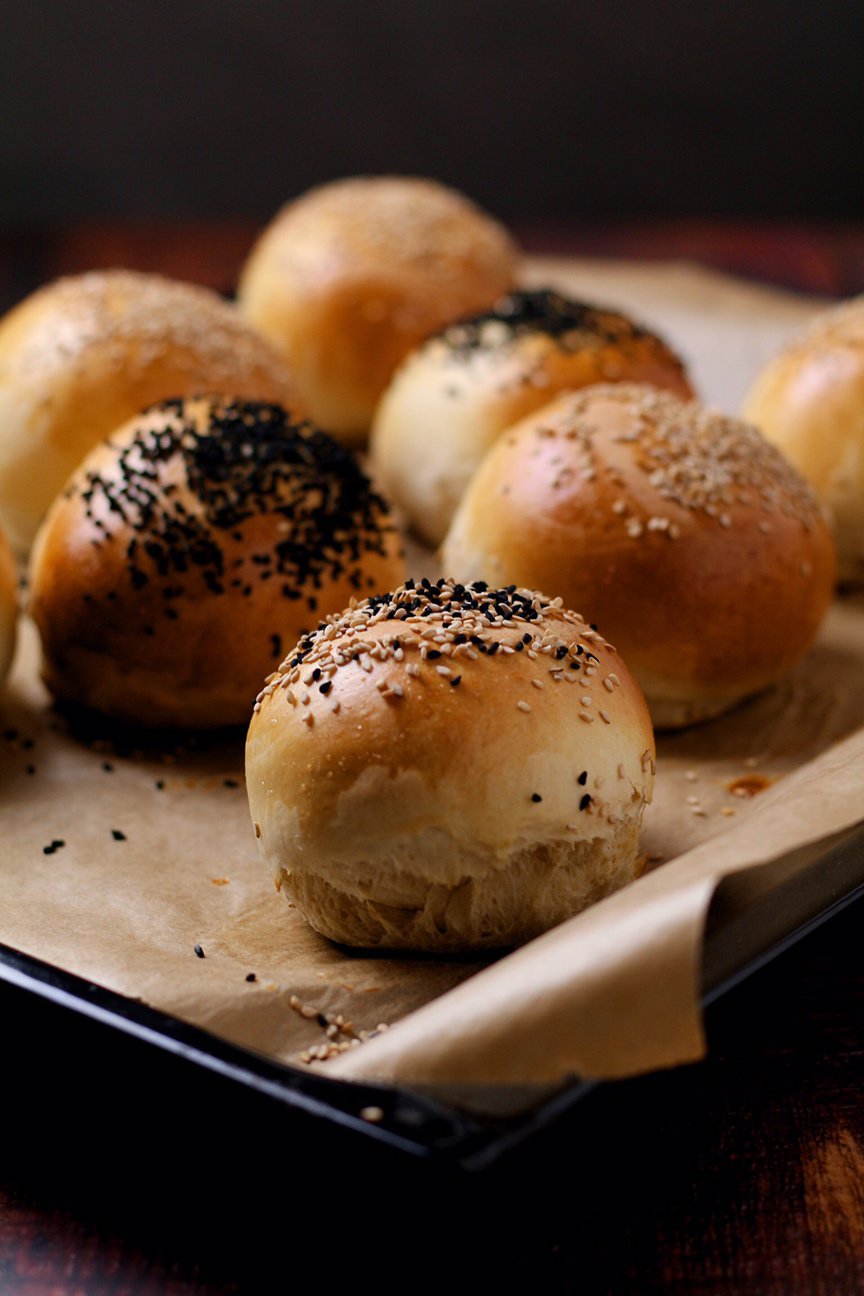 ---
Let me know if you try this recipe in the comments below, or using the hashtag #daysofjay on Instagram. Happy cooking!
---
Soft Burger Buns
Total Time:
2 hours
30 minutes
Soft Burger Buns are so easy to make at home and are miles better than store-bought. Try this fool-proof recipe a try and give your burgers the buns they deserve!
Ingredients
for the dough:
250ml milk
50g unsalted butter
500g plain flour, separated 300g / 200g
50g sugar
1 tsp sea salt
7g sachet dried yeast
1 large egg, separated
for the topping:
reserved egg white from the dough
1 Tbsp milk
2 Tbsp sesame or poppy seeds
Instructions
Begin by heating the milk slightly in a small saucepan until it is just warm. Remove from the heat, add the butter to the pan and set aside.

In the bowl of a stand mixer with the dough hook fitted, or a large mixing bowl, stir together 300g of flour, the sugar, sea salt and yeast until well combined. Add the milk and butter mixture and egg yolk, then knead on high-speed or stir vigorously until smooth. Add all the remaining flour, then knead for 5 minutes until you have a smooth, pliable dough. Cover and allow to rise in a warm place for 1-2 hours, until doubled in size.

When the dough has doubled, lift it out of the bowl, weigh the dough, then divide into 8 pieces of equal weight. Line an oven tray with baking paper, then roll each piece of dough into a ball, pinching the edges to seal, then place on the prepared tray with the pinched side down. Make sure to leave plenty of space for the dough to expand. Cover with a clean tea towel and allow to rise for another 45 minutes to 1 hour.

When the dough has nearly finished rising, heat the oven to 180°C / 350°F / Gas 4. When the dough has risen, whisk together the reserved egg white with the milk and brush the risen buns gently, but thoroughly with the mixture. Sprinkle over sesame or poppy seeds, then bake the buns in the preheated oven for 15 minutes, until well risen and golden brown.

Allow to cool on a rack before halving and loading with your favourite burger filling.
Nutrition Information:
Yield:

8
Serving Size:

1 burger bun
Amount Per Serving:
Calories:

330
Total Fat:

15g
Saturated Fat:

7g
Trans Fat:

0g
Unsaturated Fat:

7g
Cholesterol:

39mg
Sodium:

444mg
Carbohydrates:

43g
Fiber:

2g
Sugar:

6g
Protein:

7g
Nutrition information is calculated automatically and isn't always accurate.
---
FREQUENTLY ASKED QUESTIONS
Can I halve or double the Soft Burger Buns recipe?
The recipe can be doubled, though I prefer to make two batches instead. Rather than halving the recipe where you will end up with odd amounts like half an egg yolk, I'd suggest making the full batch and freezing any you don't need on the day.

Can I use wholewheat/spelt/rye flour to make Soft Burger Buns?
It is possible, though especially with wholewheat and rye flour I would substitute more than ¼ of the total weight of the flour, otherwise, they will end up tough and a bit chewy. All variations of flour absorb different amounts on liquid, so you'll need to experiment.

On that note, my dough is too wet/sticky! What can I do?
Flour is a funny thing, so you'll need to adjust the amounts slightly to suit your local ingredients. If the dough is still very wet after you have added the second portion of flour in the recipe, add more flour 1 tablespoon at a time until you can handle the dough without it sticking. After kneading and rising, you should find that it is much less sticky.
---
It's always worth making the full batch of this recipe as Soft Burger Buns freeze perfectly.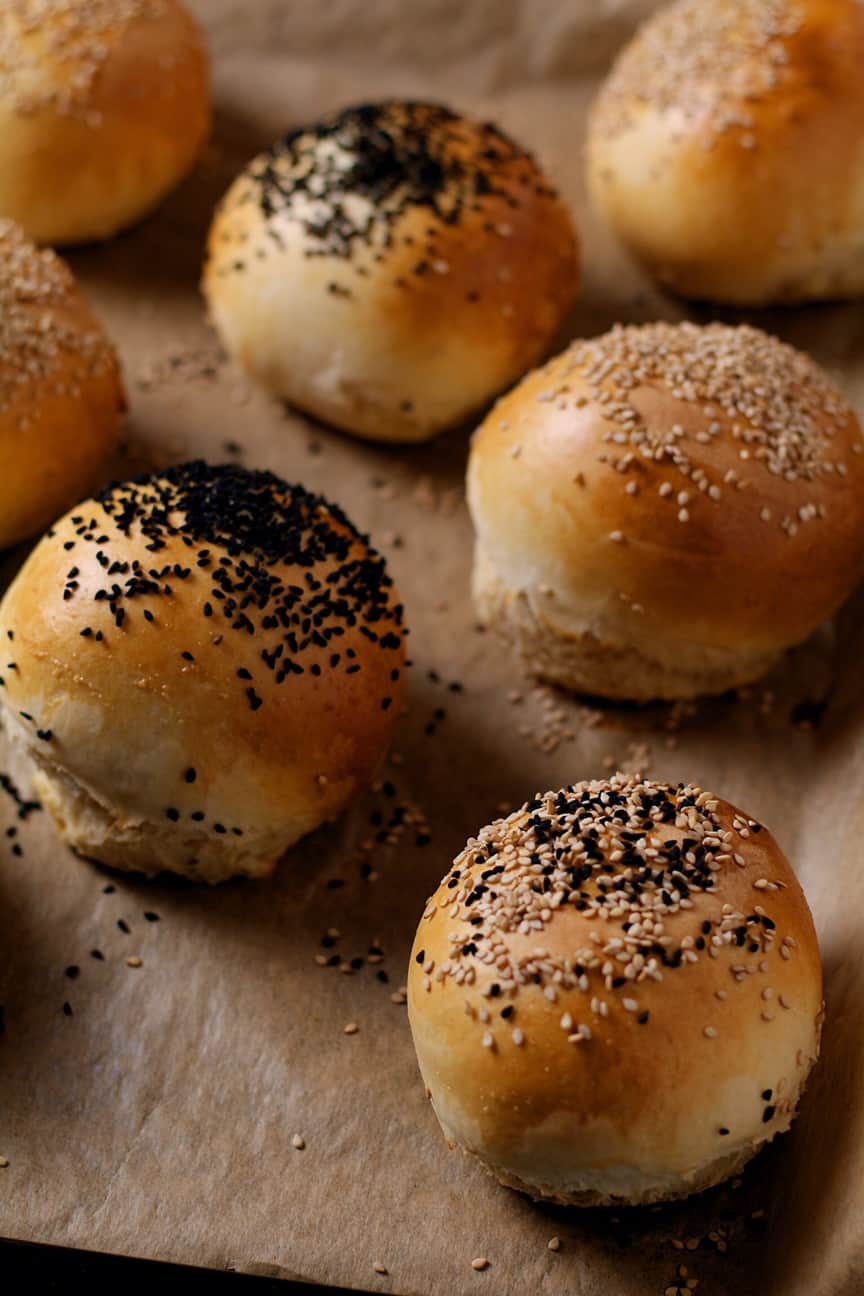 SOFT BURGER BUNS
---