We are in the hottest part of the year, which means early starts getting work done around the house before we close up all the shutters to keep the heat out. It's the time of year in Italy when even a quick walk outside at midday is enough to leave you drenched and craving for something sweet and cold.
A light, cool and refreshing sorbet on a summer day is my idea of bliss. Most store-bought sorbets, however, are full of junky stabilisers and chemical sweeteners, so I prefer to make my own. I only have a small kitchen with no room for a bulky ice cream maker, but not to worry as it is perfectly easy to make my delicious No-Churn Pomegranate Sorbet at home without special equipment.
This technique for making sorbet is super simple. You mix an unsweetened fruit juice with sugar syrup, add a little gelatine to help stabilise the sorbet, and adjust the tartness to taste with some citric acid. The whole lot is frozen in a block, then chopped up and blitzed to light and fluffy deliciousness in the food processor or blender. It then goes back in the freezer to firm up, where it should stay perfectly scoopable for up to three months – if it lasts that long!
You can switch up the flavours in this recipe by changing which fruit juice you use. Tarter flavours like grapefruit or combinations like pineapple-lime (my favourite!) work best, as the acidity makes them more refreshing than sweeter juices like apple. Blood orange makes a beautiful pale peach coloured sorbet, perfect for scooping into a tall glass and pouring over prosecco!
What's your favourite sorbet flavour? Have you tried this recipe? Let me know in the comments below. Hope you're keeping cool in the heat and enjoying the summer. x J
---
Let me know if you try this recipe in the comments below, or using the hashtag #daysofjay on Instagram. Happy cooking!
---
No Churn Pomegranate Sorbet
Total Time:
6 hours
10 minutes
Light, cool and refreshing sorbet without an ice cream maker? You bet! No-Churn Pomegranate Sorbet is sweet, tangy, delicious and super easy. Made with only four ingredients, and no nasty chemicals.
Ingredients
2 tsp powdered gelatine
200g sugar
800ml unsweetened pomegranate juice
½-1 tsp citric acid (to taste)
Instructions
Pour 100ml of cold water into a small bowl and sprinkle over the gelatine powder. Leave to swell (this is called 'blooming the gelatine') while you prepare the sugar syrup.

In a medium saucepan heat 150ml water and the sugar, stirring until the sugar is dissolved. Bring to the boil, allow to boil for 10 minutes then remove from the heat.

Whisk the gelatine mixture into the hot sugar syrup, then set aside to cool for 10 minutes. Meanwhile, line a shallow 1-litre capacity dish with clingfilm (this makes lifting the sorbet out later much easier).

When the syrup has cooled, whisk in the pomegranate juice and citric acid, starting with ½ tsp and adding more to taste - remember that the flavours will not be as pronounced when the sorbet is frozen. Pour into the prepared dish and freeze for 4-6 hours until quite firm.

At least 2 hours before you want to eat the sorbet, remove from the freezer, allow to soften for 5 minutes, then cut into chunks. Process on high in the food processor or blender until the mixture is light and fluffy. If the mixture doesn't begin to quickly break up and turn pale pink, don't force the processor! Let it sit for 5 minutes and then try again.

Use a spatula to quickly transfer the sorbet to a container with a lid (I save old ice cream containers for this purpose( and return to the freezer until needed.

No-Churn Pomegranate Sorbet keeps for several months in an airtight container.
Nutrition Information:
Yield:

10
Serving Size:

1
Amount Per Serving:
Calories:

123
Total Fat:

0g
Saturated Fat:

0g
Trans Fat:

0g
Unsaturated Fat:

0g
Cholesterol:

0mg
Sodium:

8mg
Carbohydrates:

31g
Fiber:

0g
Sugar:

31g
Protein:

0g
Nutrition information is calculated automatically and isn't always accurate.
---
FREQUENTLY ASKED QUESTIONS
Can I make No-Churn Sorbet with other fruit juices?
Yes! You can use all sorts of juice to make sorbet using exactly this method. Juices that are more tart/sour like grapefruit will work better than very sweet ones like apple. Try combinations – Pineapple-Lime is my favourite!

How long can I store No-Churn Sorbet?
I have tested it up to 3 months in the freezer and it was still delicious and scooped straight from the freezer. This will depend on how stable your freezer temperature is however.

Why is there gelatine in this sorbet? Can I leave it out?
Gelatine is used as a stabiliser in the sorbet to stop it from melting and to give a lovely mouthfeel. You can definitely leave it out if you like, though the sorbet won't be as stable.

What sort of food processor do you use to make your sorbet?
I have a fantastic German Bosch 'Mum' mixer that has been going strong for over 20 years! It's a compact all-in-one style and I love it so much I have three, one in Germany, one in Italy and one in Australia.You can get all sorts of attachments for it like blenders, food processors and meat grinders (I have them all!) Highly recommended!
---
It will take several hours for the sorbet to freeze solid, so make sure you plan in advance.
If the sorbet isn't breaking up and turning a pale pink, allow it to warm up for about 5 minutes and then try again.
LOOKING FOR MORE COOL AND REFRESHING DESSERTS? WHY NOT TRY MY PINK CHAMPAGNE PANNA COTTA?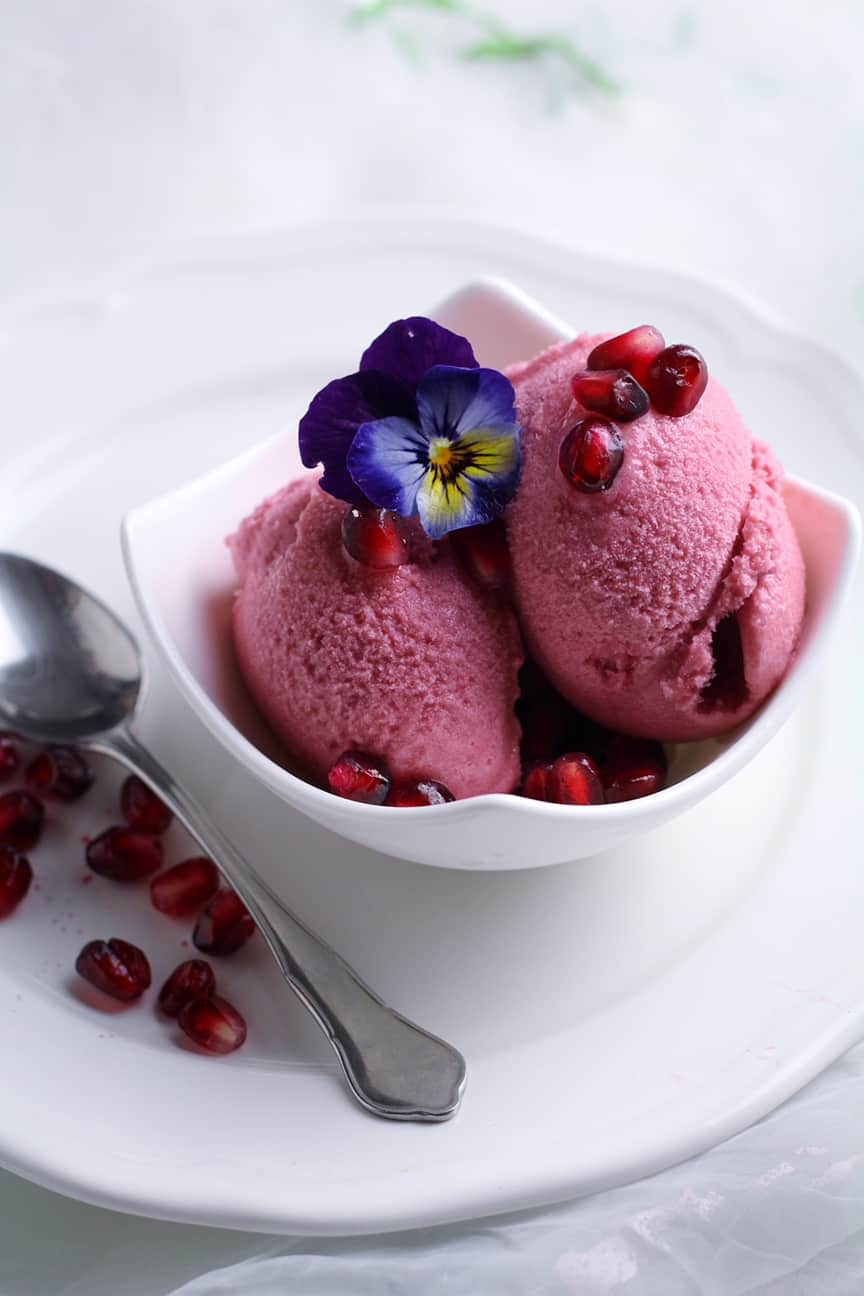 NO CHURN POMEGRANATE SORBET
---