Summer is in full swing and the markets are full of the glorious glut of seasonal produce. Despite the heat, this is the time to get into the kitchen, turn the fan on and get hot and sweaty making jams, preserves and chutney for the coming months while the produce is at it's best and most affordable. Both peaches and tomatoes are wonderfully ripe and aromatic at the moment, ideal for making Peach and Tomato Chutney.
Sweet, aromatic and gently spicy, peach and tomato chutney is a breeze to make and perfect for pairing with a crumbly cheddar (yum!) on a cheese board at your next party. It's also a lovely change from mango chutney for serving with Indian food, or for stirring through that summer classic, Coronation Chicken.
"isn't chutney mAking hard?" AbsoLutely not!
If you've never made chutney before, you might be surprised at how easy it is. It's much less fuss than making jam or jelly, as you're not bound to a thermometer dealing with setting points and the science of pectin.

It's a simple matter of chopping up your fruit and veg, cooking until soft with vinegar and spices, then stirring in some sugar. Pour it into some clean and sterilised jars and you're all done. The hardest part is waiting for it to cool so you can sample your creation.
With chutney, it is important to observe the ratios of vinegar and sugar as this is what keeps everything preserved, but if you fancy switching up the spices or want to change the fruit around, go right ahead, this is a very forgiving recipe. If you like it extra spicy, try adding some fresh sliced chilli at the start of the cooking time. Don't like sultanas? Leave them out! Experimenting is part of the fun with chutney making.

If you have been bitten by the chutney and relish making bug, give my Sweet Autumn Fruit Chutney or Spicy Red Pepper Jelly a go – they are both delicious!
Take care out there and happy cooking! x J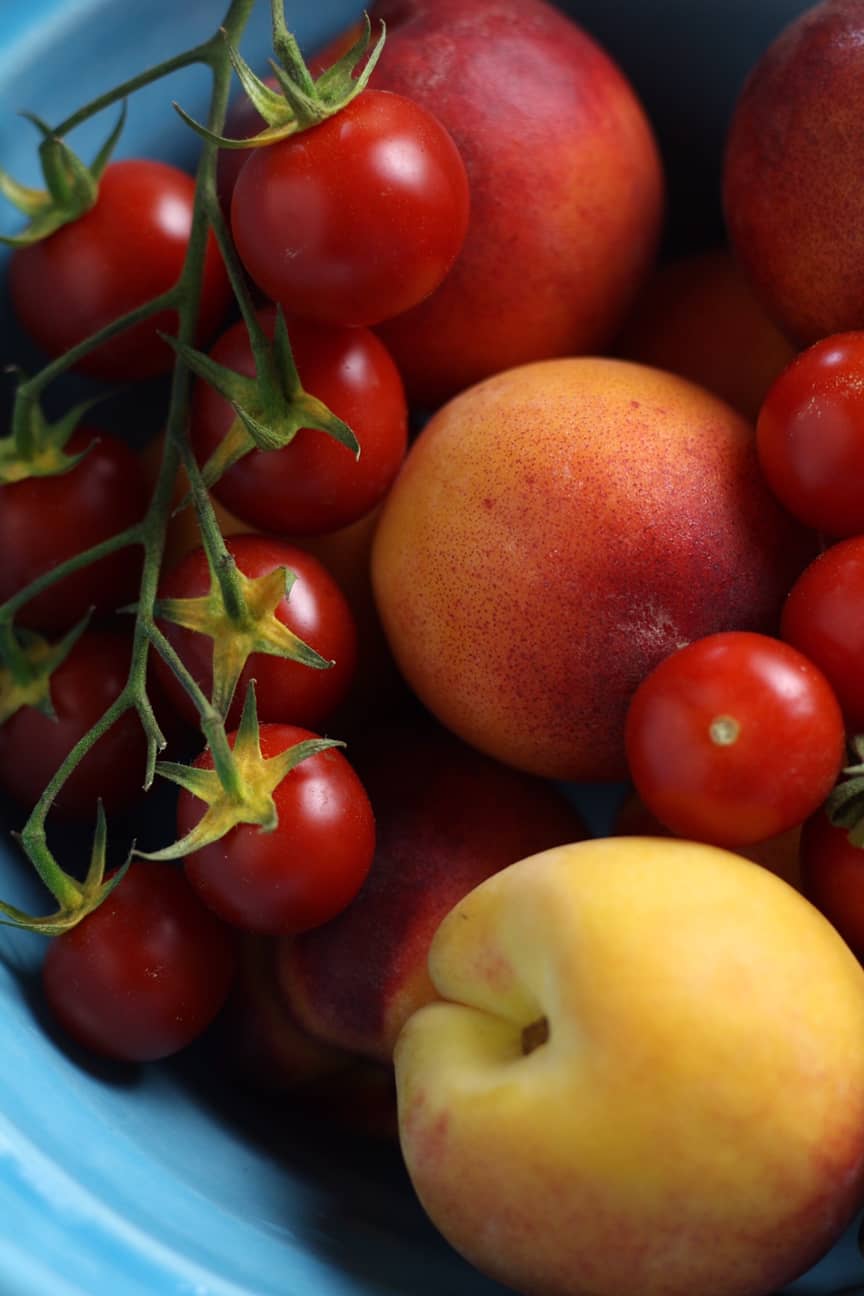 ---
Let me know if you try this recipe in the comments below, or using the hashtag #daysofjay on Instagram. Happy cooking!
---
---
Peach and Tomato Chutney
Total Time:
1 hour
15 minutes
Summer is in full swing and the produce stalls at the markets are groaning with fresh fruit. That means it's the perfect time to make up a batch of Peach and Tomato Chutney, sweet and just a little bit spicy. Perfect for your next cheese board.
Ingredients
500g peaches
500g ripe tomatoes
250g red onions
4cm fresh ginger
250ml vinegar
3 Tbsp sultanas
2 tsp mustard seeds
1 tsp cumin
1 tsp sea salt
½-1 tsp chilli flakes
½ tsp black pepper, crushed
250g sugar
Instructions
Halve and destone the peaches, then cut into 1cm chunks. Cut a deep cross in the bottom of each of the tomatoes, place them in a heatproof bowl and for over boiling water to cover. Allow to sit for 1 minute, then refresh under cold water. Peel off the tomato skin, and discard. Chop the tomatoes roughly, halve and finely dice the onions, then peel and finely dice the ginger.

Put the peaches, tomatoes, onions and ginger in a large, heavy-based, stainless steel or enamel saucepan. Pour over the vinegar and stir in the sultanas, mustard seeds, cumin, salt, chilli and pepper. Bring the mixture to the boil over medium heat.

When the mixture begins to boil, turn the heat down and simmer for 30 minutes, stirring occasionally to prevent the chutney from catching on the bottom of the pan. The fruit should soften, but you should still see visible chunks of peach.

Meanwhile, wash four 250ml glass jars in hot soapy water. Put them in a baking dish and heat them in the oven at 100°C / 220°F / Gas mark ½ to sterilise. Put the lids in a heat-proof bowl and pour over boiling water.

When the fruit has softened after 30 minutes, pour in the sugar and stir well until dissolved. You'll notice the chutney has become beautifully glossy. Turn the heat to medium and simmer for 15 minutes, stirring often to prevent the chutney from burning.

After 15 minutes when the chutney has reduced and thickened, remove from the heat. Ladle or pour the chutney into the hot, sterilised jars. To make life easier I recommend a jam funnel as it makes the task of pouring the chutney much easier. Make sure the rims ion the jars are clean and free of any chutney, then seal with the lids and leave to cool.

When the chutney has cooled, clean the jars if necessary, label clearly with the type of chutney and the date (you would be amazed how easy it is to forget what is in one of these jars) and store in a cool, dry place. You can eat the chutney immediately but it will improve over a couple of weeks.

Notes
A note on sterilising jars/canning: I have for many years found this method of preserving perfectly acceptable and safe for cooking jams and chutneys, as the sugar, vinegar and salt along with the hot sealing of the sterilised jars prevents spoilage. If you have any safety concerns and would prefer to use a water bath method there is plenty of information online to assist.
---
FREQUENTLY ASKED QUESTIONS
How do I peel ginger? It's so fiddly!
The trick to peeling ginger is to use the edge of a teaspoon. That way you can easily scrape the skin away from around all the little knobbly bits.
Why is the sugar added at the end in chutney making?
The sugar is added at the end of the cooking time as you need to soften the skin of the fruit by cooking before adding the sugar. If added too early the sugar will toughen the skin and you'll end up with chewy bits all through the chutney. The sugar will also begin to caramelise through the long cooking, affecting the flavour.
What sort of vinegar is best for making chutney?
You can use any vinegar for making chutney as long as it has an acid content of at least 6%. Apple or malt is traditional, but for a brightly coloured chutney, you can use plain white vinegar too. Don't use a fancy flavoured vinegar, you won't be able to taste it in the final chutney.
How long can I store chutney?
Chutney is made for long storage. If sealed correctly and kept in a cool, dark place, your chutney should last at least two years, with the flavour getting better and richer as it goes along.

How do i get jams and chutney neatly into the jars?
With a jam funnel! Trust me on this, a jam funnel with a wide opening at the base of the funnel will change your life. Get a good quality stainless steel one so you can sterilise it at the same time as your jars. It will
last you a lifetime!
---
If you don't have peaches, try nectarines or plums, Try to use slightly under ripe fruit for the best flavour.
I left my jam funnel in Munich which made the jars much harder to fill! If you are making lots of jam or chutney a jam funnel is your best friend.
PEACH AND TOMATO CHUTNEY
---