April showers bring May flowers, or so we'd like to hope. The last few days have been cold and blustery, with the wind whipping through the valley and banging the shutters on the house. To tell the truth, I don't mind this kind of day as it's an excuse to sit around the stove in the kitchen and cook some deeply satisfying soul-food. After all, it's not like we can go anywhere anyway!
I'm not sure there is any food more comforting on a cold day than a juicy, goldenFrench Pot Roast Chicken. I love to cook chicken by roasting it in an enamel pot or dutch oven with lots of vegetables as this way you can guarantee tender, fall-off-the-bone meat. As it's all made in one dish there's little in the way of clean-up, and you get plenty of delicious gravy. Bonus! As the enticing cooking aromas begin to waft through the house, you'll find people can't help but be drawn to the kitchen with rumbling stomachs.
French Pot Roast Chicken is an extremely flexible recipe, so change up the vegetables to suit what you like. I always stick with the traditional carrot, celery, shallot combination, as well as a few potatoes, but it would be wonderful with parsnips, leek, or even fennel too. Do check your chicken to make sure it hasn't been pre-seasoned, (Australia is particularly guilty of this) it's not a deal-breaker if it is, you just need to be gentle with the salt.
Even though there are potatoes in with this chicken, I still like to serve it with a nice loaf of crusty bread. There are loads of delicious juices to mop up and it's a shame to let them go to waste. Hopefully, you're all still finding time to enjoy some delicious, nurturing food with your loved ones. Much like the weather, there are brighter days ahead. Take care out there, x J.
Let me know if you try this recipe in the comments below, or using the hashtag #daysofjay on Instagram. Happy cooking!
---
---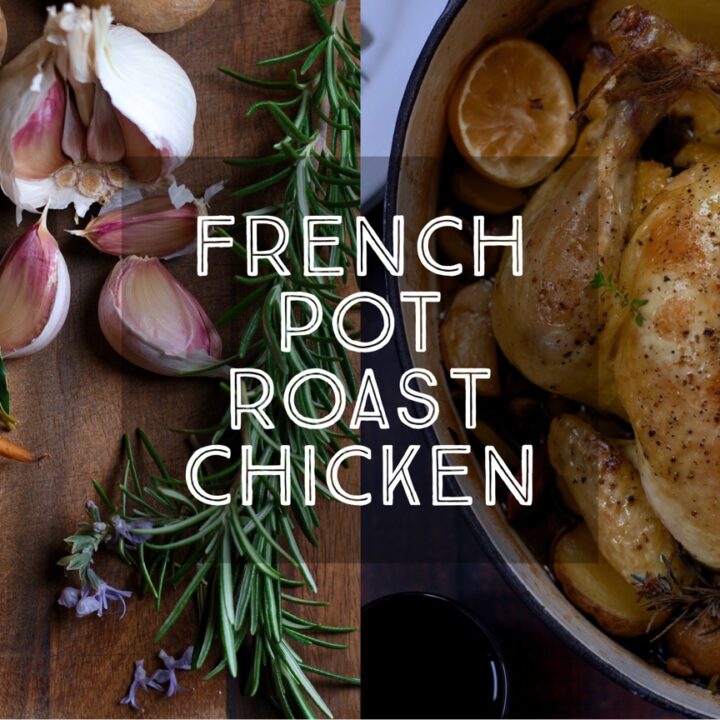 French Pot Roast Chicken
Cook Time:
1 hour
30 minutes
Total Time:
1 hour
45 minutes
A heart-warming classic, French Pot Roast Chicken or 'Poulet au Pot' is a terrific recipe for beautifully juicy, tender chicken with flavoursome root vegetables and a rich gravy. As a bonus, it's all cooked in one pot so less washing up!
Ingredients
1.4 kg whole chicken
1 Tbsp butter, softened
1 Tbsp olive oil
3 shallots or small red onions, peeled and quartered from root to tip
3 carrots, sliced thickly on the diagonal
2 celery sticks, chopped
100 g mushrooms
100 g bacon or prosciutto, diced
500 g small potatoes, halved
3 cloves garlic, peeled and roughly chopped
3 bay leaves
2 tsp dried thyme or small bunch fresh thyme or rosemary, chopped if fresh
125 ml chicken stock
125 ml white wine
1 small lemon
sea salt & pepper
Instructions
Heat the oven to 180°C / 350°F / Gas 4. Rub the chicken all over with the butter, then season well with salt and pepper, inside and out. Tie the legs together with kitchen twine.
Heat the oil in a large heavy-based casserole dish (see notes). Add the shallots, carrots, celery, mushrooms and bacon and cook over high heat until the vegetables start to soften and brown, around 5 minutes. Add the potatoes, garlic, bay leaves and thyme or rosemary to the pot. Stir to coat in the oil and cook for a further 5 minutes.
Pour the chicken stock and white wine into the pot and use a wooden spoon to scrape up all the browned on flavour on the bottom of the pan. Bring to the boil then remove from the heat.
Place the chicken on top of the vegetables, tucking the wings underneath the body. Squeeze over the lemon, dropping the halves into the pot. Cover with a tightly fitting lid (see note) then roast in the preheated oven for 1 hour and 20 minutes, removing the lid for the last 20 minutes so the chicken gets nice and golden brown.
When the chicken is done (you can check the temperature with a thermometer if you like, it should be 75°C of 165°F measured from the thickest part of the thigh), remove the pot from the oven and allow to rest for 10 minutes. Either remove the chicken to a warmed serving platter to slice and serve, or slice directly in the pot. Divide the chicken, vegetables and gravy between warmed plates and enjoy.
Notes
I use a large, oval enamelled cast-iron casserole dish that I picked up years ago. If you have a Le Creuset style pot, use that, otherwise, any heavy-based, oven-proof casserole dish with a lid will do. If the lid isn't tightly fitting, scrunch up a piece of baking paper, dampen it a little, then unfold it and place it between the lid and the pot to create a seal. If you don't have a lid at all use a double layer of tinfoil.
Nutrition Information:
Yield:

4
Serving Size:

1 grams
Amount Per Serving:
Calories:

1241
Total Fat:

64g
Saturated Fat:

19g
Trans Fat:

0g
Unsaturated Fat:

39g
Cholesterol:

346mg
Sodium:

1098mg
Carbohydrates:

44g
Fiber:

7g
Sugar:

8g
Protein:

112g
Nutrition information is calculated automatically and isn't always accurate.
---
FREQUENTLY ASKED QUESTIONS
How can I tell if the chicken is cooked?
A thermometer inserted into the thickest part of the chicken between the breast and thigh should read 75°C / 165° F. Alternatively, cutting into the thickest part of the chicken the juices should run clear.

Can I change the vegetables in French Pot Roast Chicken?
Sure! Use whatever you have handy. All root vegetables are good. Fennel adds a delicious flavour.

Can I make French Pot Roast Chicken without alcohol?
Of course! Either use a bit more stock or replace half of the white wine with orange juice.

I like a thick gravy, how can I thicken the sauce?
That's easy! Remove the chicken and vegetables to a serving platter and keep warm. Mix 2 tsp cornflour/cornstarch with 2 Tbsp of cold water and stir through the sauce. Bring to the boil over medium heat, stirring until the gravy has thickened.

What sort of pot should I cook the chicken in?
Disclosure: Some of the links above are affiliate links, meaning at no additional cost to you, I will earn a commission if you click through and make a purchase.
---
---
---
---
FRENCH POT ROAST CHICKEN
---
Looking for more comforting roast recipes? Why not try: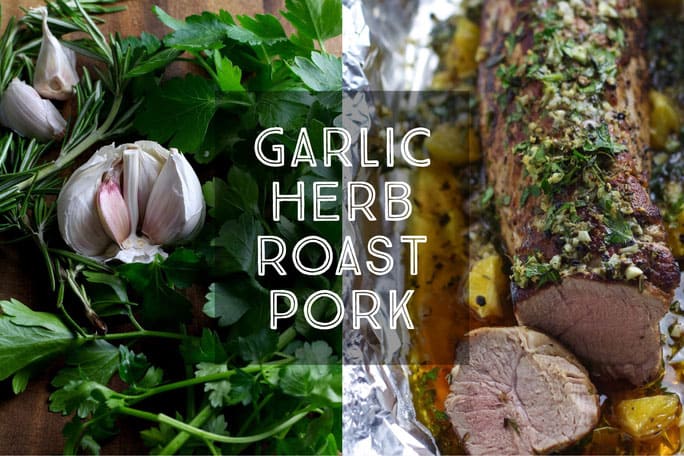 ---