I often look around online and see the most beautiful, extravagant cakes. Seeing these towering works of art and engineering, with multi-layers and adventurous flavours I'm always amazed by how incredibly clever people can be. While I think these cakes are lovely to look at, they're seldom something that I would cook at home. Firstly, there are only two of us and there is only so much cake we can eat, and secondly, my taste lies in the more traditional type of cakes I grew up with.
This Old Fashioned Cherry Cake is exactly the sort of cake I crave. Simply made, with classic ingredients, I don't even use a special cake tin to cook it in, just a battered old roasting tray that somehow seems to suit it perfectly. Even though it is simple, it's rich and satisfying. The sort of cake you have a slice, or two, or three with a cup of afternoon tea and a good book, or bring to a friend's house to share with a cup of coffee and loads of gossip.
The cherry trees are full of beautiful blossom, meaning fresh cherries are still a few months away. This cake, however, can be made all year round using sour cherries from the jar. If you can't get cherries, don't worry. Any soft fruit will work here: apricots, peaches, raspberries or even grapes are equally good! This recipe is even better the day after baking as the fruit has time to flavour and moisten the cake.
A last thought. Don't throw away the lovely juice or syrup from the cherries, it's is terrific mixed with a little gin and soda water for a summery spritzer. Take care of yourselves and each other out there and happy baking! x J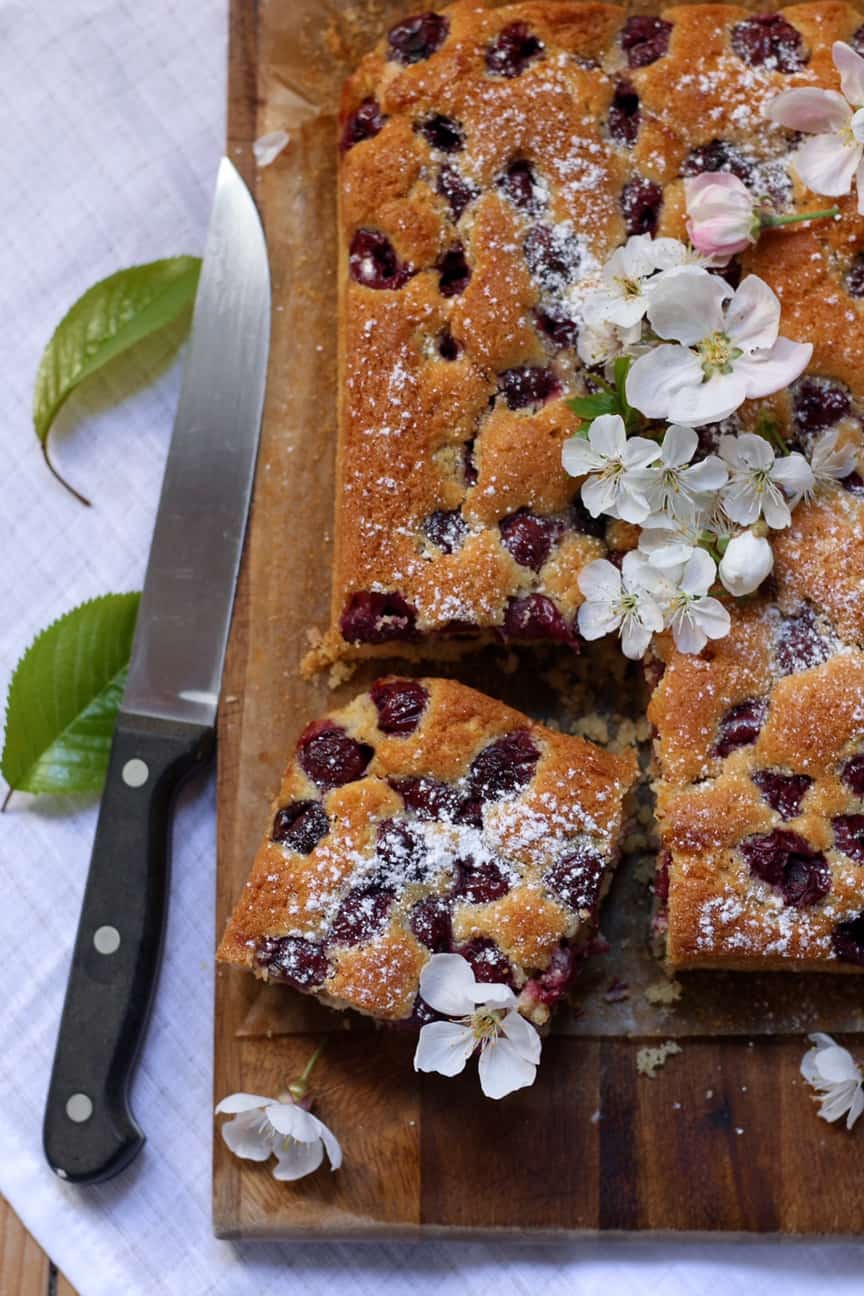 Let me know if you try this recipe in the comments below, or using the hashtag #daysofjay on Instagram. Happy cooking!
---
---
Old Fashioned Cherry Cake
Total Time:
1 hour
5 minutes
This Old Fashioned Cherry Cake is a lovely, dense, rustic cake full of tart cherries. Perfect for afternoon tea or to pack for a summer picnic.
Ingredients
125 g butter, softened
125 g sugar
3 large eggs
2 tsp vanilla essence
50 ml neutral oil
50 ml milk
200 g plain flour
3 tsp baking powder
pinch of salt
700 g jar of cherries, well-drained, or 500g fresh cherries, pitted
icing sugar, to serve
Instructions
Heat the oven to 180°C / 350°F / Gas 4 and line a 20x30cm baking dish or tin with baking paper.
Beat the butter and sugar together until pale and creamy. Beat in the eggs, one at a time, then beat in the vanilla essence, oil and milk until well combined.
In a separate bowl whisk together the flour, baking powder and salt and add to the liquid ingredients, stirring until just combined. Use a spatula to scrape the mixture into the prepared baking dish, smoothing the top so it is even.
Scatter the cherries evenly across the top (with jarred cherries I always check very carefully to remove any cherry stones. Nobody wants to crack a tooth).
Transfer to the preheated oven and bake for 45-50 minutes until golden brown and a skewer inserted into the middle comes out clean. As there is a lot of fruit in this cake, take care to check that the middle of the cake is cooked through. If the cake is browning too much on the top, it's better to cover the cake loosely with tin foil than to reduce the cooking time.
Allow the cake to cool in the tin. Just before serving, dust generously with icing sugar, then slice into squares. Serve with whipped cream, yoghurt or crème fraîche.
Nutrition Information:
Yield:

6
Serving Size:

1 grams
Amount Per Serving:
Calories:

670
Total Fat:

28g
Saturated Fat:

12g
Trans Fat:

1g
Unsaturated Fat:

14g
Cholesterol:

138mg
Sodium:

441mg
Carbohydrates:

100g
Fiber:

5g
Sugar:

66g
Protein:

9g
Nutrition information is calculated automatically and isn't always accurate.
FREQUENTLY ASKED QUESTIONS
Can I make this cake with other fruit?
Any soft fruit will work here: apricots, peaches, raspberries or even grapes are equally good!

Can I make this cake gluten-free?
I've not tried it, but I suspect your choice of gluten-free flour will work in this cake.

Can I freeze this cake?
Yes, you can! Wrap it well and freeze for up to 3 months.
---
---
OLD FASHIONED CHERRY CAKE
---
Looking for more baking recipes? Why not try: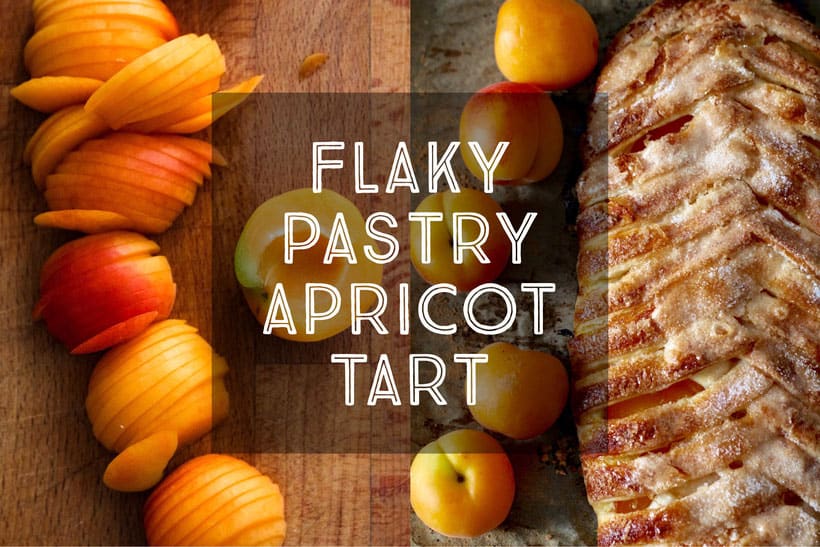 ---