Sunshine, blue skies, the birds are singing and the city is quiet. There's still a bit of chill in the air, but all of our pot plants have started unfurling new green leaves ready for the warm weather, just like me. We are all still in a state of suspended animation, carefully watching the news, counting figures and reading graphs and generally hoping for the best. On the weekends though, I am giving myself a break from reading the news reports. There's nothing that can't wait until Monday, and the peace and quiet gives me plenty of time to work in the kitchen, clear my head and get creative.
Today's recipe is one of my secret weapons in the kitchen. It looks (and tastes!) like fancy restaurant food, but it is very simple to put together at home, and the ingredients aren't hard to come by. You can even set it on fire if you fancy some kitchen excitement! The recipe? Creamy Mushroom Pork Medallions.
I'm talking juicy pork tenderloin served with a creamy brandy mushroom sauce, homemade pappardelle and fresh green beans. The pork is quickly seared, then kept warm while you whip up the deliciously rich sauce. I like to flambé the mushrooms, but if you're a bit worried about flames in the kitchen you can skip that step.
I've written the recipe for Creamy Mushroom Pork Medallions for two people, but it does double up nicely. Do fry the pork in batches if you are cooking for more people, and allow time for the sauce to cook down. I've made this with homemade pappardelle, but it will work with any pasta shape, or even just some crusty white bread or potatoes.
Take care of yourselves and each other out there and remember to take time to breathe. Look around and appreciate the small things. x Jay
Let me know if you try this recipe in the comments below, or using the hashtag #daysofjay on Instagram. Happy cooking!
---
---
Creamy Mushroom Pork Medallions
Golden brown pork medallions served with a creamy mushroom brandy sauce. Better than restaurant food and so easy to make at home. Serve with a side of bright green beans and some fresh pappardelle.
Ingredients
500 g pork tenderloin fillet, taken out of the fridge ½ hour before cooking
25 g butter
1 Tbsp neutral oil
250 g brown mushrooms, sliced
2 cloves garlic, finely diced
50 ml brandy
1 tsp chicken stock powder, dissolved in 100ml warm water
100 ml cream
small bunch parsley, leaves chopped
½ a lemon
salt & pepper
to serve:
green beans, topped and tailed
200 g wide fresh pappardelle
2 Tbsp butter
Instructions
Cook the pappardelle in plenty of boiling salted water until al dente. Drain, toss with 2 Tbsp of butter, then set aside and keep warm. Steam or boil the beans, plunge them into cold water, then drain and set aside.
Meanwhile, heat the oven to low and put a plate inside to warm. Trim the silver skin from the tenderloin, then slice the pork tenderloin into six medallions around 2.5cm / 1 in. thick, then season well with salt and pepper. You will be left with a tail end of the tenderloin, I save these in the freezer for stir-frying later, you can just cook it with the rest as a bit extra.
Heat the butter and oil in a large, high sided frying pan until the butter is foamy and melted. Dry the medallions with a paper towel, then cook them over medium heat for 3 minutes each side until golden brown. Don't move the pieces around in the pan, allow them to get a nice golden crust. When cooked, remove from the pan and keep warm, loosely covered with tin foil in the oven.
Add the mushrooms to the pan and cook, stirring, for 2-3 minutes until they begin to release their juices. Add the garlic to the pan, cook another 30 seconds, then pour the brandy into the pan. If you are feeling brave, you can flambé the mushrooms by tilting the pan slightly away from you, then igniting the brandy with a long match or lighter. Otherwise, allow it to simmer for 1-2 minutes before adding the stock, stirring to deglaze the pouring in the cream.
Cook for another 2-3 minutes until the cream has thickened. Return the pork medallions to the pan and cook, stirring occasionally for 2 minutes. Meanwhile, reheat the beans in a couple of centimetres of hot water. Scatter over the parsley over the pork, season with salt, pepper and a squeeze of lemon juice. Serve with the buttered pappardelle and beans.
Notes
If you can't get pappardelle, replace with pasta of your choice.
Nutrition Information:
Yield:

2
Serving Size:

1 grams
Amount Per Serving:
Calories:

1014
Total Fat:

59g
Saturated Fat:

29g
Trans Fat:

2g
Unsaturated Fat:

24g
Cholesterol:

330mg
Sodium:

492mg
Carbohydrates:

36g
Fiber:

4g
Sugar:

5g
Protein:

75g
Nutrition information is calculated automatically and isn't always accurate.
FREQUENTLY ASKED QUESTIONS
I don't drink alcohol, can Creamy Mushroom Pork Medallions be made without?
Absolutely! Replace the brandy with orange juice.

Can I make this recipe for 4 people?
Yes! You need around 200g pork per person. Double the other ingredients. The sauce will take longer to thicken.

I can't get pappardelle! What can I substitute?
You could try my recipe for homemade pappardelle, though in the meantime, you can use any pasta shape. Mash would be nice too!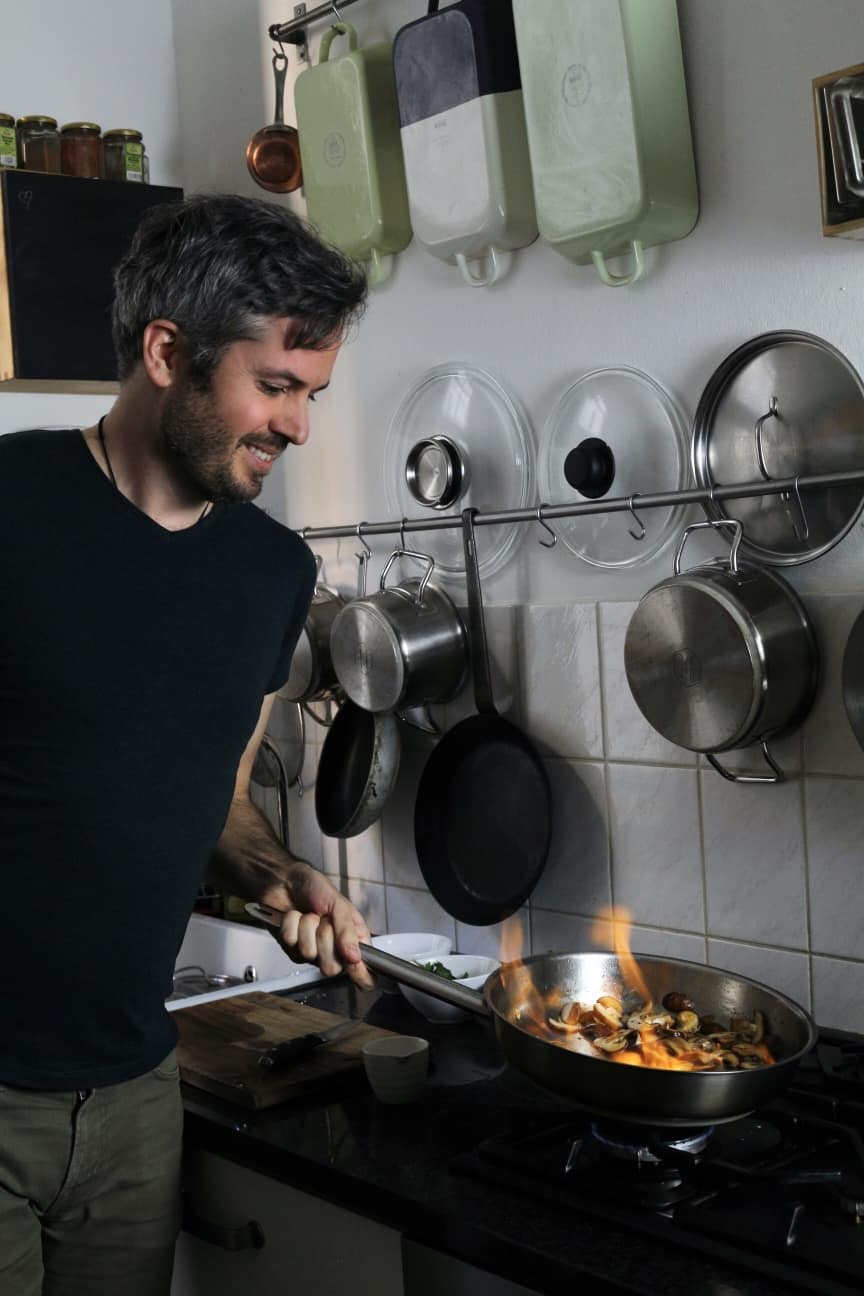 CREAMY MUSHROOM PORK MEDALLIONS
---
Looking for more dinner recipes? Why not try:
---