It's that time of year again, when 'Fasching' or Carnival in Germany reaches a week-long peak of festivities, partying and general frivolity before the gloomier days of Lent begin on Ash Wednesday. The streets are littered with confetti and streamers and the Faschings-Narren (Carnival Jesters) pop up in the unlikeliest of places.
Thursday is a dangerous time to wear a tie as it's likely to be cut off and carried away by a horde of women in crazy costumes, and the whole city seems to boom with up-tempo party music from every bar and hotel. Before I moved to Germany I had absolutely no idea that Carnival was celebrated in these parts with such wild abandon, but celebrate we most certainly do!
As a cook, naturally the most interesting part of any celebration for me is what sort of food is being consumed. Carnival is the season of the Krapfen, or the filled doughnut. Like lots of regional specialities in Germany it goes by different names depending on where you find it.
In Bavaria and Austria, carnival doughnuts are called Krapfen. In the Hessen area, you'll find Kräpperl instead. Through most of the rest of Germany it's called a Berliner – though if you order one in Berlin you'll need to ask for a Pfannkuchen (pancake)! Confused yet? Not to worry, all you really need to know is that these light, fluffy sweet treats are fun and easy to make at home.
Have you ever been in Germany for the carnival craziness? Let me know in the comments below! In the meantime, take care out there and happy cooking! xJ.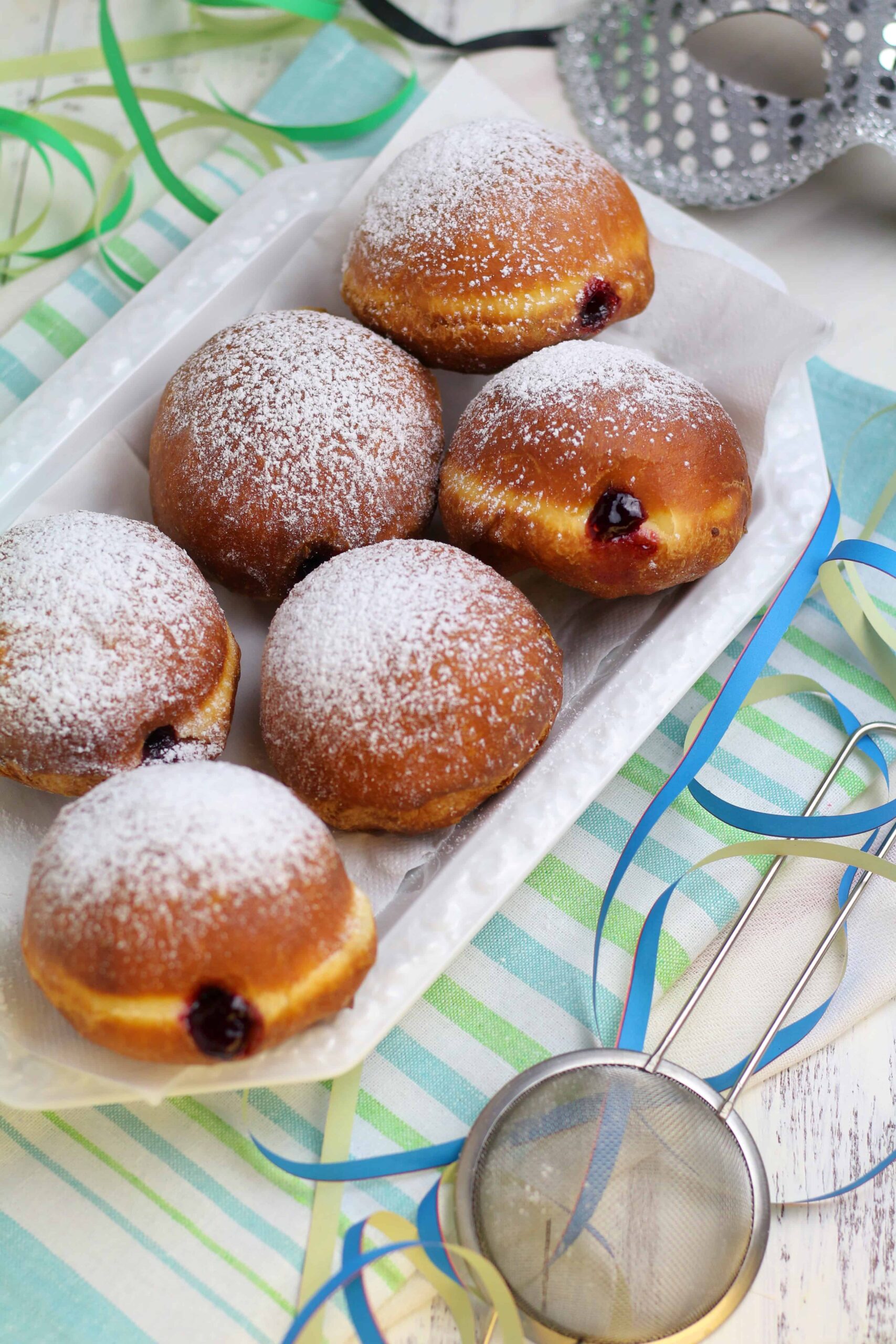 ---
FREQUENTLY ASKED QUESTIONS
How long do Krapfen keep?
While best eaten on the same day, Krapfen are perfectly edible for a day or two.
Can I prepare Krapfen in advance?
A sweetened yeast dough like the one in this recipe will keep for at least 2 days in a covered container in the fridge. When you are ready to cook, allow it to rise at room temperature for about an hour and then follow the recipe from shaping the Krapfen onwards.
I don't like jam filling! Can I use something else?
Absolutely, bakeries in Germany pride themselves at Carnival/Fasching time by coming up with as many weird and wonderful flavours of Krapfen as possible, vanilla pastry cream, lemon curd, Nutella, Tiramisu flavoured, Prosecco cream, you name it, it's been done – as long as it has a thickish consistency so you can pipe it into the middle.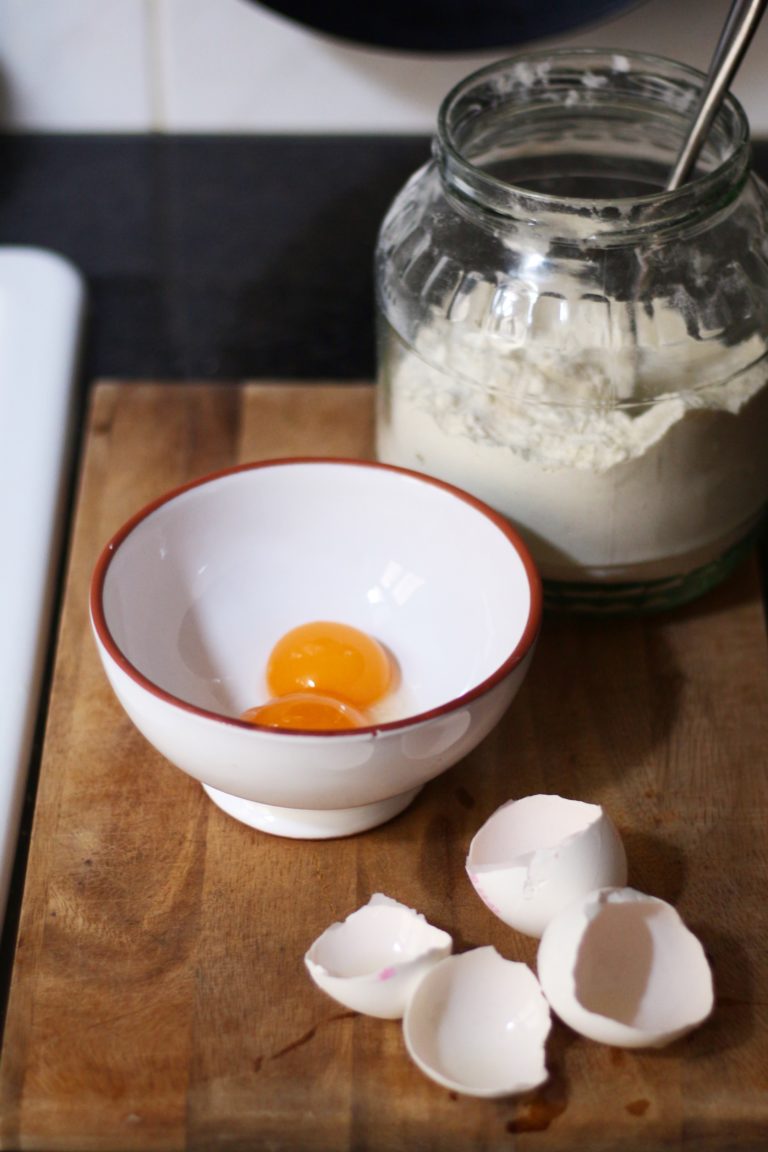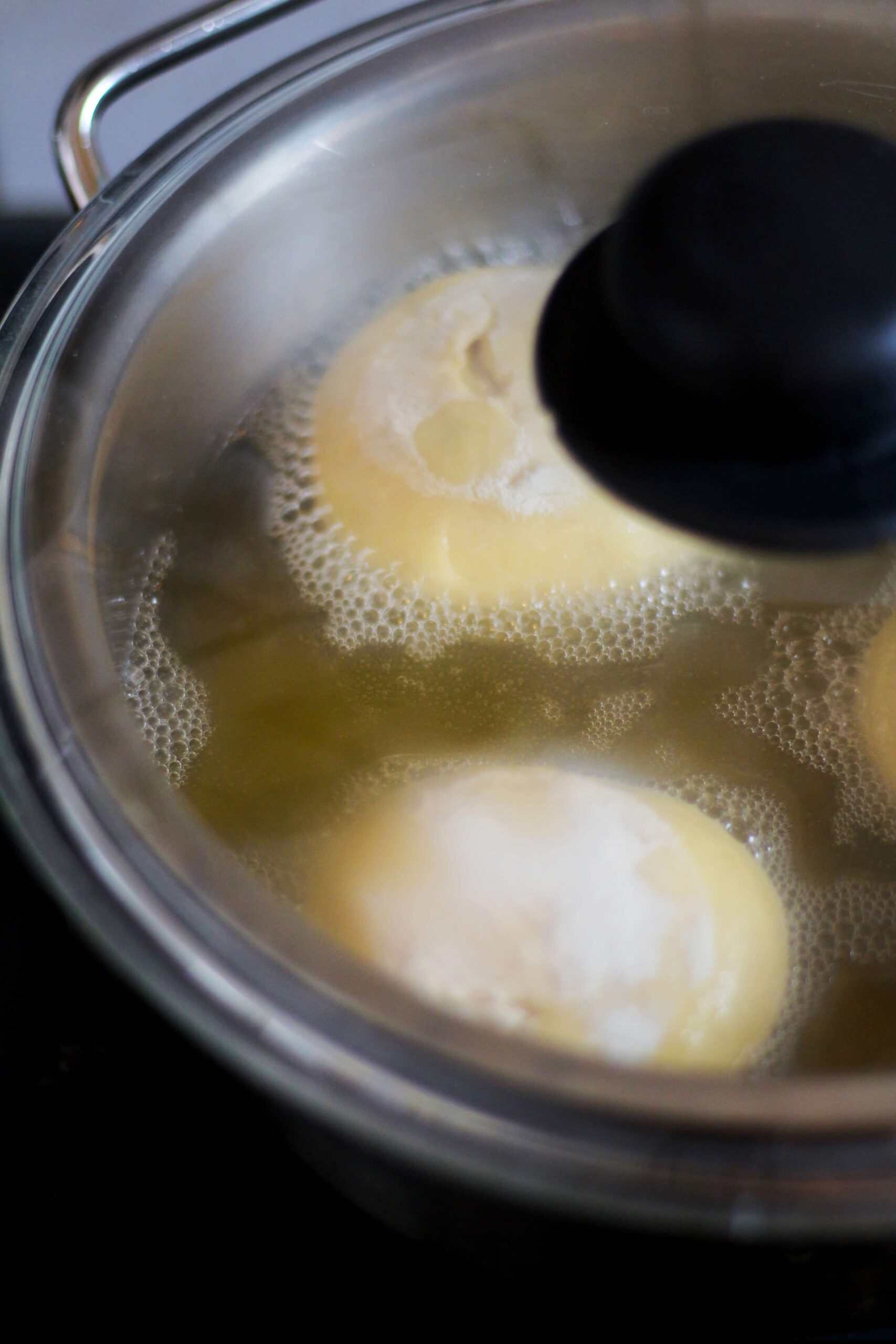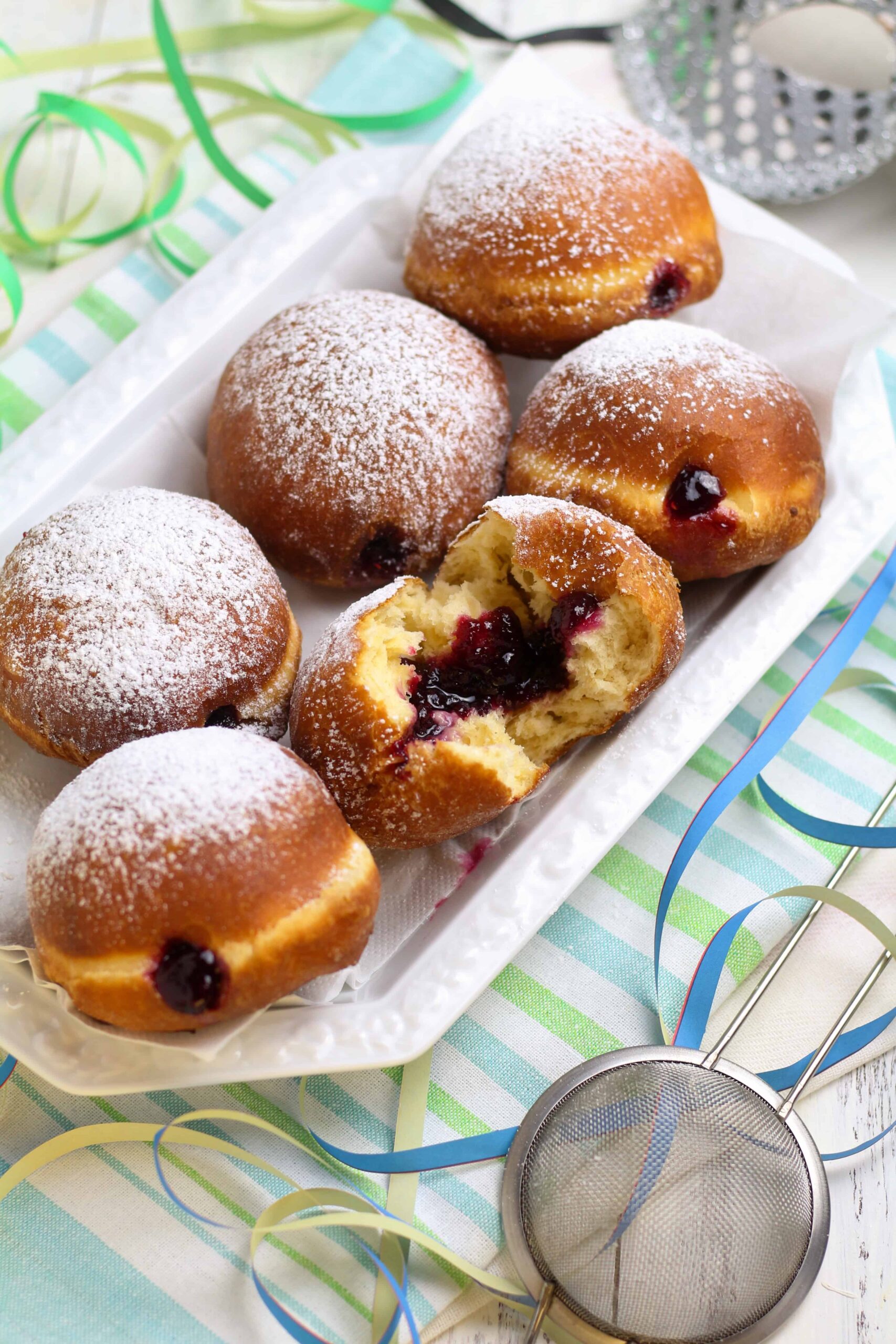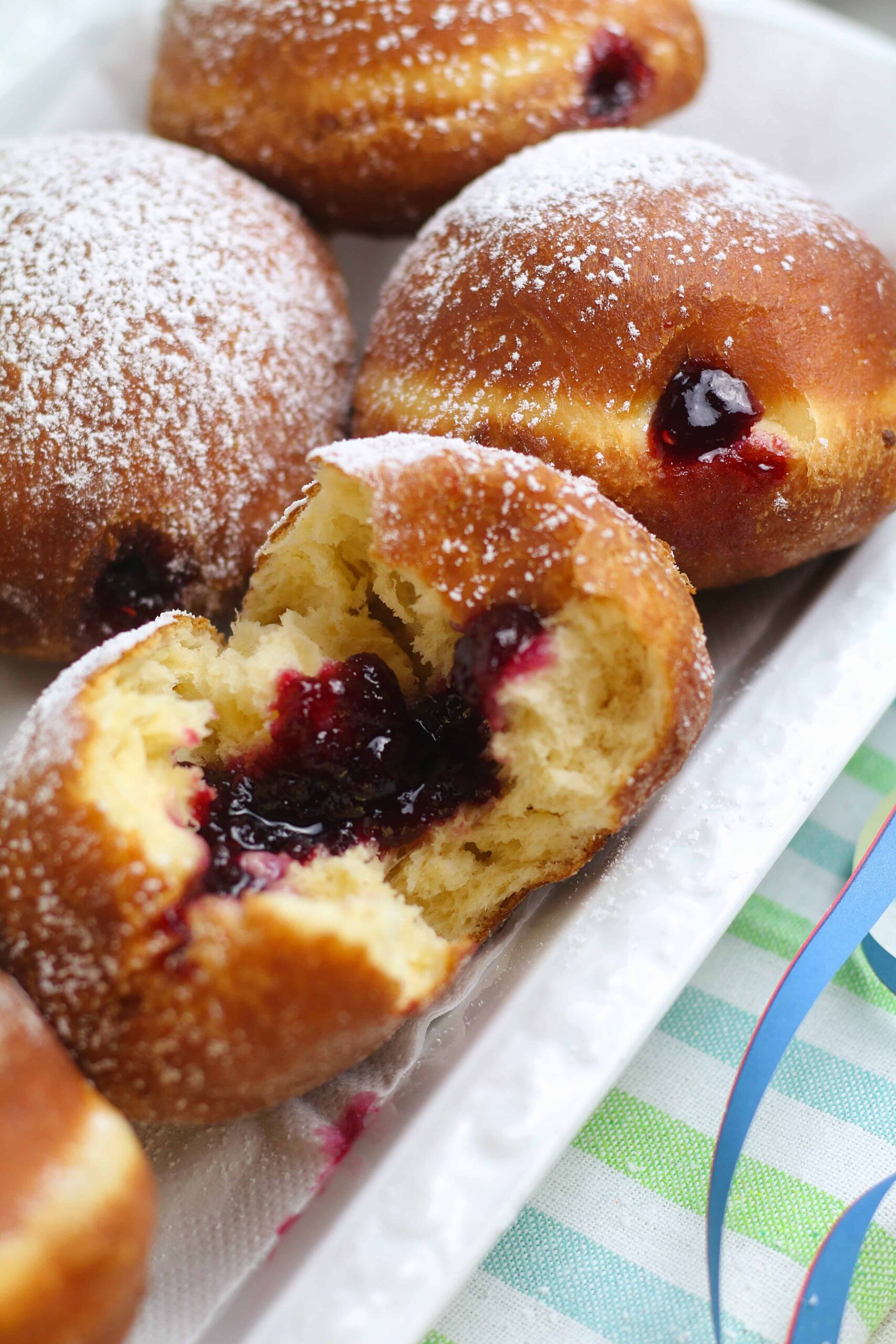 'Krapfen' German Carnival Doughnuts
Total Time:
1 hour
50 minutes
Light, fluffy doughnuts, filled with jam and dusted with sugar. Krapfen are delicious morsels traditionally eaten in Germany at Carnival time.
Ingredients
200 ml milk
21 g fresh yeast / 7g dried yeast
500 g flour, separated 300g / 200g
50 g sugar
2 tsp vanilla sugar or 1 tsp vanilla extract
½ tsp salt
50 g unsalted butter, very soft
2 egg yolks, beaten
to cook:
750 ml-1 litre vegetable oil or shortening
to fill:
400 g berry jam, seedless
4 Tbsp rum, optional
to serve:
icing / powdered sugar, for dusting
Instructions
Begin by heating the milk slightly in a small saucepan until it is just warm. Remove from the heat, sprinkle or crumble over the yeast and set aside.
In the bowl of a stand mixer with the dough hook fitted (see note 1) combine 300g flour, sugar, vanilla and salt. While mixing, add the butter and egg yolks, then give the milk and yeast mixture a stir and pour it into the bowl. Run the mixer on high until the ingredients are combined, then with the mixer on low add the remaining flour. Knead for 5 minutes.
After 5 minutes the dough should be moving freely around the bowl of the mixer, and only lightly sticky. If it is still a little liquid or sticking to the sides of the bowl add one tablespoon of flour and knead for another minute.
When the dough has finished kneading, shape it into a ball - it should feel soft, springy and elastic - don't worry if it's a little sticky, this is normal, just dust it with a little flour if it makes it easier to handle. Place it back in the bowl, cover with a clean cloth or some clingfilm and allow to rise in a warm place for 30-45 minute until risen.
When the dough has risen, turn it out onto the bench top, it shouldn't be sticky but if so very lightly flour the dough. Flatten out the air and divide into 12 equal pieces. I find it useful to weigh the dough so that my pieces are as even as possible, each piece should weigh around 80g for perfectly sized Krapfen.
Roll each into a ball, place on a lightly floured tray, then cover again and allow to rest for another 30 minutes.
Meanwhile prepare a saucepan for the oil - I use one which has a diameter of 22cm and a depth of 10cm, this will fit 3 Krapfen at a time. Prepare the jam by heating it in a small saucepan with the rum or a little water or juice, let cool for a minute or two then fill into a piping bag fitted with a long nozzle.
When the Krapfen have risen, heat the oil - if you have a thermometer you can heat the oil to 160°C, otherwise heat until the end of a wooden spoon bubbles when dipped in the oil (see picture). Using a slotted spoon or strainer, gently place three Krapfen rounded side down in the oil. Turn the heat right down to low, then cover with a lid and allow to cook undisturbed for 2 minutes. Remove the lid, turn the Krapfen right side up and cook another 2-3 minutes, without stirring or moving them around, until golden brown. Remove from the saucepan using a slotted spoon to a plate lined with paper towel.
Check the oil temperature, place the next three Krapfen in the oil and cover. While they are cooking use the piping bag to pierce a hole in the side of the Krapfen and fill with jam. Repeat until all of the Krapfen are cooked. Dust with icing sugar and serve warm.
Notes
If you don't have a stand mixer you can still make Krapfen, it just takes a little more muscle. Stir the mixture with a wooden spoon until it forms a dough, keep stirring for a minute or two until it is a little less sticky, then turn out onto a floured surface and knead by hand until you have a smooth dough, about 5 minutes. For best results instead of adding more flour,  you can lightly oil your hands and the work surface instead.
Nutrition Information:
Yield:

12
Serving Size:

1 krapfen
Amount Per Serving:
Calories:

905
Total Fat:

83g
Saturated Fat:

9g
Trans Fat:

2g
Unsaturated Fat:

70g
Cholesterol:

42mg
Sodium:

117mg
Carbohydrates:

37g
Fiber:

3g
Sugar:

19g
Protein:

4g
Nutrition information is calculated automatically and isn't always accurate.
Let me know if you try this recipe in the comments below, or using the hashtag #daysofjay on Instagram. Happy cooking!
---
Looking for more German Recipes? Why not try: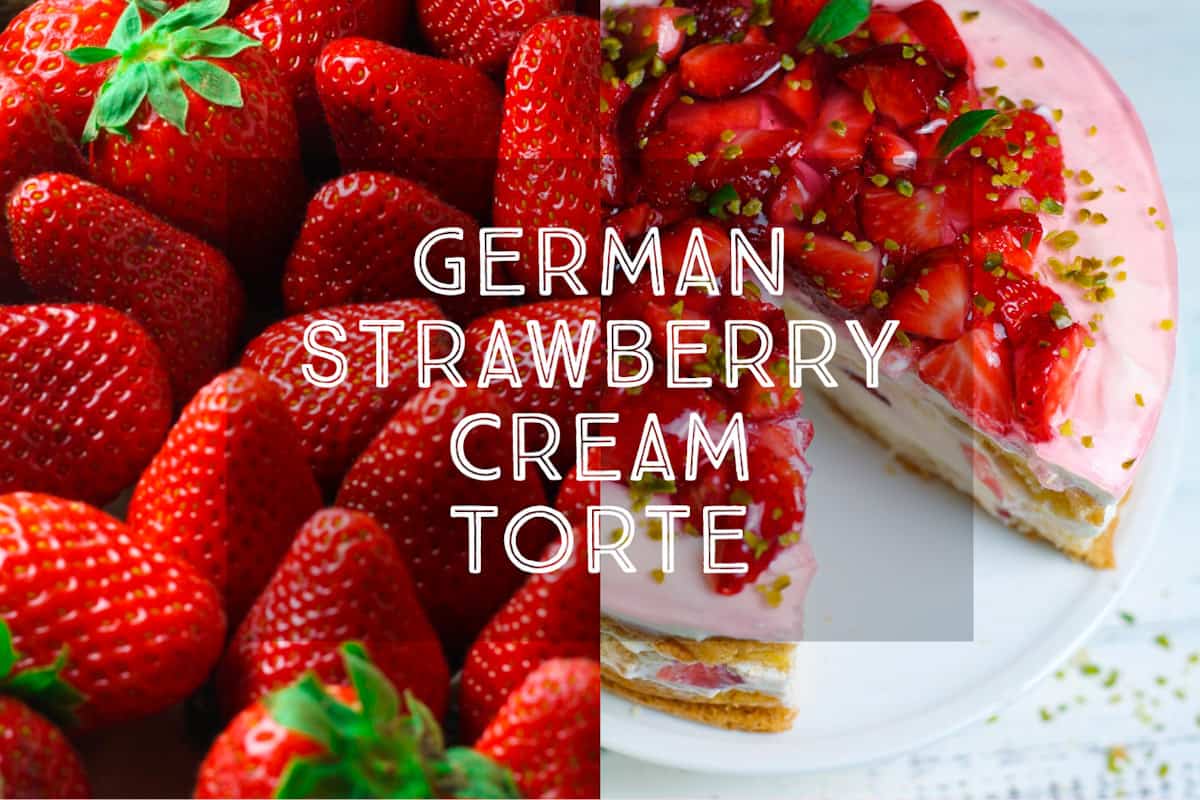 The first strawberries have started appearing in the markets, juicy and glossy, fragrant with the promise of summer and sun. Of course, as soon as I see strawberries I get a craving for that most summery of recipes: an Erdbeer…