If you've got a sweet tooth, stop what you are doing immediately and whip up a batch of Millionaire's Shortbread: a deliciously decadent treat.
What is Millionaire's Shortbread?
Sometimes known as Caramel Slice, Millionaire's Shortbread is a layer of shortbread, topped with lightly salted caramel and dark chocolate. A sprinkle of sea salt on the top cuts through the sweetness making this one very indulgent and moreish dessert.
For The Kiwi's And Aussies, this is pure nostalgia.
It seems this dessert has had a bit of a makeover in recent years, popping up all over Instagram and other social media, but it seems like it has been around forever. I grew up when the craze for all things condensed-milk was in full swing in New Zealand and Australia, and Millionaire's Shortbread / Caramel Slice, was in every mother's baking arsenal.
It was guaranteed to be on the table of school fairs and fêtes and to be found in the sweets cabinet of even the most humble bakery. Nobody is quite clear on the origin of the recipe but most of the evidence seems to point to women's magazines of the day like The Australian Women's Weekly. 
Sea salt + Caramel = seriously delicious.
Part of the facelift I've given this recipe for the 21st century is the inclusion of sea salt to the caramel to satisfy our craving for salty-sweet goodness. To be fair, in a sign of everything old being new again, this would always have been made with salted butter when I was a kid as we didn't have any other kind!
Either way, it is definitely a treat for special occasions rather than every day eating, but perfect for sharing with friends over a cup of tea or coffee.
What's your favourite sweet treat? Let me know in the comments below! Take care out there and happy cooking. xJ.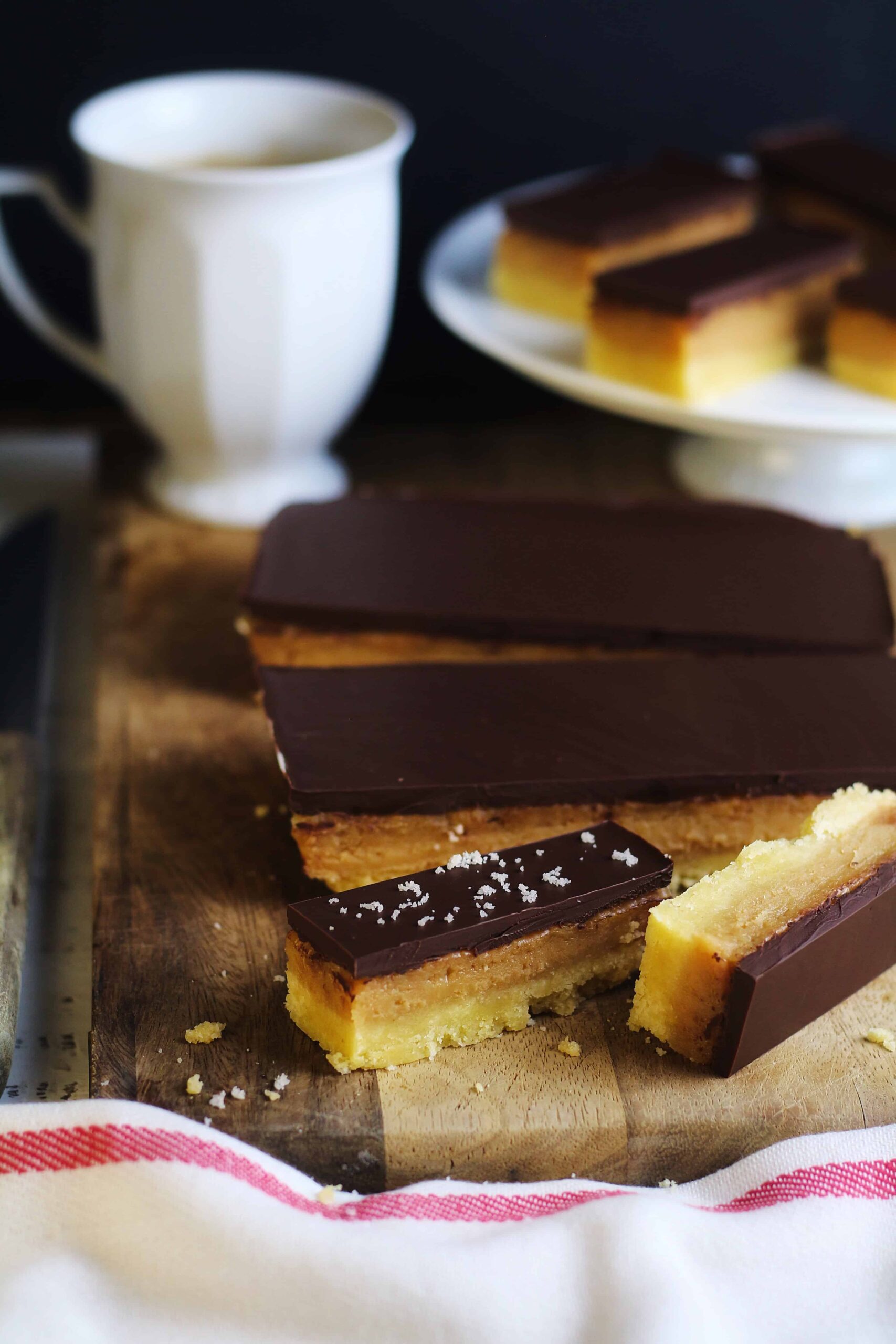 Let me know if you try this recipe in the comments below, or using the hashtag #daysofjay on Instagram. Happy cooking!
---
FREQUENTLY ASKED QUESTIONS
Why is it called Millionaire's Shortbread?
The name Millionaire's Shortbread appears to have come from Scotland, no doubt due to the rich double topping on already lusciously rich Scottish shortbread.

Can I use milk or white chocolate instead?
Yes you can, though I'd strongly recommend a very dark 60-70% cocoa chocolate instead, it will cut through the sweetness of the dish.

Can I use evaporated milk? (That's Kondensmilch to my German readers)
No! You need Sweetened Condensed Milk (Gezuckerte Kondensmilch) to make the caramel. It is possible to make a traditional soft set caramel from scratch, the condensed milk is just the foolproof method.

How do I cut nice clean slices?
With this recipe the addition of oil to the chocolate means it cuts nice and cleanly. I'd recommend using your thinnest, sharpest knife, dipping in water and wiping clean before each cut.
---
---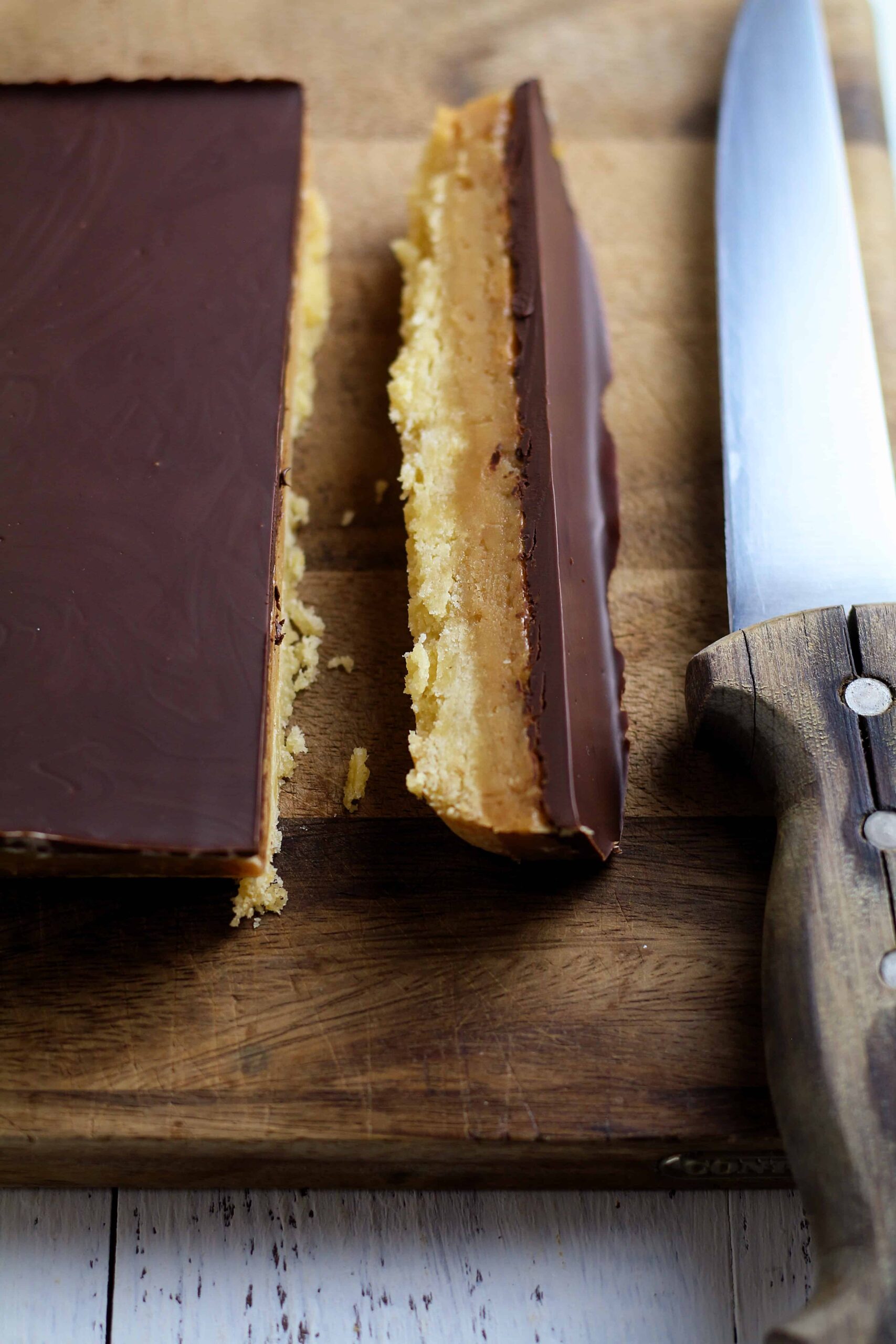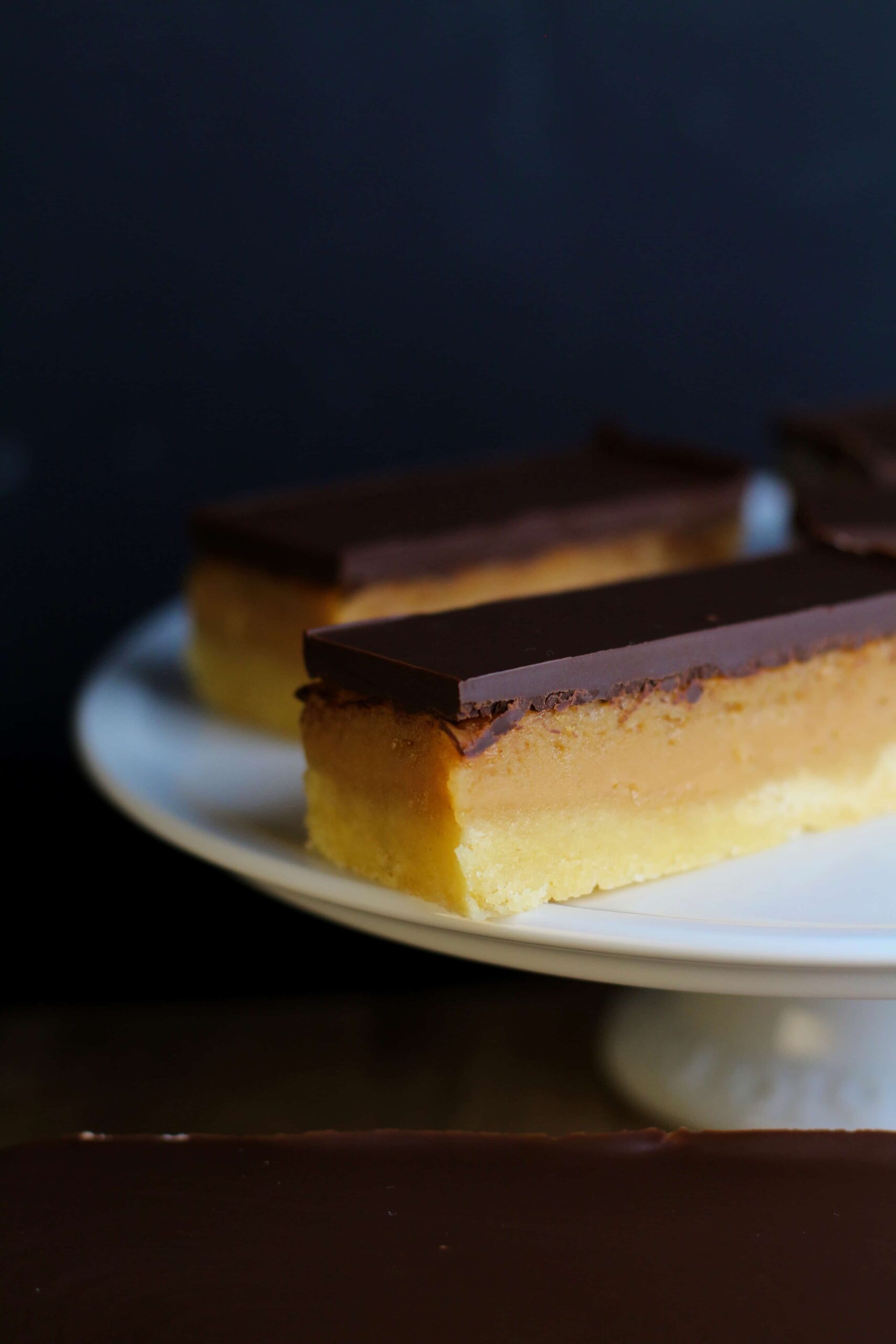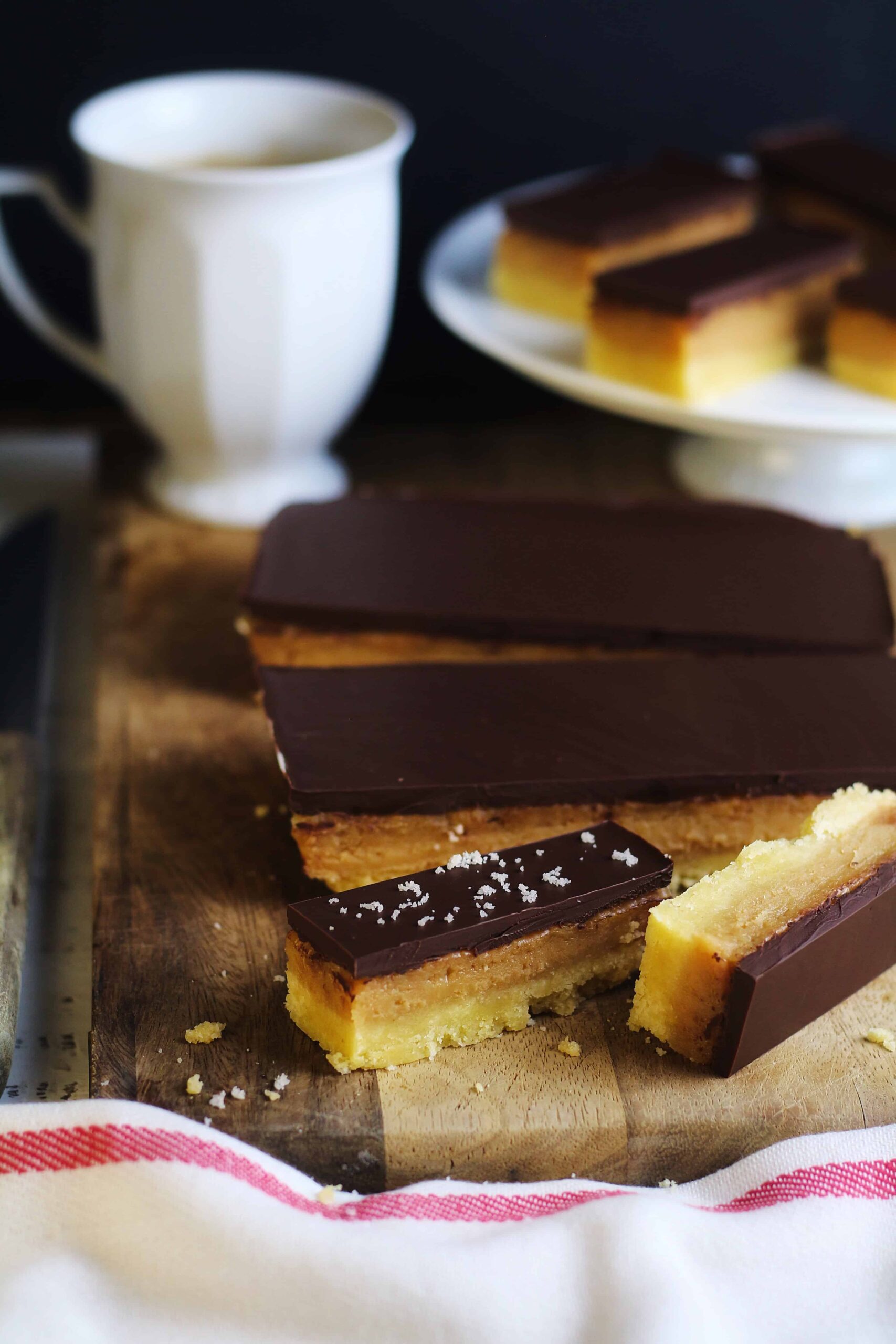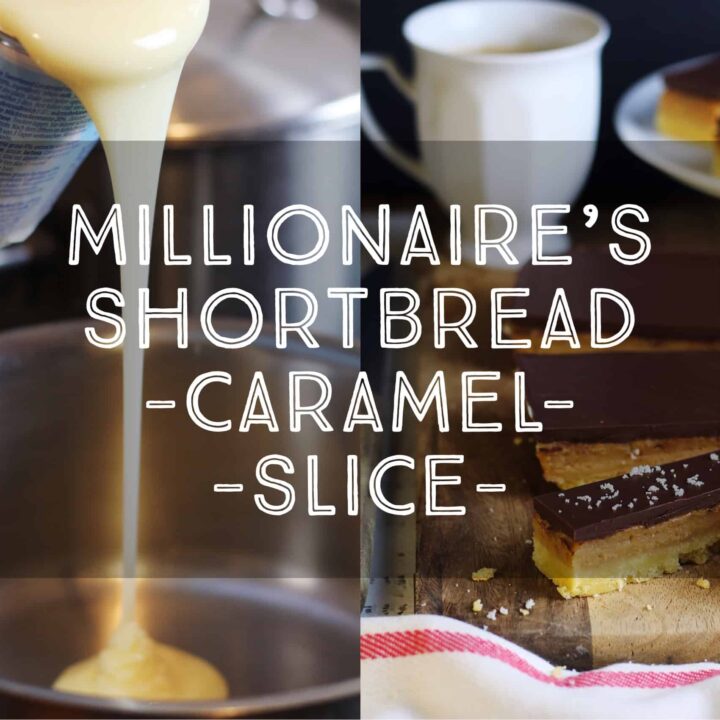 Millionaire's Shortbread / Caramel Slice
Millionaire's Shortbread is a deliciously sweet and sticky treat with a layer of shortbread, topped with lightly caramel and dark chocolate. A sprinkle of sea salt on the top cuts through the sweetness making this one very indulgent and moreish dessert.
Ingredients
for the base:
150 plain flour
50 g sugar
pinch of salt
100 g unsalted butter, very soft
1 egg yolk, beaten
for the caramel:
397 g tin sweetened condensed milk
100 g unsalted butter, cubed (see note)
75 g soft brown sugar
¼ tsp sea salt
for the top:
200 g good quality dark chocolate
20 ml neutral oil, sunflower, canola etc.
optional:
sea salt flakes, (Maldon or similar)
Instructions
Heat the oven to 180°C / 350°F / Gas 4. Butter a 20cm x 30cm baking dish then line with baking paper - it helps to cut triangles out of the corners of the baking paper so that it fits flush in the dish. The butter will help the paper stick to the dish.
In a mixing bowl, whisk together the flour, sugar and salt then add the butter. The butter should be very soft, that means you should be able to easily squeeze it together with your thumb and forefinger. Using a wooden spoon or your hands, mix the ingredients together until they look like rough crumbs. Add the egg yolk and knead until you have a crumbly dough.
Tip the dough crumbs into the prepared dish and press them firmly and evenly across the base - you can use your fingers or the back of a spoon. Prick all over with a fork, then bake in the preheated oven for 15-20 minutes until golden and browning around the edge. Set aside to cool for at least 15 minutes before you begin the caramel, leaving the oven on.
To make the caramel layer, add all the ingredients to a medium saucepan, cook over medium heat, stirring constantly and making absolutely sure you get into the corners of the pan for 5-7 minutes until the mixture thickens and begins to smell and look like delicious caramel. It will be bubbling gloopily away so watch out for spitting sugar.
Remove the caramel from the heat, pour over the base, give the whole thing a little shake to even it out, then bake in the oven for 15 minutes. The caramel will bubble and darken - it may even have a few scorched spots but that is fine - you'll cover it with the chocolate later. If it looks like it is about to burn (it shouldn't) cover loosely with aluminium foil. When cooked remove from the oven and allow to cool for 15 minutes.
To make the chocolate layer, cut the chocolate into small pieces - this will mean it melts faster, and place into a heat proof bowl set over a saucepan of simmering water (see notes). Stir until melted, then remove from the heat and stir in the oil until completely combined. Pour over the caramel, tilting the pan to get an even layer. If there are any air bubbles pop them with the tip of a sharp knife. Refrigerate until completely set - this takes about 2 and a half hours in my fridge.
To serve, remove from the fridge, allow to warm slightly for 5 minutes, then use a long, sharp knife to cut into pieces, dipping the blade in water and wiping clean between each cut. Sprinkle with sea salt flakes if you like and enjoy. This is a rich sweet (hence the name!) so I'd suggest cutting into smallish pieces - it is very moreish!
In warm weather keep in the fridge, though it will be fine in cooler weather covered on a cake stand or similar for several days.
Notes
If you use salted butter omit the additional salt.
If you like you can melt the chocolate by giving it short 30 second bursts in the microwave in a heatproof bowl, stirring between each - I do prefer making it on the stovetop though.
Nutrition Information:
Yield:

16
Amount Per Serving:
Unsaturated Fat:

0g
---
Looking for more Valentine's Day recipes? Why not try:
---