We've arrived at last at my favourite time of year. A happy coincidence that my birthday is around the corner, I promise. Late summer, fading into golden autumn with long golden days and cool crisp mornings will always be the season where I am happiest.
The sweltering days are behind us, the markets overflowing with the harvest, the hint of woodsmoke in the air and the slow gilding of the forest in amber and gold as the year turns brings me an enormous amount of joy, and importantly, whets my appetite for all the delicious flavours of the season.
I've been lucky enough to spend some time in Italy this summer, getting away from it all and eating simple, delicious food and basking in the glorious Mediterranean sunshine. This recipe for Italian Stuffed Peppers is something I've had on rotation all summer, a simple and flavoursome dish full of all those tastes that we associate with la dolce vita, peppers, tomatoes, basil and lashings of good olive oil.
As always, the trick with simple recipes is to use the best ingredients you can lay your hands on – and by that, I don't mean the most expensive, just that by using tomatoes that have actually seen the sun or olive oil that has a rich, fruity flavour, you will be rewarded in every bite.
This recipe makes enough for two people as a light meal, easily bulked out by serving with rice or plenty of crusty bread – it's also a lovely (and easy!)  starter or first course, just double or triple the recipe as required. The filling I've given here is what I like to use but feel free, as always, to experiment to suit your own tastes.
When I serve this dish with rice I like to make sure it is extra flavoursome by cooking the rice in stock and a little white wine rather than water. After the rice is cooked, try stirring through a chopped tomato and 2 finely sliced spring onions. Serve immediately.
What's your favourite Italian recipe? Let me know in the comments below! Take care out there and happy cooking. xJ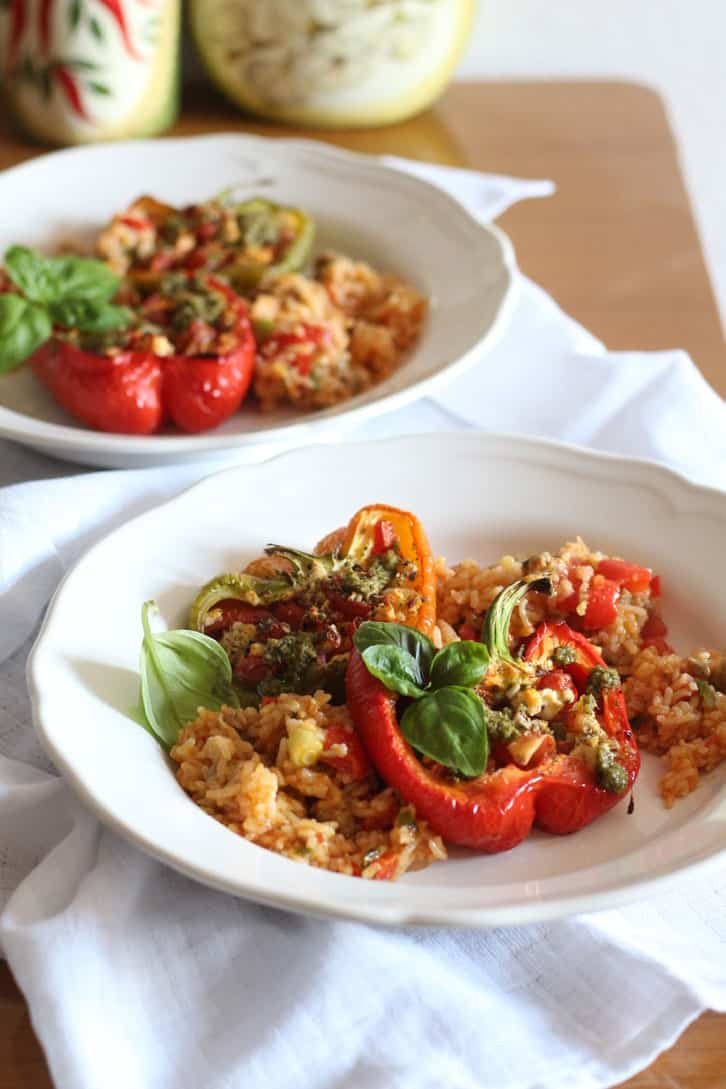 ---
Let me know if you try Italian Stuffed Peppers in the comments below, or using the hashtag #daysofjay on Instagram.
---
---
Italian Summer Stuffed Peppers
Italian Summer Stuffed Peppers are a simple and flavoursome dish full of all those tastes that we associate with la dolce vita, peppers, tomatoes, basil and lashings of good olive oil.
Ingredients
2 large capsicums / bell peppers
2 large ripe tomatoes, diced
2 cloves garlic, peeled and sliced
½ red onion, peeled and diced
½ fresh chilli pepper, finely diced
100 g goat's cheese or feta, crumbled
1 tsp dried oregano
1 Tbsp balsamic vinegar
olive oil, for drizzling
2 Tbsp basil pesto
small bunch of fresh basil
sea salt & black pepper
pine nuts and capers, optional
Instructions
Heat the oven to 220°C / 425°F / Gas 7 And line an oven tray with baking paper.
Halve the capsicums / peppers through the stem then use a small, sharp knife to cut away the seeds and any white membrane, leaving the stem attached. Drizzle with a little oil rubbing it all over the flesh, then place on the prepared tray.
In a small mixing bowl combine the tomatoes, garlic, onion, chilli, feta or goat's cheese, oregano (and if you fancy, 1 Tbsp of pine nuts and 1 Tbsp of capers) and stir to combine. Season with salt and pepper then divide the mixture evenly between the capsicum halves.
Drizzle over the balsamic vinegar and a little more olive oil, then roast in the top third of the preheated oven for 30 minutes.
After 30 minutes loosen the basil pesto with a little olive oil, then drizzle it over the capsicum halves before returning them to the oven for another 10-15 minutes.
Serve warm, scattered with fresh basil leaves, plenty of fresh crusty bread, or rice.
Nutrition Information:
Yield:

4
Serving Size:

1 pepper
Amount Per Serving:
Calories:

320
Total Fat:

22g
Saturated Fat:

6g
Trans Fat:

0g
Unsaturated Fat:

13g
Cholesterol:

47mg
Sodium:

553mg
Carbohydrates:

16g
Fiber:

3g
Sugar:

7g
Protein:

18g
Nutrition information is calculated automatically and isn't always accurate
---
FREQUENTLY ASKED QUESTIONS
I don't eat anchovies, can I leave them out of this recipe?
Italian Stuffed Peppers are a wonderfully flexible recipe so simply swap out ingredients as you see fit, anchovies can be swapped for olives, bacon or other salty ingredients.

Can I make Italian Stuffed Peppers in advance?
Yes! Absolutely. These are great at room temperature or gently warmed under foil in a low oven. I like to have them in the oven at low heat when guest arrive because they smell amazing.
---
---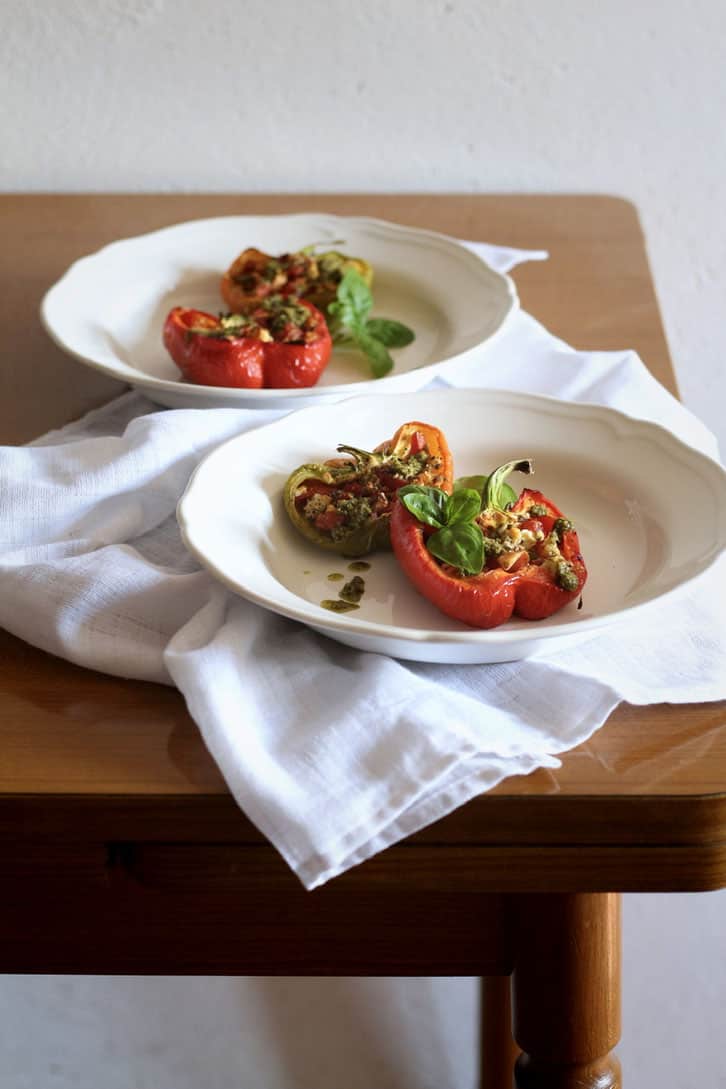 ITALIAN STUFFED PEPPERS
---
Looking for more Italian recipes? Why not try: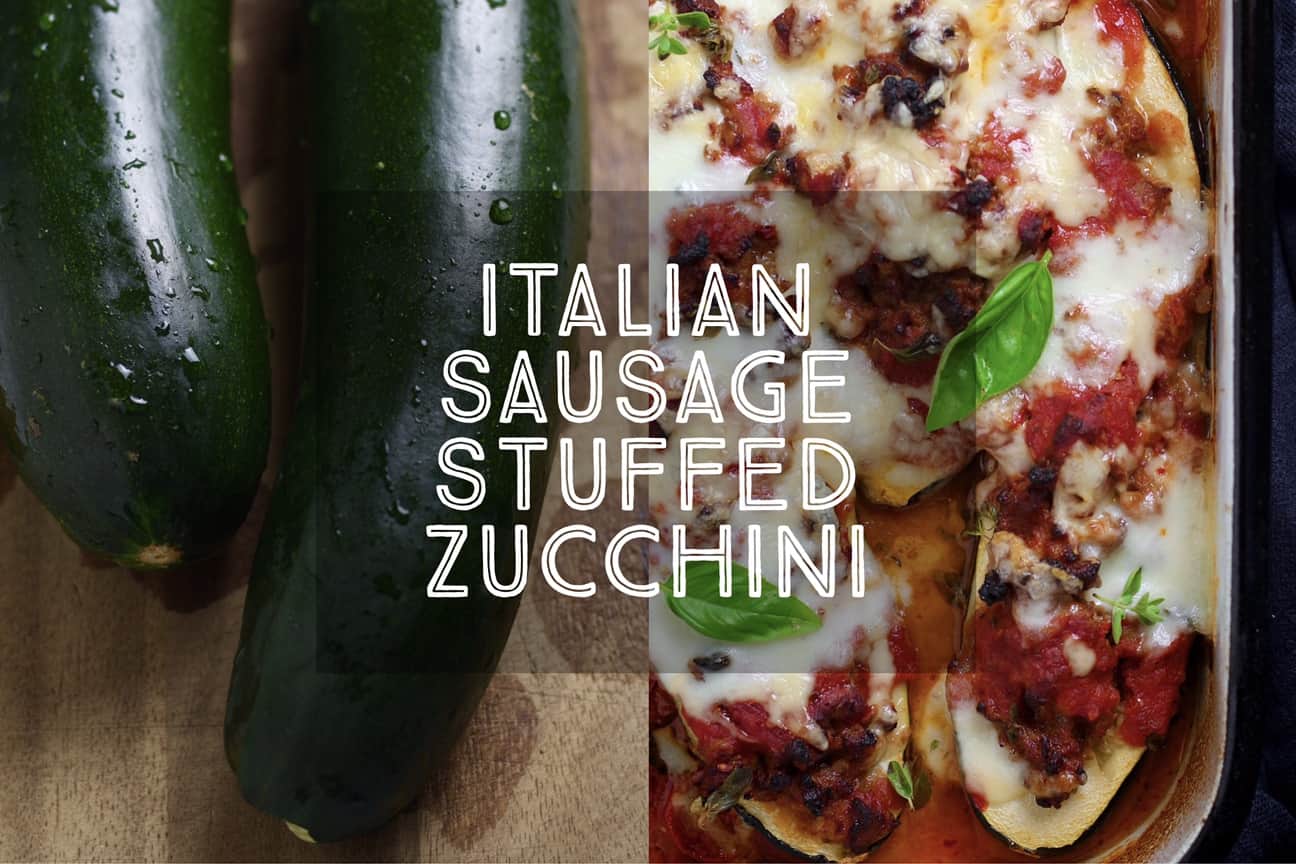 ---