It's a chilly morning, there's jazz on the radio, and as usual I'm in the kitchen cooking up some delicious sweet treats. Today I'm making candy, a deliciously chewy homemade nougat filled with almonds, pistachios and cranberries. If you're a longtime reader, you'll know that I love candy making, especially as I know exactly what the ingredients are that go into my food!
What's so good about this nougat recipe?
No corn syrup or glucose! Many recipes for old fashioned sweets like nougat or caramel are full of corn syrup or glucose and while there is nothing wrong with these modern inventions per se, I find them unnecessary additions as when the recipes were invented they didn't exist! After all, what's the point of making your own candy and then loading it up with industrial ingredients?
Homemade nougat makes for a terrific Christmas gift.
Homemade nougat is fun and surprisingly simple to make, as it is just a very well set type of meringue with nuts and other treats stirred through. Nougat makes a terrific gift, so it's a great recipe to have up your sleeve pre-Christmas. When I was very young my great grandmother would often have some nougat ready for us when we arrived to visit her, so for me, it always brings back lovely childhood memories.
What do I need to make Homemade Nougat?
You will need a candy or cooking thermometer to make nougat, as well as a stand mixer which does most of the hard work. I like to fill my nougat with a Christmassy combination of almonds, pistachios and cranberries, but you can let your imagination run wild – candied peel and walnuts, dried rose petals and hazelnuts, everything tastes good. It keeps in an airtight container for several weeks at room temperature so can be prepared in advance.
Do I have to wrap nougat in rice paper?
Traditionally, nougat is poured onto rice paper which stops it sticking and clumping together. Rice paper is virtually impossible to come by in Germany so I simply pour the nougat onto greased baking paper and wrap it in the same. If you can get rice paper where you are, go right ahead and use it.
With hot sugar kitchen safety is important!
When you are making candy like this, it is important to be very careful with the hot sugar syrup. It is much, much hotter than boiling water and it will stick to any skin it touches, so be sure to clear the kitchen of distractions, animals and small children before you start.
On the subject of sugar, you'll find that sugar and meringue stick like glue to your bowls and pots as they set. Don't worry! There is no need to scrub and chip it off, simply allow your dishes to soak in very hot water and the sugar will dissolve.
Have you tried making your own nougat before? Let me know in the comments below! Take care out there and happy cooking, xJ
---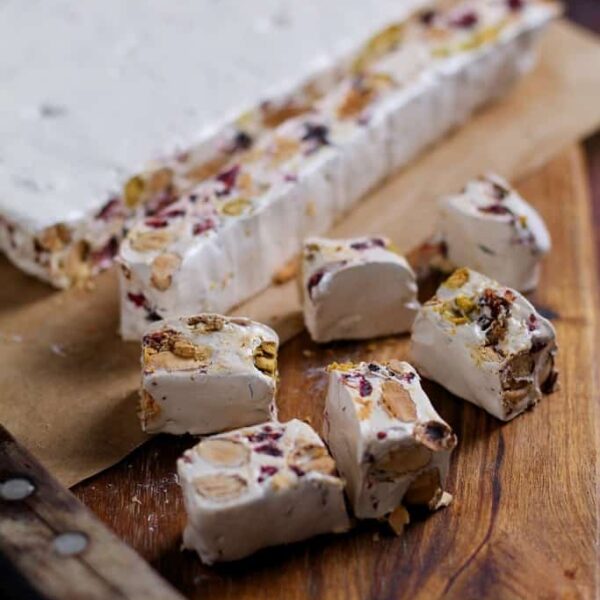 Almond Cranberry Homemade Nougat
Sweet, crunchy and incredibly moreish, it is easier than you think to make homemade nougat. This recipe has no glucose or corn syrup and can be made with ordinary household ingredients. Perfect for Christmas gifts!
Ingredients
150g almonds
50g pistachios
300g sugar
175g runny honey
3 Tbsp water
1 large egg white
2 tsp vanilla extract
100g dried cranberries, chopped
optional:
Instructions
PREPARE: Heat the oven to 200°C / 400°F / Gas 6. Grease a 20cm square baking dish well with oil, line with a rectangle of baking paper leaving an overhang on two sides, brush the baking paper with a little oil and set aside. Prepare a stand mixer with the whisk attachment fitted.

ROAST THE NUTS: When the oven is hot, spread the almonds and cranberries over a small baking dish and roast for 10 minutes. Turn off the oven and keep warm.

MAKE THE SUGAR SYRUP: In a deep, heavy-based saucepan, combine the sugar, honey and water. Heat gently, stirring until the sugar has dissolved. Turn the heat up and boil until the sugar reaches 140°C / 285°F on a sugar thermometer, swirling the pan once or twice to even out the temperature.

WHISK THE EGG WHITES: As soon as the sugar syrup has reached the correct temperature, remove from the heat. In the bowl of the stand mixer whisk the egg white until it forms soft peaks. With the mixer running, carefully pour the hot sugar syrup down the side of the bowl. Add the vanilla extract then continue to whisk for 5 minutes (see note).

IN THE NEXT STEP IT IS CRUCIAL TO MOVE QUICKLY! Take the nuts out of the oven and have your prepared baking dish ready.

COMBINE THE INGREDIENTS: After 5 minutes, stop the mixer and remove the whisk attachment. Add the warm almonds, pistachios and the cranberries to the bowl and use a large metal spoon to quickly fold them through. Spoon the nougat into the prepared dish working as quickly as you can as it will be beginning to set.

ALLOW TO SET: Place a second piece of baking paper on top of the nougat, using your hands to press down firmly and smooth the surface. Allow the nougat to cool completely at room temperature for at least three hours, the nougat is then ready to cut. The baking paper will stick to the nougat until the nougat is firmly set.

CUT THE NOUGAT: It is best to cut the nougat into long strips and wrap in baking paper until needed. Before serving or gifting, slice into bite-sized pieces. If you can't find rice paper it is fine to wrap the individual pieces in baking paper.
Notes
NOTE: The nougat meringue is very stiff which can be very taxing on older or weaker mixers so is best made with a high powered machine. In saying that, my kitchen mixer is well over 20 years old and going strong!
Nutrition Information:
Yield:

36
Serving Size:

1 piece
Amount Per Serving:
Calories:

94
Total Fat:

3g
Saturated Fat:

0g
Trans Fat:

0g
Unsaturated Fat:

3g
Cholesterol:

5mg
Sodium:

29mg
Carbohydrates:

17g
Fiber:

1g
Sugar:

15g
Protein:

1g
Nutrition information is calculated automatically and isn't always accurate.
---
FREQUENTLY ASKED QUESTIONS
How do I know my homemade nougat has set?
As I always say, candy making is a science. Test your thermometer in boiling water to ensure it reads 100°C or 212°F (if you live at altitude you may need to adjust for local conditions). As long as the mixture reaches 140°C / 285°F (it will continue cooking a little while you beat the egg whites) and you have followed the recipe correctly then it should set.

How long does homemade nougat keep?
Several weeks at room temperature in an airtight container. Humidity is the enemy of candy, so keep it as dry as possible and do not store it in the fridge
I have a nut allergy, can I still make nougat?
Absolutely! Use dried fruit of your choosing, and any seeds that you can eat – sunflower seeds give a satisfying crunch, and if you are not allergic, pine nuts are delicious too.
---
Homemade nougat makes a terrific gift, why not make a batch to give as Christmas presents? Or try my Homemade Soft Honey Vanilla Caramels!
Let me know if you try this recipe in the comments below, or using the hashtag #daysofjay on Instagram. Happy cooking!
---