I have had a bit of wanderlust recently, so you might have noticed that many of the recipes I've been sharing are from far-flung places as I travel in my imagination around the globe. I love the way the smell can taste of food can transport us directly into other cultures. I've returned home to Bavaria today though with a real regional speciality: Zwetschgendatschi, Bavarian Plum Tart.
When you start seeing the first slices of Zwetschgendatschi in the bakeries of Munich, it is a sure sign that summer is coming to a close. The smell of sweet, baked prune plums, dusted with a little cinnamon sugar is to me as autumnal as the falling chestnut leaves at this time of year. This is a wonderfully simple and old fashioned treat, perfect for serving up with a big bowl of whipped cream and strong coffee.
Zwetschgendatschi varies regionally, sometimes it will be topped with buttery crumble, and other times it is served on a base of yeast dough or hefeteig. Today I am sharing my favourite variation, where the plums sit atop a tender sweet pastry and are topped with nothing more than a sprinkling of cinnamon sugar. I think sometimes the most simple tarts are the most delicious.
This tart is traditionally made with prune plums. If you can't get them then ordinary smallish plums or apricots work well in this recipe too. It will keep in the fridge for a couple of days but is best eaten within about 48 hours.
At this time of year in Munich, the world-famous Oktoberfest would usually be gearing up with the streets and festival grounds packed with dirndl and lederhosen-clad revellers. Sadly, this year it has been cancelled in the interests of public safety. We all hope it will return, bigger and better in 2021.
In the meantime, I'll be sharing loads of traditional Oktoberfest recipes, like this one, over the next weeks so you can have your own Oktoberfest at home. Why not start with some traditional Bavarian Soft Pretzels or tasty Obazda?
Have you ever been to the Oktoberfest? What did you think? Let me know in the comments below! xJ
---
Let me know if you try this recipe in the comments below, or using the hashtag #daysofjay on Instagram. Happy cooking!
---
Zwetschgendatschi - Bavarian Plum Tart
Total Time:
1 hour
5 minutes
Zwetschgendatschi, sometimes known as Plaumenkuchen or Zwetschgenkuchen is a deliciously fruity German plum slice with origins in the Bavarian town of Augsburg. With sweet prune plums on a tender pastry base, topped with cinnamon sugar, this Bavarian speciality is a wonderful late summer treat.
Ingredients
100g unsalted butter, softened
50g sugar
1 egg, room temperature
pinch of salt
zest of 1 lemon
200g plain flour
½ tsp baking powder
1kg prune plums
1 Tbsp breadcrumbs
for the cinnamon sugar:
1 ½ Tbsp sugar
1 tsp cinnamon
to serve:
Instructions
In the bowl of a stand mixer with the paddle attachment fitted, beat the butter, sugar, egg, salt and lemon zest until well combined. Sift over the flour and baking powder and stir gently to form a soft dough. If the dough is very wet or sticky, add a little flour, 1 tablespoon at a time until the dough is smooth and supple. Wrap in clingfilm and chill while you prepare the plums.

Heat the oven to 180°C / 350°F / Gas 4. Wash the plums, halve them and remove the stones. Take the dough from the fridge and roll out on a piece of lightly floured baking paper to the size of your baking dish, I suggest approx. 25cm x 35cm or a ¼ sheet pan.

Use the baking paper to lift the dough into the baking dish, sprinkle over the breadcrumbs, then arrange the plums on top. The technique is to cut a slit through the middle of each plum half from base to stem end leaving them just barely attached. Line the plums up in rows, resting each new row vertically on the last. See pictures if you are unsure.

Bake in the preheated oven for 45-50 minutes until the plums are golden yellow and slightly scorched and the pastry is firm. Meanwhile, make the cinnamon sugar by stirring the sugar and cinnamon together in a small bowl.

When the Zwetschgendatschi is cooked, remove from the oven and sprinkle over the cinnamon sugar. Allow to cool then slice and serve with plenty of whipped cream.
Nutrition Information:
Yield:

8
Serving Size:

1 slice
Amount Per Serving:
Calories:

536
Total Fat:

12g
Saturated Fat:

7g
Trans Fat:

0g
Unsaturated Fat:

4g
Cholesterol:

51mg
Sodium:

67mg
Carbohydrates:

111g
Fiber:

10g
Sugar:

58g
Protein:

7g
Nutrition information is calculated automatically and isn't always accurate.
---
FREQUENTLY ASKED QUESTIONS
I like my Zwetschgendatschi with streusel or on a yeast dough base! How do I make it like that?
Use the streusel topping from my Red Currant Crumble Cakes and crumble over before you put the Zwetschgendatschi in the oven. For a yeast dough base, I would use the dough in my recipe for Star Bread, you'll need to scale the dough recipe down to about a quarter.

I can't get prune plums! What else can I use?
Normal plums will work as well, as long as they are relatively small. You can also use apricots to make a delicious tart. Brush with hot apricot jam when it comes out of the oven.

How do I store Zwetschgendatschi?
I keep mine in the fridge, but you need to allow it to come up to room temperature before eating.
---
Stack the plums up like little roof tiles, slightly overlapping each other.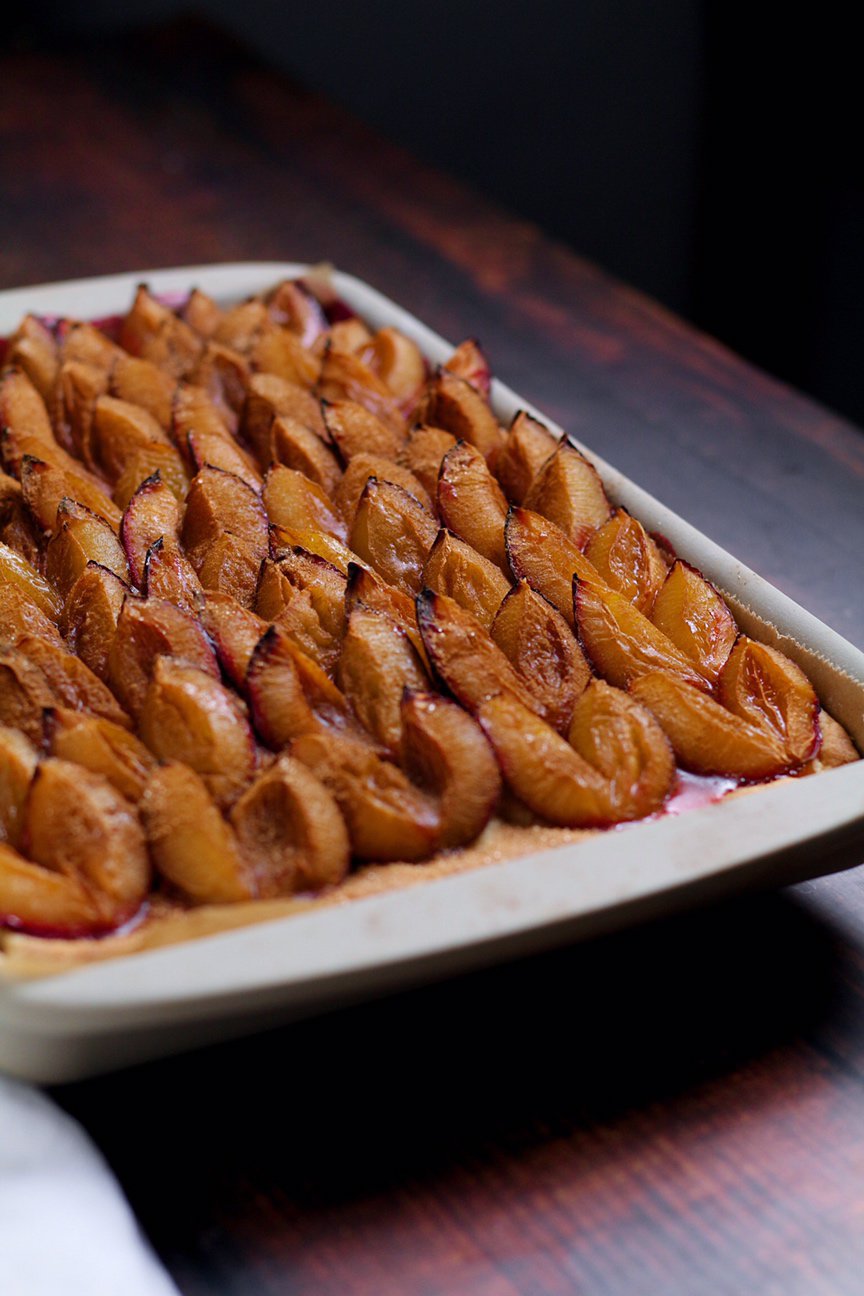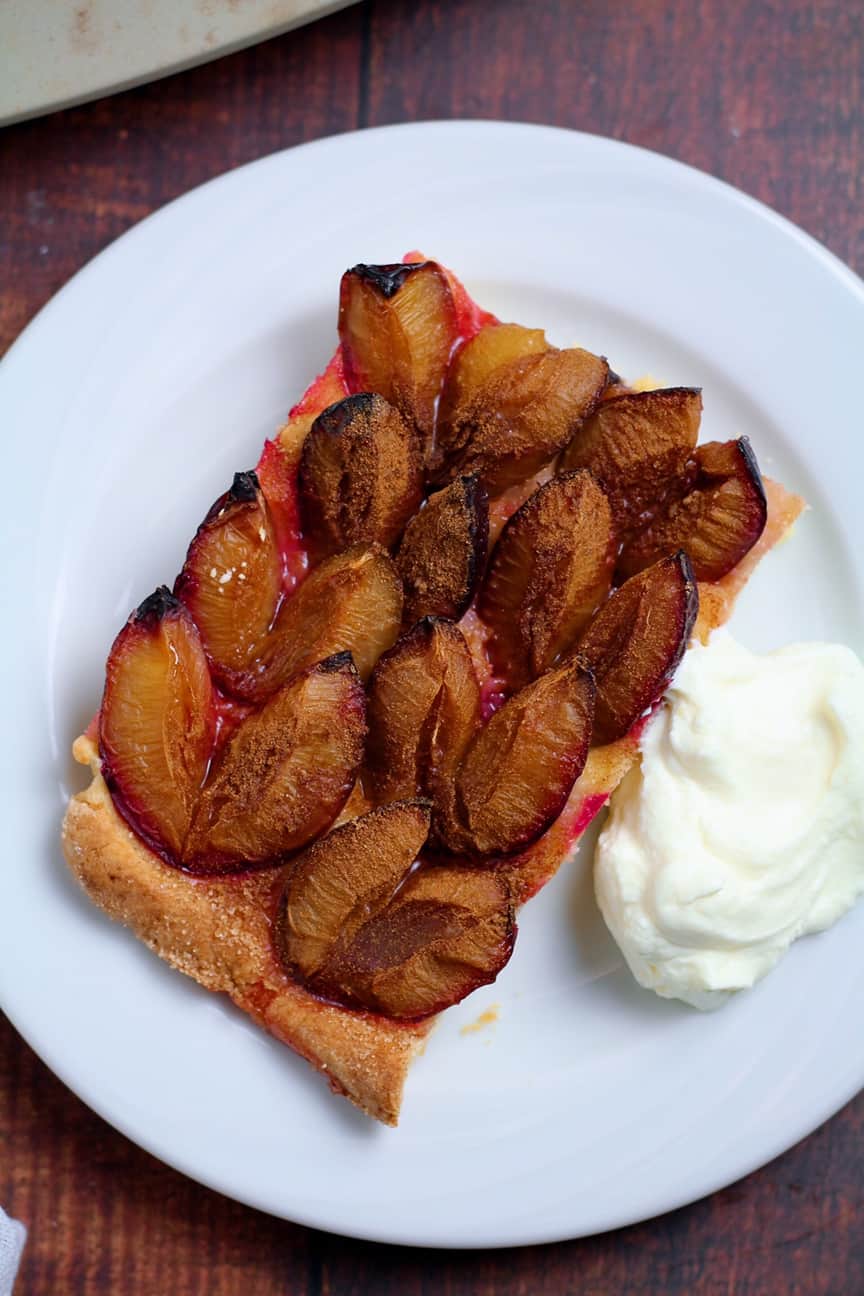 ZWETSCHGENDATSCHI – BAVARIAN PLUM TART
---