It is mushroom season here in Italy and the hills are full of keen funghi hunters seeking out this seasonal treasure. Whether golden chanterelles, sponge-like morels or the most highly prized of all, the 'king of the forest' porcini, everything is fair game. That is, of course, if you have a hunting licence! Yes, you even need a permit for picking mushrooms in this part of the world, probably a wise idea as there are such a bewildering array of edible and non-edible mushrooms to be found in the woods.
I have to admit, I tend to leave the foraging of wild mushrooms to the experts like my father-in-law, however, I can think of a million ways to cook with them. In Emilia-Romagna, mushrooms are often simmered into a simple ragu and served over polenta with a few herbs and a touch of garlic to bring out the flavours. I think this recipe for Mushrooms with Creamy Polenta is the ideal way to eat these delicious morsels, as the earthy flavour of the mushrooms really shines through.
If they are in season, and your budget can stretch to it, porcini mushrooms are the obvious choice for this dish, though you can use whatever mushrooms that you have. It is often worth bulking out the rarer or more expensive mushrooms with chestnut or button mushrooms so that you can feed a crowd, it will still be delicious.
A lot of people are unsure about cooking polenta, but it couldn't be simpler. It fact, if you've ever made porridge from oats, you can definitely whip up a pot of polenta. To ensure your polenta is perfectly smooth, start by stirring the polenta into cold liquid. This stops the mixture from forming any lumps and bumps. Mixing in butter and Parmesan cheese right at the end of the cooking time enriches the polenta and gives it a beautifully creamy consistency.
Are you a mushroom hunter? What is your favourite type? Let me know in the comments below, xJ.
---
Let me know if you try this recipe in the comments below, or using the hashtag #daysofjay on Instagram. Happy cooking!
---
Mushrooms with Creamy Polenta
Mushrooms with Creamy Polenta is autumn on a plate. This famous North Italian speciality is so warm and comforting, and so easy to make. I like to use a mixture of mushrooms for texture and flavour.
Ingredients
for the creamy polenta:
200g polenta / coarse yellow cornmeal ca. 1 cup
750ml cold water
500ml milk
1 vegetable stock cube
50g butter
50g Parmesan cheese, grated
for the mushrooms:
25g butter
2 Tbsp oil
1 large onion, finely diced
2 slices pancetta or prosciutto (optional)
3 cloves garlic, finely diced
500g mixed mushrooms, chestnut, oyster, chanterelles etc., roughly chopped
2 sprigs rosemary, leaves finely chopped
2-3 sprigs fresh thyme, leaves finely chopped
200ml white wine
125ml vegetable stock
2 tsp balsamic vinegar
2 tsp tomato paste
1 tsp cornstarch
sea salt & black pepper
to serve:
extra grated Parmesan
fresh parsley
Instructions
To make the polenta, whisk the polenta, water and milk together in a large saucepan. Crumble over the stock cube and stir through. Bring to a simmer over medium heat, stirring often. When the polenta has begun to thicken and bubble, turn the heat right down to the lowest setting and cook, stirring often for 15-20 minutes. If the polenta is too thick, whisk through a little water or milk. Directly before serving, stir through the butter and Parmesan until melted.

Meanwhile, prepare the mushrooms by heating the butter and oil together in a large, heavy-based frying pan. Cook the onions gently for 5 minutes until beginning to soften, but not brown. Add the pancetta or prosciutto (if using) and cook a further 3 minutes. Add the garlic and cook for 1 minute until fragrant.

Turn the heat up and add the mushrooms to the pan along with rosemary and thyme. Cook, stirring occasionally for 5 minutes until the mushrooms have begun to reduce. Whisk together the wine, vegetable stock, balsamic vinegar, tomato paste and cornstarch, then Pour into the pan. Stir well, then bring to a simmer and simmer for 5 minutes until slightly thickened. Taste and season with salt and pepper if necessary.

Divide the polenta between 4 shallow bowls or deep plates and top with the mushrooms. Serve with extra parmesan on the side and scattered with fresh parsley.
Nutrition Information:
Yield:

4
Amount Per Serving:
Calories:

729
Total Fat:

42g
Saturated Fat:

18g
Trans Fat:

1g
Unsaturated Fat:

20g
Cholesterol:

90mg
Sodium:

1155mg
Carbohydrates:

63g
Fiber:

7g
Sugar:

9g
Protein:

21g
Nutrition information is calculated automatically and isn't always accurate.
---
FREQUENTLY ASKED QUESTIONS
I don't drink alcohol, can I make Mushrooms with Creamy Polenta without the wine?
Absolutely. If you can get hold of some dried mushrooms, soak them in 200ml of warm water for 20 minutes. Add the mushrooms to the pan with the fresh mushrooms, and use the soaking liquid instead of the wine. This is a great way to get an intensely mushroomy flavour.

Can I make this dish in advance?
I prefer to make Mushrooms with Creamy Polenta fresh, as polenta sets when it cools. You can definitely make it in advance, however, simply reheat the mushroom ragu in a small saucepan, and loosen the polenta with a little milk or stock and whisk well while reheating.

Where can I find polenta, and what sort should I buy?
Polenta is actually coarse cornmeal, and you will often find it under that name. Avoid 'Instant' polenta, I find it can have a bit of a gummy and unpleasant consistency.
---
This polenta is also excellent served with my Juicy Baked Meatball recipe, click here to read more.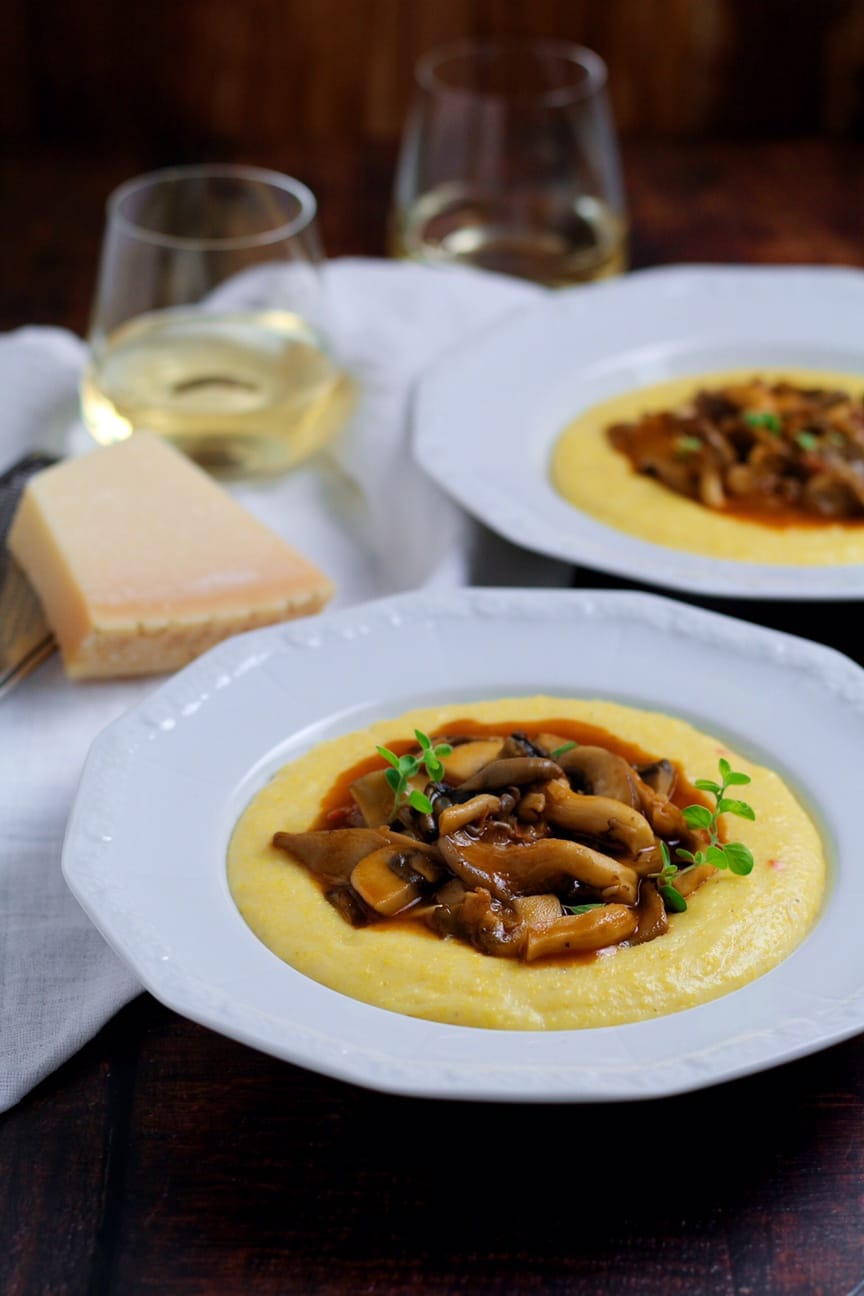 MUSHROOMS WITH CREAMY POLENTA
---