We've all been confronted with a chewy, over-cooked, disappointing pork chop. Pork has become increasingly lean over the last decades, which is great for the waistline, but terrible for the cook, as there is no fat left to keep the meat tender and juicy. This is where a small amount of preparation can make the world of difference, banishing tough old chops forever.
The secret? Brining the meat. Those clever Americans have been doing this for years, but it is only recently that it has become more popular worldwide. There's loads of interesting science as to how it all works but put simply, giving your meat a little saltwater bath will both tenderise it, and stop it drying out in the pan. It also bumps up the flavour beautifully, as you'll see in today's recipe Maple Glazed Pork Chops.
The brine is very simple to make, and in even half an hour will start to work its magic on the pork. The glaze is sweet and tangy with a combination of maple syrup and balsamic vinegar and cooks down to a terrific pan sauce. I like to serve these chops with new potatoes and asparagus when it is in season, though if you are in a hurry, a salad and a loaf of good bread would be just as good.
I hope you've all had a relaxing and enjoyable weekend, we've had rain and drizzle the whole time in Munich, I am ready for summer! As always, take care out there and happy cooking. x J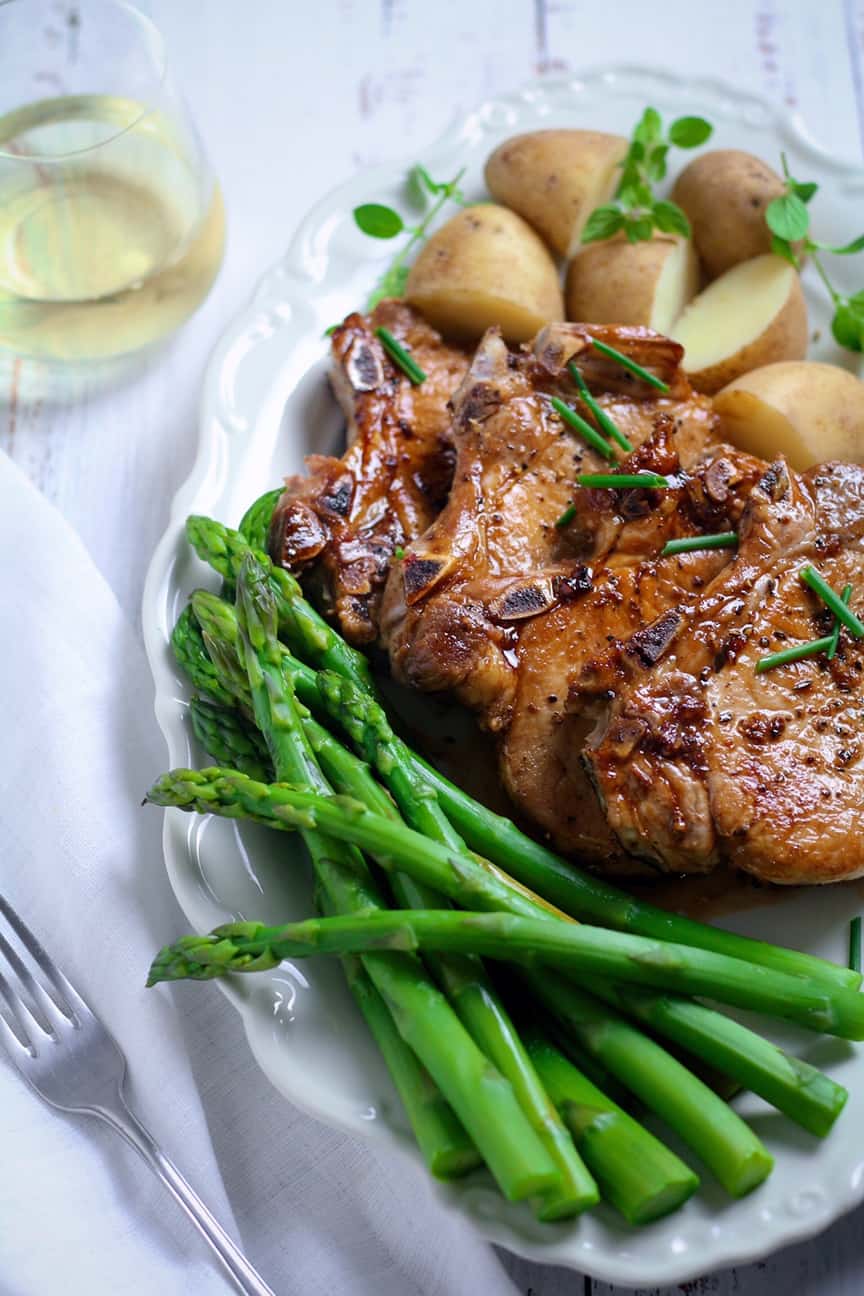 ---
Let me know if you try this recipe in the comments below, or using the hashtag #daysofjay on Instagram. Happy cooking!
---
Maple Glazed Pork Chops
Minimum Brining Time :
30 minutes
Glistening with a sweet and sticky sauce, Maple Glazed Pork Chops are a fantastic, easy dinner. Serve with new potatoes and fresh green asparagus.
Ingredients
for the brine:
2 Tbsp salt
1 tsp sugar
2 cloves garlic
1 tsp peppercorns
4 pork chops, bone-in, 2-5cm thick ca. 200g ea.
for the glaze:
75ml maple syrup or honey
50ml balsamic vinegar
15ml soy sauce
2 cloves garlic, crushed
1 tsp dried thyme
½ tsp salt
freshly ground black pepper
to cook:
1 Tbsp neutral oil
1 Tbsp butter
to serve:
Instructions
To make the brine mix the sugar and salt with 100ml of boiling water until dissolved. Pour into a large glass or ceramic dish with 400ml of cold water. Add the garlic and peppercorns. Lay the pork chops in the dish ensuring they are completely covered with water and refrigerate for ½-12 hours.

To make the glaze combine all ingredients in a small saucepan. Bring to the boil, then allow to simmer for 2 minutes. Remove from the heat and set aside.

Remove the pork chops from the fridge (at least 15 minutes before cooking if they have been more than ½ an hour in the fridge), discard the brine and pat the chops dry with a paper towel. Heat the butter and oil over medium-low heat in a large frying pan until the butter is bubbling. Lay the pork chops in the pan, spoon over half of the glaze and cook for 4 minutes without turning.

Turn the pork chops over, pour over all the remaining glaze and cook for a further 4 minutes. When the chops are cooked, turn to coat in the sauce, then remove from the heat and allow to rest, loosely covered for 5 minutes.

Serve with boiled new potatoes and asparagus or beans, pour the remaining sauce over the chops just before serving.
Nutrition Information:
Amount Per Serving:
Disclosure: Some of the links on this website are affiliate links,
meaning, at no additional cost to you, I will earn a commission if you click through and make a purchase.
---
FREQUENTLY ASKED QUESTIONS
Do I have to brine the meat?
Not at all, it just helps to keep the meat moist and adds flavour. If you get good quality chops with a good bit of fat on them they are less likely to need brine.
How can I tell if the chops are cooked?
The most accurate way is to use a meat thermometer – remove the pork from the pan when the temperature is 62°C / 145°F. The pork will continue to cook as it rests. If you have a very thick cut of meat it will need longer than a super skinny chop. Because you are cooking these chops over medium heat, rather than searing hot, you have a little more lee-way.
How long can I brine the chops?
Up to 12 hours in advance. After 12 hours you may find they can be too salty.
---
Cook the chops over a gentle heat – if you have the pan extra hot the maple syrup will burn.
Allow the chops to rest for at least 3 minutes after cooking – this will help to keep them tender too.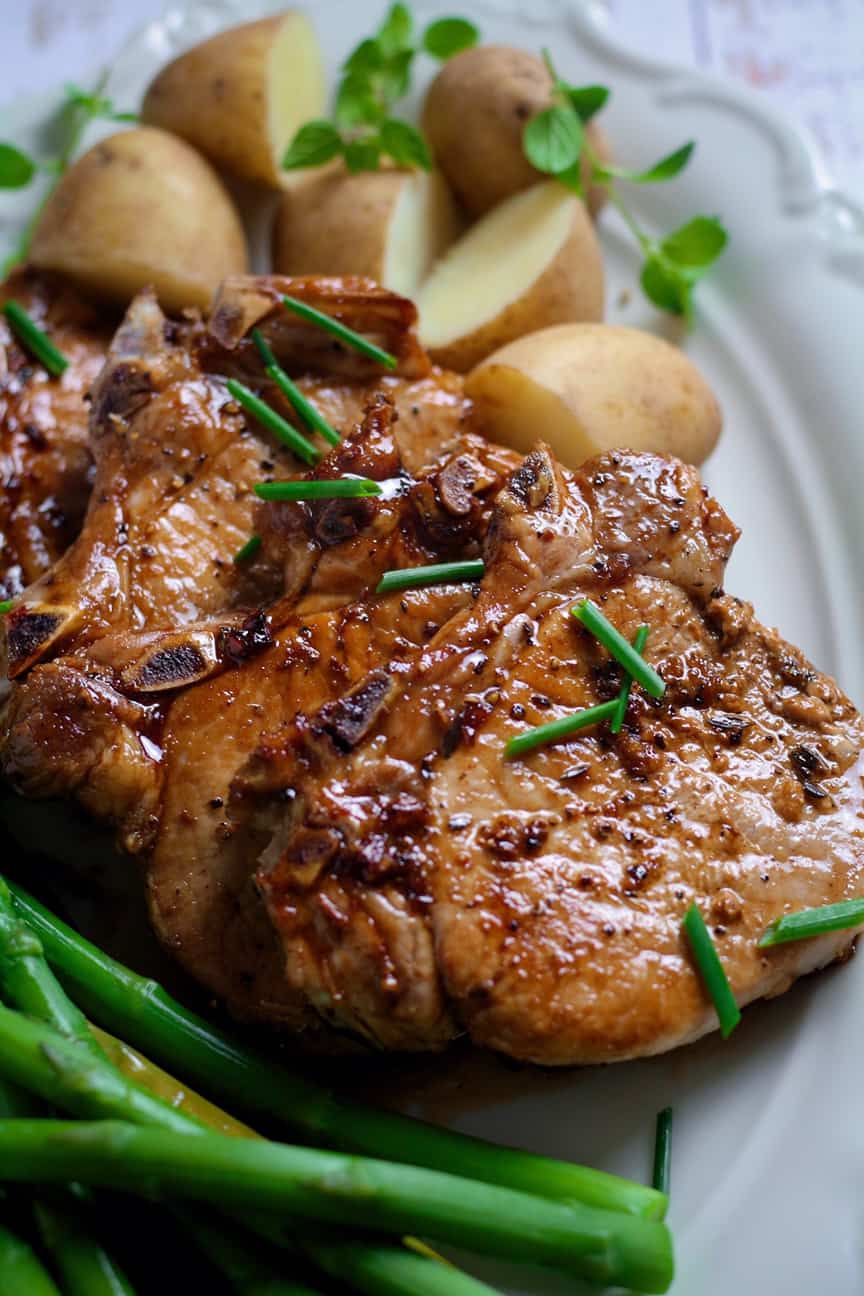 MAPLE GLAZED PORK CHOPS