One week until Easter and spring is in full bloom. Every day there is more green on my daily walk and the sun shines a little brighter and hotter. Among the patches of wild garlic, bright yellow daffodils are bobbing about and the supermarkets are piled high with as many tulips as Easter eggs. It's going to be a funny old Easter for a lot of people this year, spent at home rather than celebrating with family. Here in Bavaria, Easter Sunday is usually a true feast day, after the long Lenten fast. A day for good food, time spent with family and friends and the promise of sunny days to come as winter draws to a close.
This year will be different of course, as there is not much use cooking a huge lamb roast for two. However, that's not to say that we can't indulge in some of our favourite treats. As far as I am concerned, Easter isn't Easter unless I've baked up a big batch of Fruity Hot Cross Buns. Bread baking is a ritualistic part of this season in many cultures, the Greek 'Tsoureki', Hungarian 'Kalach', Italian 'Colomba Pasquale', German 'Osterbrot' and our own Hot Cross Buns are all served at Easter time.
While we eat them now at Easter, the origins of buns marked with crosses are much older, dating at least back to Roman times, dedicated to the goddess Diana, and later baked for Pagan celebrations of the goddess Eostre. The buns became such a symbol of holiness during the Tudor period that Queen Elizabeth I forbade the sale of hot cross buns at any other time that burials, Good Friday and Christmas Day (take note modern supermarkets, we see you selling them in January and we don't like it 😂.)
I don't know whether these buns have holy powers as the Elizabethans believed, but I do know the wafting aroma of sweet spiced bread has a magical way of filling the house and encouraging hungry mouths to descend on the kitchen. I like to load them up with fruit and candied peel, then serve them hot, smothered with salty butter. Delicious.
Take care of yourselves out there, look after each other and enjoy the quiet time. What are your Easter rituals? What have you got planned? x Jay
Let me know if you try this recipe in the comments below, or using the hashtag #daysofjay on Instagram. Happy cooking!
---
---
Fruity Hot Cross Buns
Total Time:
1 hour
40 minutes
Pillowy-soft, and deliciously sweet and sticky, Fruity Hot Cross Buns, aromatic with spices are one of the most well-known symbols of Easter. Serve generously slathered with salted butter.
Ingredients
200 ml milk
21 g fresh yeast or 7g dried yeast
500 g flour separated 300g / 200g
50 g sugar
zest of 1 lemon or orange
1.5 tsp ground cinnamon
1 tsp mixed spice
1 tsp ground allspice
1 tsp salt
50 g unsalted butter, very soft
1 large egg, beaten
100 g raisins or sultanas
100 g dried apricots, diced
2 Tbsp candied orange peel, optional
for the crosses:
50-60 g plain flour
4-5 Tbsp water
for the glaze:
2 Tbsp sugar
3 Tbsp hot water
Instructions
Begin by heating the milk slightly in a small saucepan until it is just warm. Remove from the heat, sprinkle or crumble over the yeast and set aside.
In the bowl of a stand mixer with the dough hook fitted (see note 1) combine 300g flour, sugar, zest, spices and salt. While mixing, add the butter and egg, then stir the milk and yeast mixture and pour it into the bowl. Run the mixer on high until the ingredients are combined, then with the mixer on low add the remaining flour. Knead for 5 minutes.
After 5 minutes the dough should be moving freely around the bowl of the mixer, and only lightly sticky. If it is still a little liquid or sticking to the sides of the bowl add one tablespoon of flour and knead for another minute.
Add the raisins, chopped apricots and peel (if using) to the dough and knead until they are evenly distributed through the dough.
When the dough has finished kneading, shape it into a ball - it should feel soft, springy and elastic - don't worry if it's a little sticky, this is normal, just dust it with a little flour if it makes it easier to handle. Place it back in the bowl, cover with a clean cloth or some cling film and allow to rise in a warm place for 45 minutes to 1 hour until doubled in size.
Heat the oven to 180°C / 350°F and line a rectangular dish with baking paper. Turn the dough out of the bowl, divide into 8 equal-sized pieces (I find it is always easier to weigh the pieces to make sure the hot cross buns are uniform in size).
Roll each piece of dough into a tight ball and place into the prepared baking dish - just barely touching each other. Cover the dish with a clean tea towel and allow to rise for half an hour while you prepare the paste for the crosses.
To make the crosses, stir together the flour and water to make a thick paste. Spoon the paste into a piping bag or disposable freezer bag (you'll need to snip off the corner) and carefully pipe crosses onto the buns which should be beginning to rise again. Bake in the preheated oven for 30-40 minutes until the tops are golden brown and the buns are well risen.
While the buns are baking, stir together the ingredients for the glaze. As soon as you take the buns out of the oven, generously brush the glaze over them while they are still piping hot.
Allow to cool a little, then enjoy warm, smothered with salted butter.
Notes
1. If you don't have a kitchen machine, stir together with a wooden spoon until a smooth dough forms. Turn out onto a floured surface, dust the dough with a tablespoon of flour and knead by hand for 5 minutes until smooth and elastic. Add extra flour as necessary so that the dough isn't too sticky to handle. Knead the fruit and sultanas through at the end.
Nutrition Information:
Yield:

8
Serving Size:

1 grams
Amount Per Serving:
Unsaturated Fat:

0g
---
FREQUENTLY ASKED QUESTIONS
I don't have a kitchen machine to knead the dough! Can I still make hot cross buns?
Of course! As usual, the machine is just a way to make things a little easier, but if you are prepared to use a little muscle you can make hot cross buns by hand. Rather than kneading with a machine, stir together with a wooden spoon until a smooth dough forms. Turn out onto a floured surface, dust the dough with a tablespoon of flour and knead by hand for 5 minutes until smooth and elastic. Add extra flour as necessary so that the dough isn't too sticky to handle. Knead the fruit and sultanas through at the end.

I hate raisins!! Is there an alternative?
Yes! Replace with dried cranberries, chopped apple, or to be super indulgent, chocolate buttons or chocolate chips. Feel free to experiment with spices but it is worth being heavy-handed with the cinnamon and mixed spice, the aroma alone is worth it.

I can't get any mixed spice. What do I do?
If there is no mixed spice where you are, mix:
3 tsp ground cinnamon
1 tsp ground allspice
1/2 tsp ground nutmeg
1/2 tsp ground ginger
1/4 tsp ground cloves
and store in an airtight jar. Use as directed in the recipe above.

Can you freeze Hot Cross Buns?
Of course! Wait until the buns are completely cold, then wrap individually and freeze.

What can I do with leftover Hot Cross Buns?
They are great toasted the next day. After that, why not try bread and butter pudding or French toast?
---
---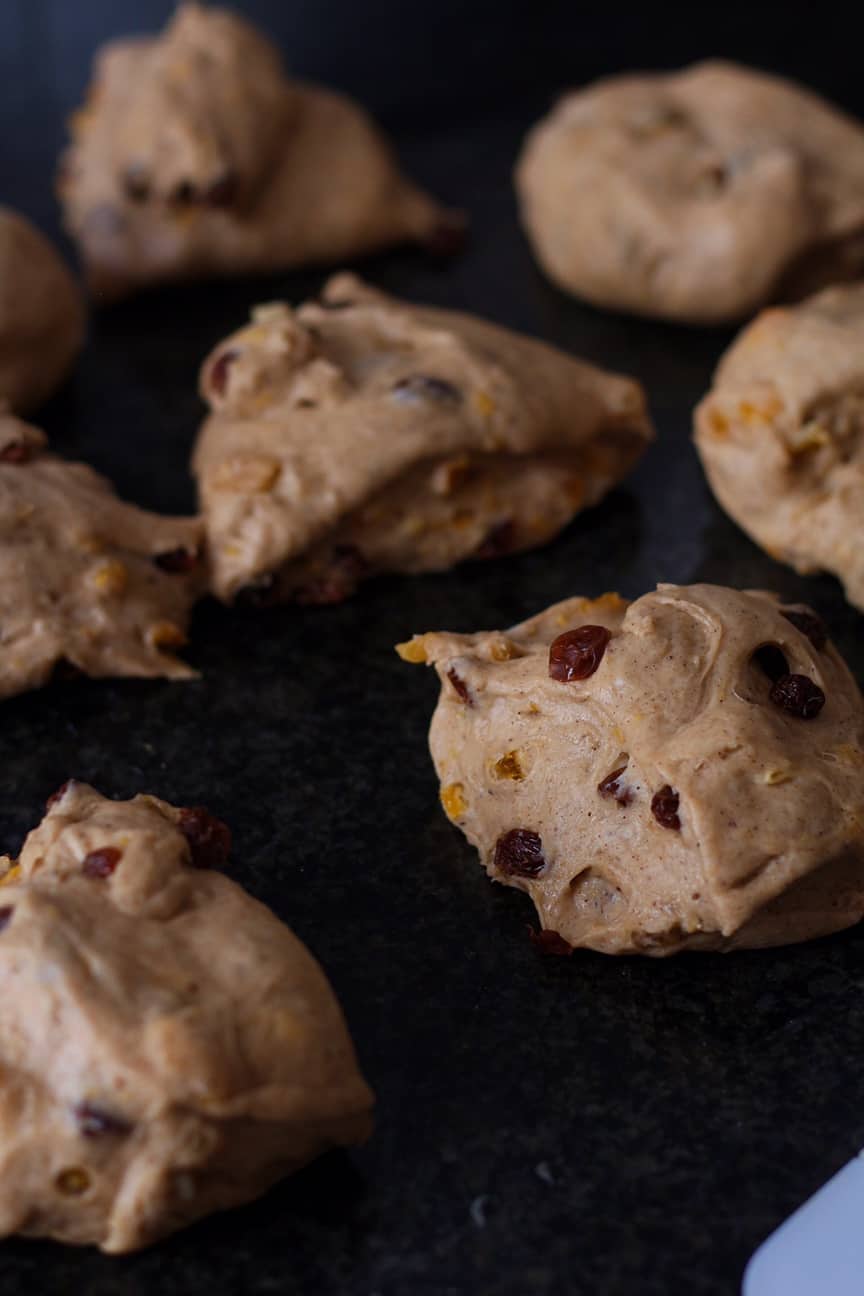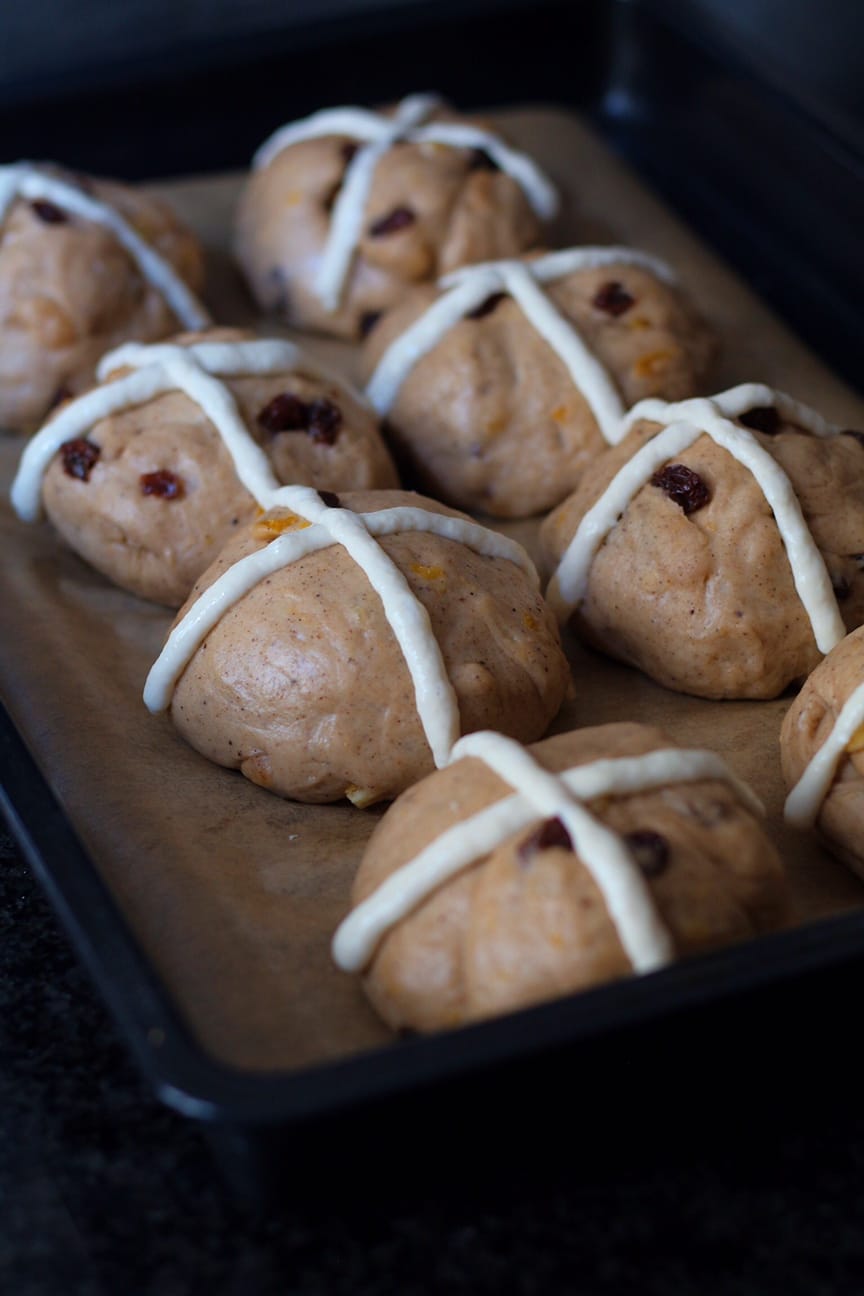 FRUITY HOT CROSS BUNS
---
Looking for more bread recipes? Why not try: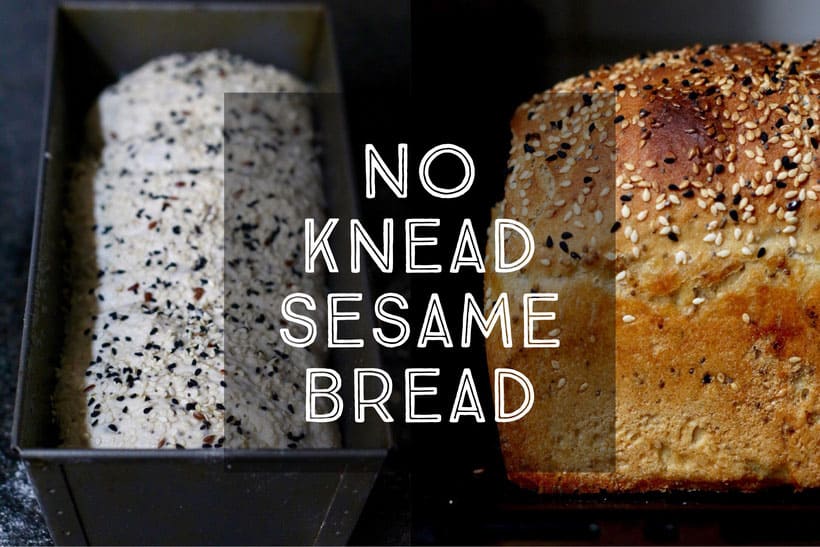 ---